Favorite Five: CoSTUME NATIONAL Fall 2013 Menswear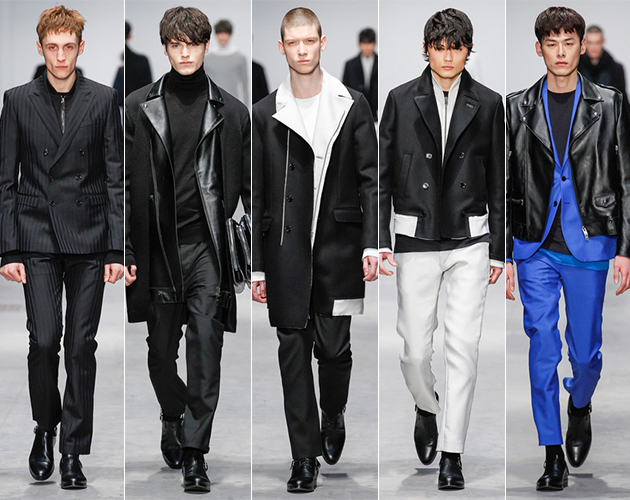 "Anger. A global feeling, dissacrating, prelude to change, an energy I feel pulse through today's youth. At the end of 50's this feeling became a shore towards rebellion changing men's costumes and attitudes. From them on progressing through the 60's and 70's, the younger generation repossesses themselves and the world for annstant. I hope it happens again. Soon. Today. Rock and roll! "
Debonairly defiant with a wide ribboned double breasted suit worn over a zip up.

All the comfort of knit guarded by pylons of leather. Also, the bag.

Worn here with a T and black trousers, the jacket is visually commanding in its nonchalance. Go ahead, ignore it if you can. It could care less.

Graphic, mod, and sporty.

Blueberry suits and leather motorcycle jackets might not appear to always get along, but as seen here, disco and punk have fallen in love.
Related: GLAD WE ASKED: COSTUME NATIONAL SPARKLY NEW STORE…AND ART SPACE