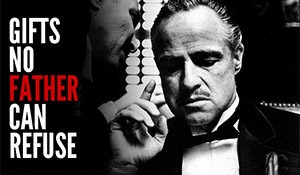 The Essential Homme Father's Day Gift Guide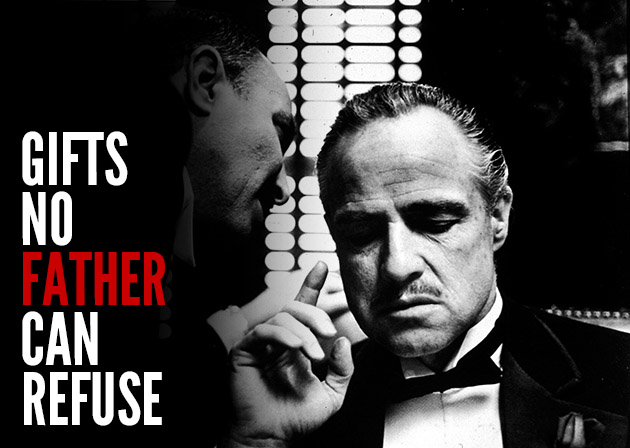 To accompany you on your long weekend…over twenty of the best things to get dad for Father's Day 2013
Aether Men's Canyon Moto Jacket
$750 at aetherapparel.com
So dad's got a motorbike, does he? Maybe a slick looking, wind resistant, waterproof jacket with minimal design that'll let him ride his bike, say to work, in style is just the thing.

Best Made Co Apron
$62 at bestmadeco.com
It's a double-duty apron, made of 10oz hickory stripe, reinforced with denim is designed to be work in the shop and by the grill. Plus, one grommet for easy adjustments.

Billy Kirk No. 5 Medium Caryall
$349 at billykirk.com
Two interior and one exterior pocket, (Japanese sourced olive herringbone) canvas exterior lined in leather with sturdy nylon lining...here's a handsome day bag for dad's laptop, gym clothes and whatever things he's other wise giving your mom to hold for him. Limited Edition.

Sir Jacks Ox Horn Double Old Fashioned Whiksey Tumbler
$98 for two at sirjacks.com
One for him and one for you. Now bond.

Armani/Casa Spencer Robe
$250 at Armani/Casa Miami, by phone only at 305.573.4331 or in store at 10 NE 39tgh Street, Miami, FL 33137
A team of Armani researchers (that's a job we're kinda jealous of!) created a special lightweight cotton with extra fine ringlets, crafting them into this bathrobe. All other fabrics should be afraid.

Tommy HilfigerMoon Neck Garment Dyed Fleece
$98 at usa.tommy.com
If he insists on wearing fleece, this is the one and only one that won't make him look like a dork.

Set of Three Chipotle BBQ Sauce
$24 at wantful.com
Well, Gordon Ramsay's favorite BBQ sauce might entice him. Made with caramelized onion, garlic, bourbon and smoked chilis. 

Ernest Alexander Chocolate Wax Bankers Zip Folio
$110 at ernestalexander.com
If dad's got his own business, then he'll never have enough folios. This one made with waxed, chocolate canvas, lined in navy twill and looks damn sharp.

Gant by Michael Bastian Explorer Sunglasses
$165 at us.gant.com
He probably doesn't know who Michael Bastian is, but no matter because when he's got these stylish lenses on while driving and the sun's completely blocked, he'll be thinking of you.

Molton Brown Sport Set
$72 at moltonbrown.com
Here's a trifecta of help for dad's grooming regimen. The warming sports rub is one of the most luxurious muscle heating creams on planet earth (no medicine cabinet smell and moisturizing), the 4-in-1 body wash keeps things streamlined and the deodorant, with cassia bark and lime, could easily stand in for a cologne.

D.S. and Durga Italian Citrus
$96 / 1.7 oz at dsanddurga.com

Possibly the ultimate scent. For any and all occasions

Hentsch Man Hawaiian PRint Cotton Tie 
$85 at mrporter.com
If you must do the tie thing, here's one that everyone will most likely agree on.

Onia Calder 10 Inch Bathing Suit
$135 at onia.com
A polite pair of trucks that hit in the sweet spot above the knee, making them style friendly and dad appropriate. Also, antique nickel snaps and some of the softest mesh lining on the market.

Owen and Fred Customizable Luggage Tag
$81 at owenandfred.com
So he never has to affix a cheap looking piece of paper to his luggage.

Parabellm Ten Card Wallet
$330 at store.unionlosangeles.com
It's lined in kevlar, you know, to stop bullets. That is of course, if the ten cards he's got in there don't do the job first. Wait...why is anyone shooting dad? 

Rimowa Salsa Air Upright Carry-On
$515 at bloomingdales.com
Lightweight to the max and sturdy to the extreme, Rimowa makes their luggage out of the same stuff as some airplanes. Plus, four wheels makes it effortless to carry. 

Will Leather Goods FireWheel Belt
$85 at willleathergoods.com
He appreciates all things Western. Help him keep it stylish with this Italian vegetable tanned belt with antique brass buckle and wax chord stitching.

Zegna Sport Leather Jacket
$1495 at store.zegna.com
Every man should have at least one leather jacket in his wardrobe. This one's sporty, minimal and goes with just about everything.

Salvatore Ferragamo Credit Card Case
$180 at ferragamo.com
It's embossed calfskin...cuz he's the boss.

Bell & Ross WW1-92 Heritage
$3,700 at Bellandross.com
Watches modeled after those worn in the 1920's are stately.

Jonnie Walker Double Black

Jonnie Walker Double Black is no longer limited edition...so time to turn dad onto something smokey and new he can get with some regularity. Because you know he likes what he likes.