EVOLUTIONMAN's Skin Perfecting Kit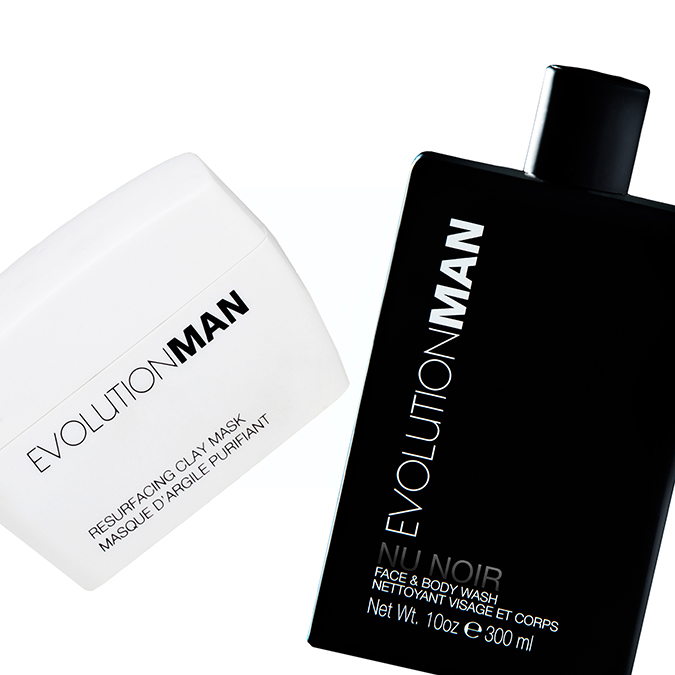 Image: EVOLUTIONMAN.
Armed with EVOLUTIONMAN's signature NU NOIR scent, the brand's new Skin Perfecting Kit is a product combo for healing and clearing all skin types. Individually powerful with beneficial ingredients, the Resurfacing Clay Mask and Face & Body Wash are even more potent when used together, providing both a deep cleanse and exfoliation without ever drying the skin.
That's because the Face & Body Wash contains 5% glycolic acid, which allows it to effectively remove dirt, minimize pores, and lift facial hair to allow for a closer shave. Also containing salicylic hydroxy acid, the wash helps minimize acne. The Resurfacing Clay Mask is the closest at-home treatment there is to a professional facial without the crazy-expensive cost. It clears away toxins and dead skin cells, while revealing a healthier complexion. Both products are scented with the sophisticated NU NOIR fragrance, which is made up of a refreshing mélange of notes such as crisp apple, juicy pomogranate, spice ginger, and soft musk for the base.
The two-in-one EVOLUTIONMAN Skin Perfecting Kit is available now online for $71.