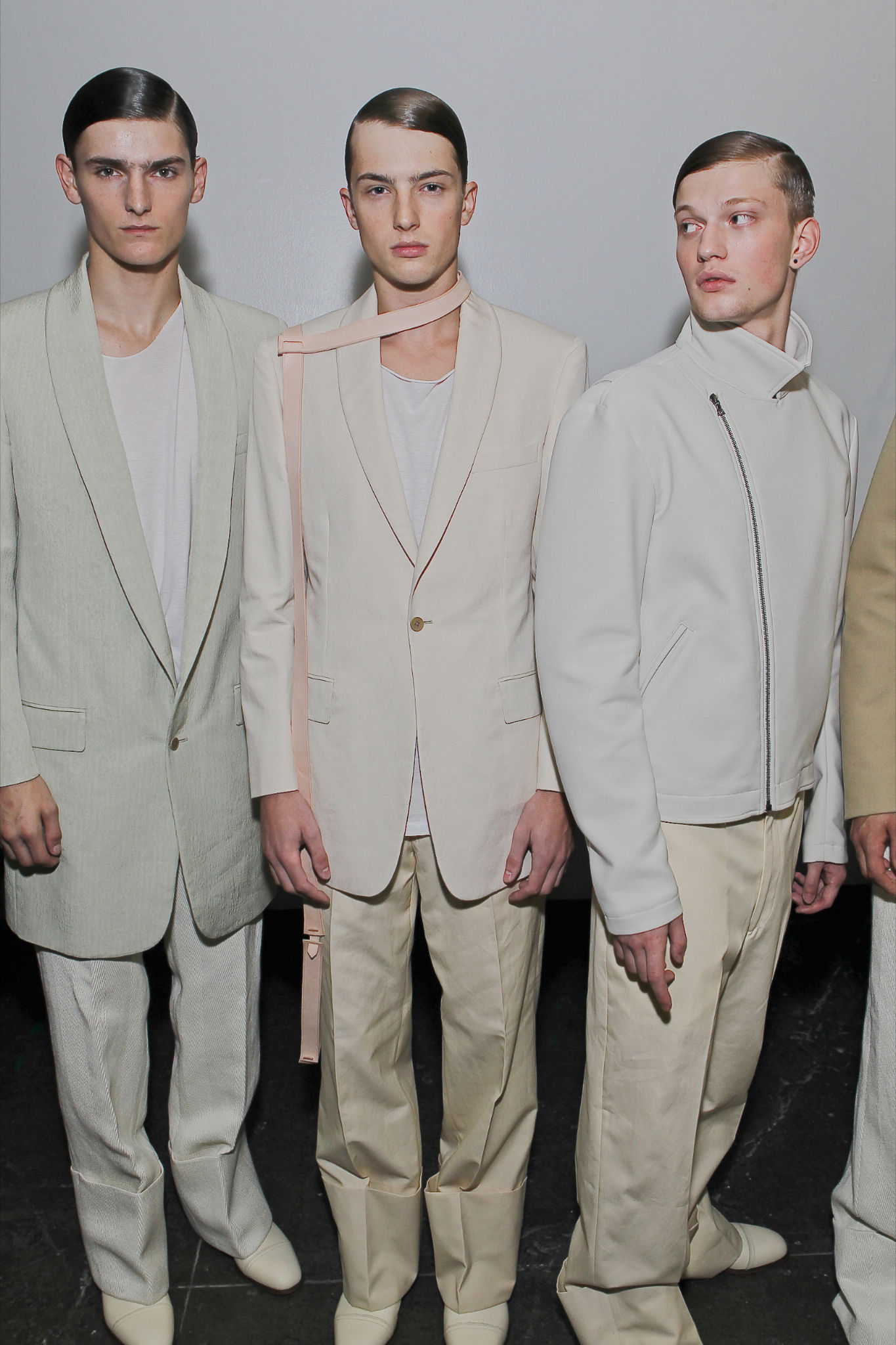 Interview and a Collection: Punk Angels and Duckie Brown Spring 2013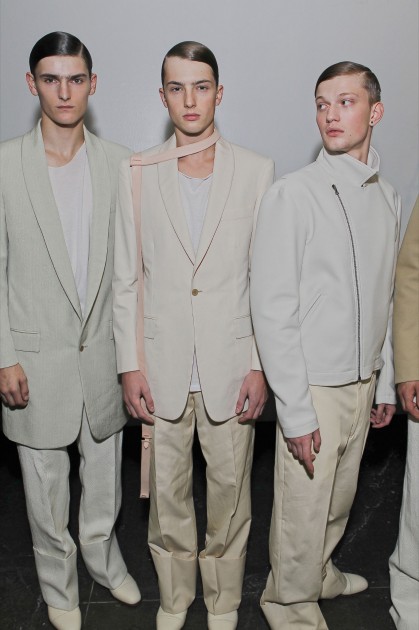 Duckie Brown's Spring 2013 collection was first, punk rock and second, angelic. Actually, their creations were just how we imagine Johnny Ramone might dress up in heaven. Tough guy tartan, leather and denim were formulated with Duckie Brown's signature ephemeral, fantastical and über-loose and/or hyper-tight men's silhouettes. There were smile-inducing over the top looks—like a backless Harrington jacket and gigantic flower-breasted jacket—stuff you might have a hard time finding a place to wear, but their inventiveness also translated beautifully into things those of you who love to take (realistic) risks in your wardrobe can outright covet. Especially in the form of outerwear. Duckie Brown make some heavenly jackets, here, you'll adore the denim trucker, red hidalgo baseball jacket, oversized Camel motorcycle jacket, and the slick black fitted motorcycle jacket.
Before the show, we had the chance to sit down with the guys/design angels. Their mind frame going in to the show was upbeat-chill and we learned some very interesting things. Donatella Versace and Steven Cox share 2 maybe, and 1 definite thing in common, Daniel Silver and Steven Cox often have very different ideas about what they're doing, and they don't actually think anyone should wear that gigantic black flower we formerly spoke of. On Earth at least.
Essential Homme: So guys—how was your summer?
Steven Cox: Well, I don't want to work in August ever again! (Laughs) We try to go away as much as possible so this year we went to Mexico City and a to little beach town on the Pacific, Puerto Escondito, all the way down in Oaxaca.
Daniel Silver: Good sea food and Steven learned to surf! Then we were in Toronto and up by the lakes. A Friend has a cottage there and then we went to Shelter Island.
EH: Were you guys inspired by any of these places? What were you thinking about when you made the collection?
SC: I saw this YouTube thing the other day and it was really interesting. I never felt that I would ever have anything to do with Donatella Versace…except my looks (laughs) and my wig (laughs). I think the inspiration thing is old fashioned. Anyway, Donatella's in the back of her limo going to one of her shows or something and she had a camera folioing her, some kinda reality thing, and someone asked her what she hated the most. She said the thing she hated the most is the question of—what's your inspiration—She said that it was too impossible to answer. Ok, inspirations work for some designers, like Michael Kors who has that one inspiration of the woman, the jet setter, and that's really, really solid and it works for him. For me, there's no one thing I can tell you. It changes and evolves every day. Why did I do this collection, I really have no idea. Why did I choose this hard-edged, rough, collection with boys that are looking hard but they're not hard at all because the clothes can be women….
DS: I don't think that's true though. I think there's a lot of the collection that's hard and its leather and denim and it kind of flips to a softer more feminine side because that's us. You've got both.
SC: We like the tension.
DS: And we often don't agree.
SC: Like what he'll say about the inspiration I just don't think is true. If I really paired it down to one thing, This inspiration came from two words Tim Blanks (from style.com) said to me backstage last season that I won't repeat because its just isn't right.
DS: …and they weren't fuck you. But the two words he did was were the jumping off point.
SC: So the inspiration—two words from Tim Blanks.
DS: But its always a continuation of where we left off. It is a feeling and how do you describe a feeling.
EH: Guys have been more willing to take risks in their wardrobe recently, something you've been doing on the runway for the past 11 years. What is it about now you think is causing that?
DS: I think men are more open. I think it's the reality shows and blogs and stuff. Men are getting that there's a word out there called fashion and the game has shifted and is changing, the rules need not necessarily apply. And so I think men are more willing to take more risks but I think Europe is much more interesting in what they are doing. In the US it's business as usual. That's my feeling
SC: I dunno. I think if you go back in history men were elaborate and would wear crazy clothes. I think it's gone the other way and men are ending up all looking the same and there's this thing of you don't want to look like a peacock or stand out.
DS: No, I think that was the '50s. In the '12s you can wear a colored brogue.
SC: But they always talk about sales. When we get written about in the US, the press always has written in the form of, 'Is it wearable?'
DS: Wearable is code for sellable and that's all that's important anymore.
SC: When I was a student in England it was all about doing something that's never been seen before—which is impossible. And I don't reinvent the wheel. I never have. For me a fashion show is about the fantasy self. I would never wear the floral jacket that we're showing on the runway. Why am I showing it? I don't know. Because it's fashion if it's interesting. I think I've always wanted to be a fine artist and this is the closest I can get, commercially, to doing that. Maybe I'm a failed artist and that's why I do fashion. I just want to show something interesting. But now we've got Perry Ellis. Any man can wear what we'll show in Perry Ellis but not every man can wear what we show at Duckie Brown.
DS: Perry Ellis has also had a great influence on Ducky Brown, obviously it's for a wider market. Yes, it's fashion and it's interesting but we're trying to reach a wider audience with that. Having done Perry Ellis by Duckie Brown, which was more straight up if you will, gave us more freedom to do Duckie Brown.
SC: Well, I'll always look at the collection and think I could have done more, I could have done more, I shouldn't have held back, so it's like, it was very interesting to do both at the same time. Sometimes I feel like I have to get my commercialness out in Duckie Brown, but this time I didn't have to. We have an equation. Like zero is a navy cashmere v neck sweater. A minus one is a pink one, a minus 2 is a pink floral. It's all an equation. We try to balance it all out to zero.
EH: First it was Florsheim, now Perry Ellis. What other collaborations are you itching to do?
DS: We want to do men's channel. Fred Perry, Adidas. And did I say Chanel Mens.
SC: I'd like to do something in Europe. Back in London or France or Italy. I've got more than I've ever wanted. I still can't believe I'm showing in NY fashion week its a dream come true. To think that i was a 19 year old in liverpool and I'm doing a brand like Perry Ellis. On that note, I'd love to do something British like Dunhill.
DS: I don't wanna live in London! It's hard to get around. GIve me Milano give me paris….
EH: Describe the collection in three words.
DS: Tough, Street and Leather
SC: Not street!
DS: Well, they're my 3 words
SC: I'd say aggressive, beautiful, sophisticated
DS: Sophisticated? That is ridiculous. It is not sophisticated!
Runway
[nggallery id=56]
Backstage
[nggallery id=57]