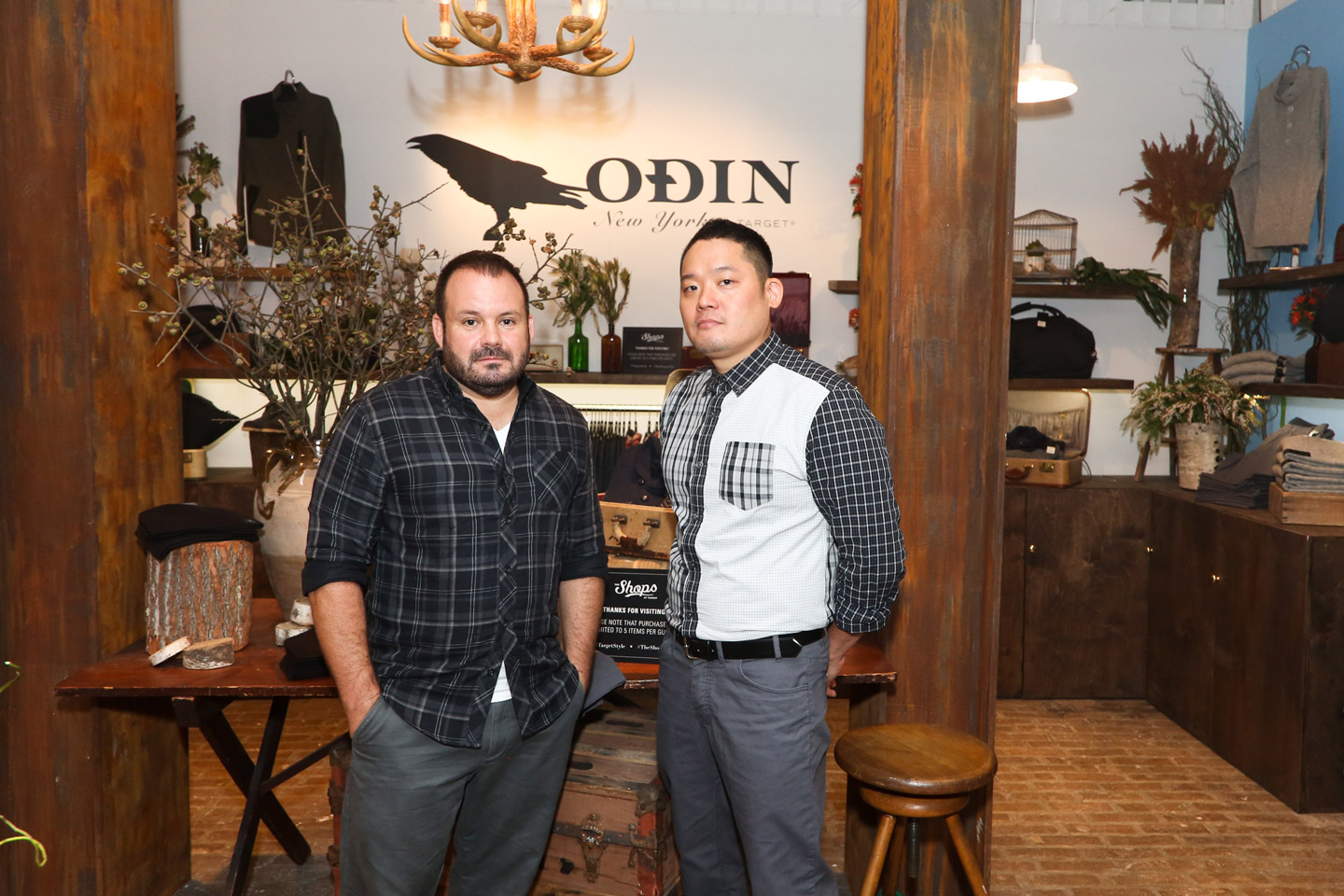 Interview and a Collection: The Scoop on Odin For Target
Collaboration, at optimum, presents fresh ideas and innovative thinking; the intersection of two speeding orbs of genius resulting in an explosion of the unexpected.  The second go-round of The Shops at Target puts the spotlight on popular downtown menswear boutique Odin.  With a reputation for fine-tuned curation and an expansive ode to casual menswear, Odin is an inspired match for retail superstar Target.  Set to hit stores this Sunday (9/9), we've got to give Target a pat on the back for initiating the collaboration and a high-five for the result, which exceeds expectations by creating a perfect middle ground for two brands (who probably wouldn't have been on the same team during elementary-school kickball).  Odin's celebrated founders Paul Birardi and Eddy Chai deliver a collection of twenty pieces, priced at a Target-friendly $35-$100, that include button downs, jackets, chinos, and a (personal favorite) weekend bag.  Whether you frequent the Soho flagship or Missoula, Montana (which we actually hear is great), heck even if you have access to the internet, Odin's collection for Target deserves a moment of you and your wallet's time.
Essential Homme: So first of all congratulations, guys!  Can we start off by talking about the Plinko board?  Where did the idea came from and how did it beocme such a runaway success?
Paul Birardi: I guess we were doing Fashion Night Out a year ago, I kind-of was like The Price is Right.  It was such an important part of what that show was about.
Eddy Chai: We were doing a charity event so we wanted to be more engaging and something people could partake in.
EH: When did the idea for this collaboration first come into conversation and how much planning and strategizing went into getting us to today?
PB: Target approached us a year ago in August and from there it's been a very smooth go through design concept, sample production, and then into press.
EH: How difficult was it tailoring the Odin aesthetic to a budget consumer?
EC: We wanted to create a masculine collection.  We want to be accessible, but we want to create something special that wasn't necessarily overt.  There's a lot of details, a lot of quality in the fabrication, things like double-facing, corduroy, mixing materials.  Those are things we focused on.  We didn't want to alienate a customer, but we wanted to give them something special.
PR: I think when we buy for our own stores it's really about detailing that's really subtle and the collection is designed with all of that in mind.  As you look at the collection you find all these really special things that aren't necessarily in your face.
EH: How will Odin's "warm, neighborhood approach to retail," coalesce with Target's corporate grandeur in the marketplace?
EC: Target might be mass, but they're still very specialized.  They do a good job of being really innovative and creative and furthering that with the designers they work with.  So, in a sense, it's not really an alienation; it's a good marriage.
EH: Besides the Odin collection, obviously, what's your favorite go-to item at Target?
EC: I'm a foodie, so I love the kitchen section.  But I was just shocked recently because I didn't realize how much Target had.  Like, they had wallpaper… and good wallpaper!  So it's really about discovering new things all the time and things that are really good quality and well designed.
EH: Where do you recommend spending all the money we'll be saving shopping for Odin at Target?
EC: (Laughs) At our stores!
PR: Buy more!
EH: Looking back on this whole experience?  What did you learn from it all?  Any unexpected surprises?
PB: Well we're an independent store so everything relies on either Ed or I to do it, so it was great working with these teams that are really focused on their specific part.
EC: And I think that sometimes you have a fear of collaborating with people and how that might translate, but this was the opposite.  It was a totally positive experience, we met people that we'll talk to well beyond this project.
PB: We're going to have a post-Target depression when this is over.
EH: First Odin Fragrances and now Odin for Target, where do you guys set your sights next?
PB: Well we have two new fragrances coming out for fall and we do have a few things that are in the works.
EH: Where will you be and what will you be doing this Sunday morning?
PB: We'll be in the Bronx, at Target.
EC: No, not Bronx.  Harlem.
PB: Oh, Harlem.  Harlem.
EC: I think it's Harlem or Brooklyn.  Well, we'll be at one of the stores.
EH: Thank you guys so much and congratulations again!
The Looks
[nggallery id=58]
The Event
[nggallery id=59]