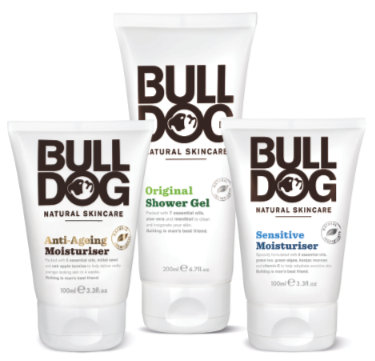 Coming in April: Three New Worthy Products from Bulldog Skin Care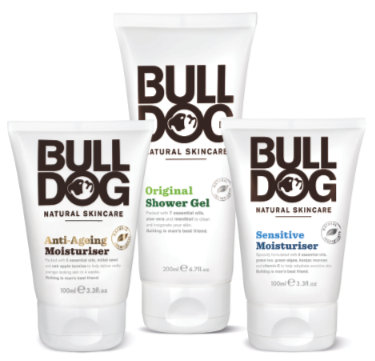 If Bulldog bottles and tubes could speak, they'd say, "G'day chap," every morning as you apply the all natural contents within. Bulldog skin care you'll know as Britain's first and largest natural skin saving brand for men—no parabens, no sulfates and sharp, chemical-free, guy friendly scents—and it's one we love. This April, they're releasing three new products—a specialist skincare product for sensitive skin, an invigorating shower gel and an anti-ageing moisturizer to help you do battle with the havoc the summer sun is about to wreak on your face. Details and where to buy, post jump.
Bulldog Original Shower Gel – ($9.99/6.7 fl oz)
Some of us like to put a little water in the bath, turn on the shower and pretend we're in a submarine that's been hit. The rest of us just treat showering like a pre-work necessity. This shower gel will alleviate some of those 7am blues without resorting to role-play.Bulldog Original Shower Gel is packed with 7 essential oils, aloe vera and menthol to clean and invigorate the skin. Bergamot, Peppermint, Eucalyptus, Basil, Coriander, Rosemary and May Chang have been expertly blended to deliver a distinctively fresh and minty masculine fragrance. Aloe vera has been included for its skin moisturizing properties and menthol is included to provide a refreshingly invigorating skin-feel.
Bulldog Anti-Ageing Moisturizer – ($17.99/3.3 fl oz)
Just because the Bulldog's a wrinkly old beast, it doesn't mean that you have to be. Bulldog Anti-Ageing Moisturiser is dermatologically tested and has a non-greasy formula designed to target wrinkles and fine lines. This product contains natural ingredients including tannic acid from oak apple, botanical silicon from millet seed, vitamin E and a unique blend of five essential oils, which combine to help reduce the appearance of wrinkles and help deliver younger looking skin in four weeks.
Bulldog Sensitive Moisturizer – ($13.99/3.3 fl oz)
If you've got the kind of skin that acts up, then this moisturiser will be much more effective than Bryon and Keats at satisfying your sensitive side. Bulldog Sensitive Moisturizer contains green tea, green algae, konjac mannan and vitamin E to help rehydrate sensitive skin. The distinctive and entirely natural woody aroma of this moisturizer is created using Cedarwood and Patchouli, both essential oils that are celebrated by aromatherapists worldwide for their antiseptic and therapeutic skincare benefits.
The trio of products will be available at selected Whole Foods Market stores and online at www.meetthebulldog.com from April 2013.