KIEHL'S THREE NEW PRODUCTS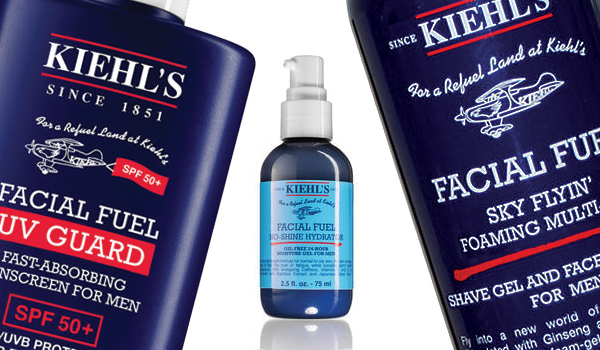 Three new products from Kiehl's must-have Facial Fuel line hit the shelves at Kiehl's this month, each of which offer excellent solutions to our most frustrating summer grooming issues—oil, grime, sun and not having enough time to take care of it all.
---

Facial Fuel "No-Shine" Hydrator — Wouldn't it be awesome if there was some kinda micro sponge you could put on your face to sop up that mid-afternoon oil slick that seems to always show up on your face? Wait, what's that? Kiehl's just invented one? Yes. This oil/silicone/paraben-free formula uses magnesium, sodium PCA and zinc which act like microscopic sponges on the excess oil deposited on your face each afternoon. When its not making your face go all matte, it's doing its secondary job (as the name suggests) as lightweight hydrator so it leaves the skin feeling moist, fresh and comfortable.
Great for: Anytime a camera is present, when the light begins to glisten off your forehead as if it were the sea.
Facial Fuel "No Shine" Hydrator, $21, Kiehl's.com
---

Sky Flyin' Foaming Multi-Gel — Or in other words, a really awesome shave cream that doubles as a face wash. Used as a shave gel, it easily lathers into a cooling and soothing foam that does a handsome job at keeping the red out. Purposed as a cleanser, it is gentle and tones. In it, you'll find invigorating caffeine, free radical fighting anti-oxidants, irritation minimizing ginseng,  nourishing bamboo extract and lemon and orange fruit extracts which are excellent natural toners.
Great for: When time is tight, road trips, travel, vacation homes
Kieh'ls Facial Fuel Sky Flyin' Foaming Multi-Gel, $19, Kiehls.com
---

Facial Fuel UV Guard 50+ — It was listed as one of our must-haves for summer in our May/June issue but to recap…Its an oil-free, fast-absorbing, lightweight, fragrance-free, water resistant formula that makes use of no less than 5 filters to provide the kind of broadspectrum sun protection your mug needs in the summer. Vitamins C + E plus caffeine make your skin look alive too. Its just an added bonus that the bottle is svelt enough to fit perfectly in your pocket.
Great for: travel, outdoor events, pockets
Facial Fuel UV Guard 50+, $34, Kiehl's.com
---