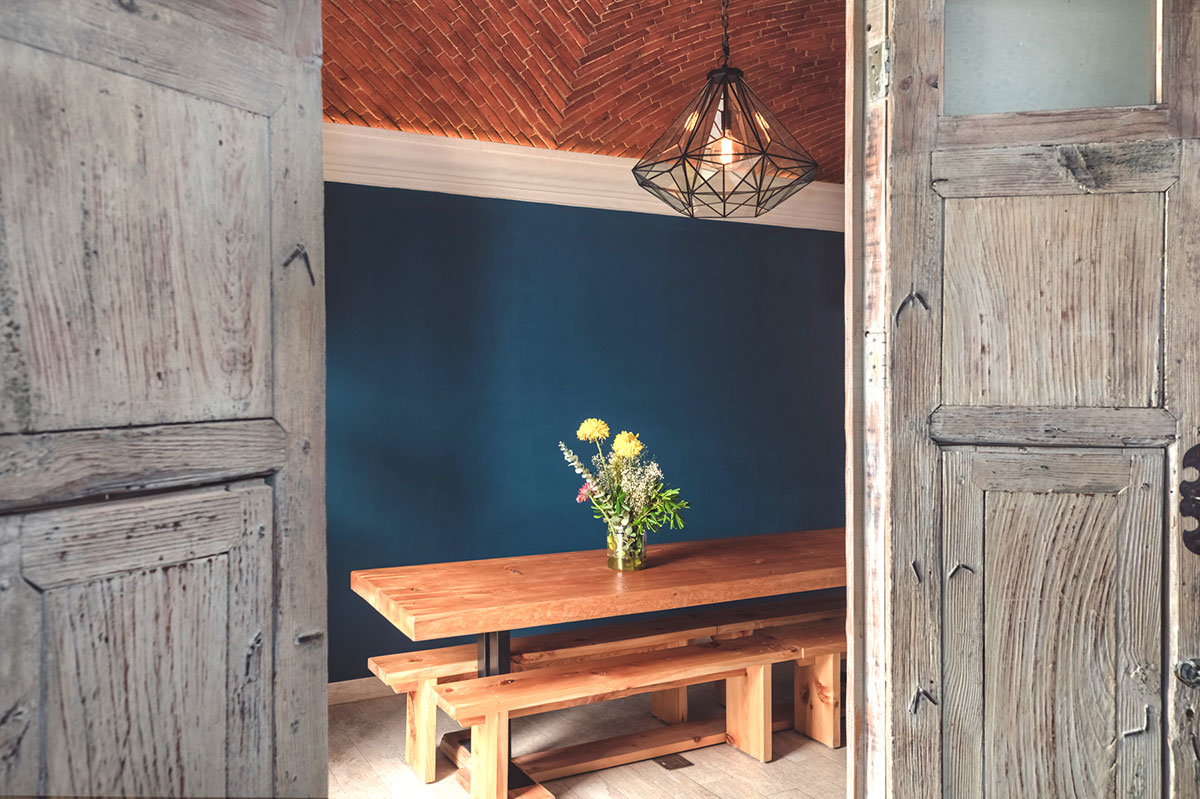 Casa Delphine is a Love Letter to San Miguel de Allende
Newly opened boutique hotel Casa Delphine in Mexico's San Miguel de Allende (four hours from Mexico City) is a passion project turned into an intimate guesthouse in the backstreets of the pueblo mágico. Tucked away in a corner of the hillside cobblestone city, Casa Delphine is a colonial building that one would expect in such location, but with a well-appreciated Morrocan twist. Boveda ceilings, light blue doorways, arches, and an overall vibe that seems plucked straight from Marrakech yet so perfectly in place here in Mexico.
Highly influenced by the colonial architecture of the Spanish conquistadors, Mexico was also touched by other Eastern cultures as well. In fact, the famous tacos were first made by Lebanese immigrants trying to remake their traditional dishes using local ingredients like corn. Casa Delphine follows suit in a contemporary setting featuring a Los Angeles-transplant founder Amanda Keidan and a neighborhood of expats.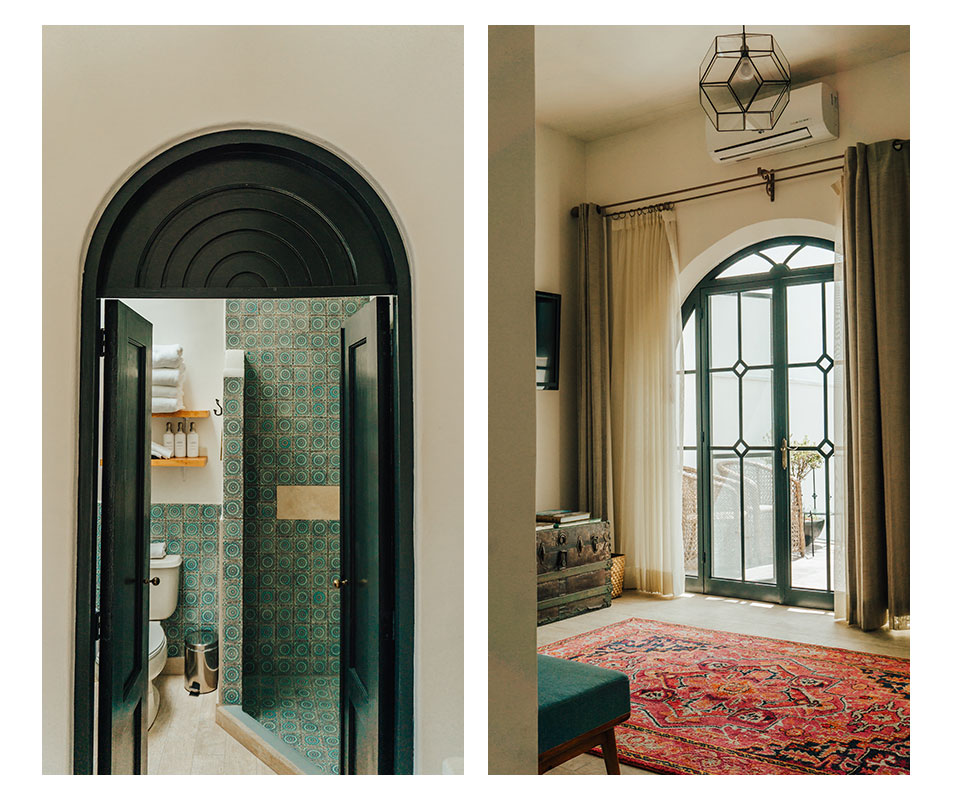 Oriental elements (arches and tiles) at Casa Delphine
"Casa Delphine is a modern and luxurious colonial Mexican home. It was originally built as a home, though its layout lends its self perfectly as a hotel," says Keidan. "My job was to create an environment that feels calming and that showcases that original work." In a home with its original Cantera fireplaces, stonework, and woodwork, Keidan's job was simply to wake up the sleeping beauty. Featuring only five suites and a larger living-room with a family-table at the center, the result is resemblant of visiting your distant relatives.
Mornings start with kitchen-side homemade breakfasts and puppy cuddles (Amanda has two hotel poodles), followed by an enjoyable walk to any of the city's attractions. Just minutes away is La Fabrica Aurora, the Cultural Arts and Design Center, where one can spend a whole day surrounded by fascinating pieces of work. The rest of the city follows a similar cadence: slow-paced days exploring the art and culture, and a rooftop or two. Delphine's rooftop tops the competition though, as it includes a hot tub with a view of the city lights and sunsets.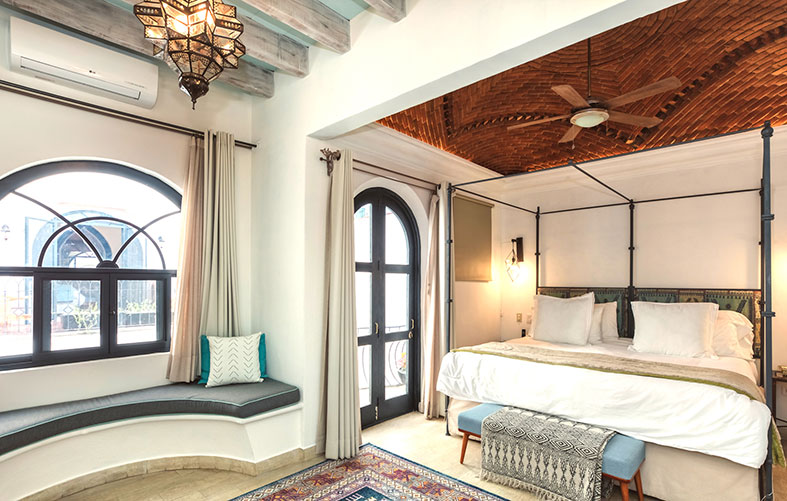 Deluxe Suite 02 at Casa Delphine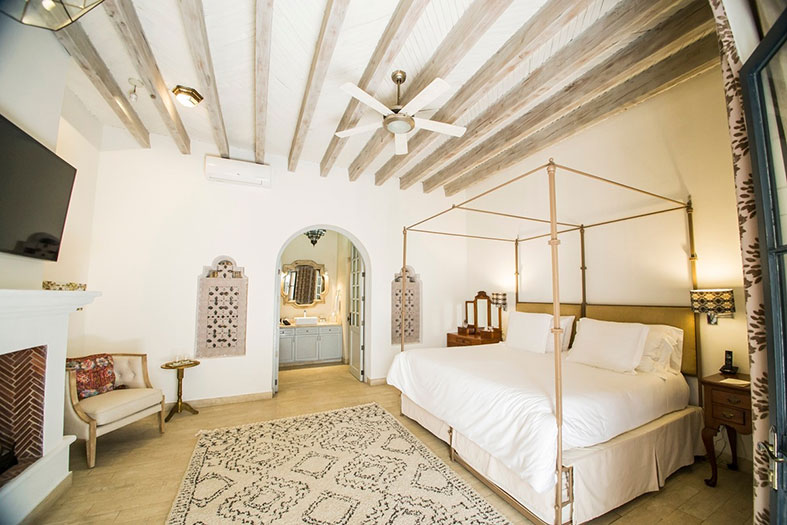 Master Suite 03 at Casa Delphine
"Every morning I walk out of my home to walk the dogs and 'Good morning' is exchanged twenty times before I'm done with my walk," says Keidan in regards to her sudden move to Mexico. Already having had a few acquaintances in the city from Burning Man times that resulted in friends like Donnie Masterton, the city's celebrity chef, Amanda has a whole book of little-known secrets that she is readily willing to share. From chats at the table to dinners at the neighbor's house, one truly doesn't know what they will walk into in Casa Delphine and that is the beauty of it: letting San Miguel unfold in the most natural way with its convivial locals, delicious cuisine, and a mariachi serenade or two.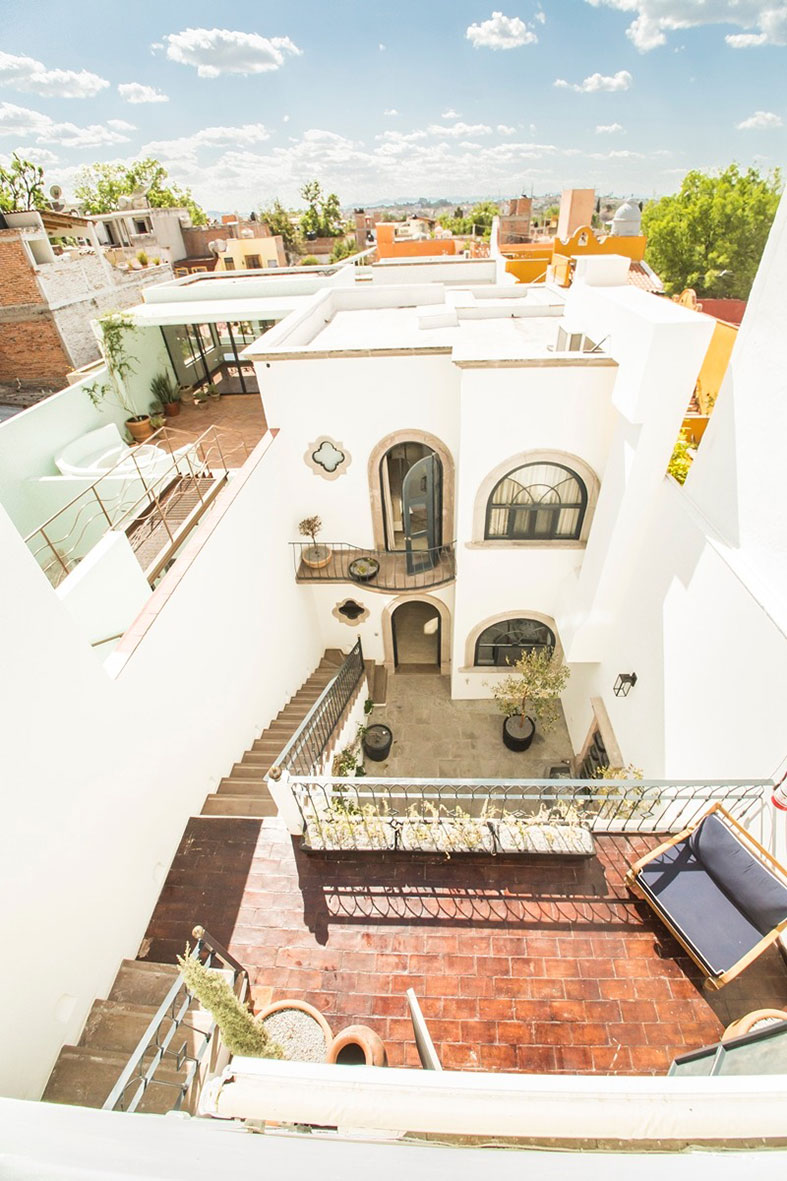 View from the Rooftop Suite 05 at Casa Delphine
Having traveled the world, Keidan knew exactly the elements she values in a hotel. Already the owner of a luxury fine jewelry brand Keidan, the founder knew the value of meticulous detail (including sustainable practices) and hospitality wrapped in a hippie heart. And while San Miguel offers an array of hotels, Delphine is one of those places where you do come back, and mean it.