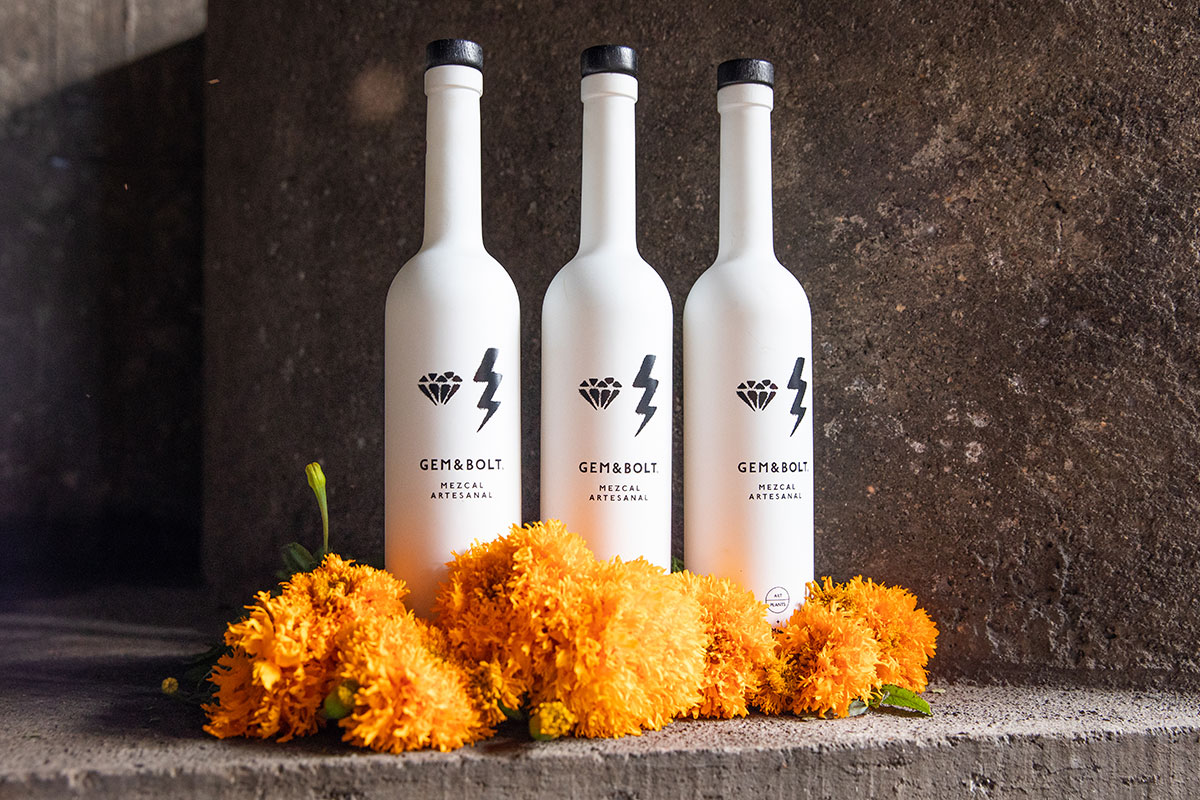 GEM & BOLT Unites Spirits and Sensory Celebration in Oaxaca
The recipe for mezcal — all it takes is some sun and agave. Both ingredients included, GEM & BOLT mezcal is produced by a fourth-generation master distiller in Oaxaca, Mexico with a unique damíana herb distillation. The result is a clean and smooth (and hangover-proof) mezcal.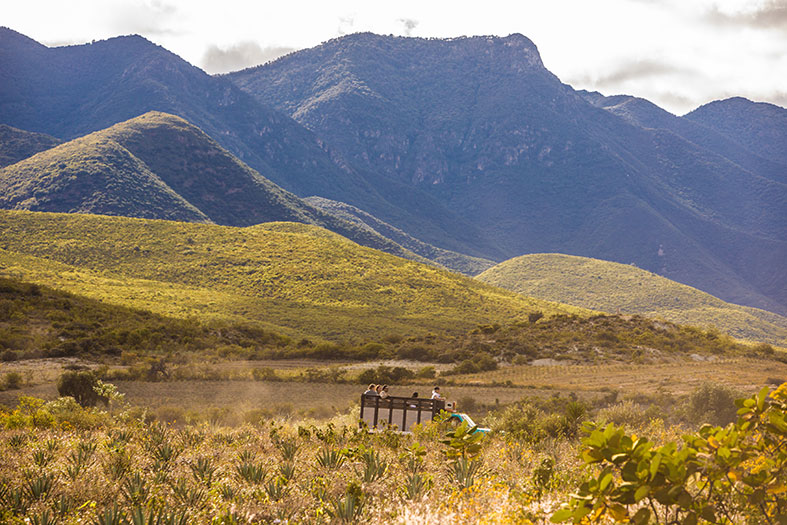 The rolling hills of Oaxaca countryside
Founded by AdrinAdrina and Elliott Coon, the joint project was originally known for its herbal-infused cocktails and elixirs bootlegged speakeasy-style at artistic gatherings and underground parties in Tulum. Even before the company was officially founded, it was already a hit in the town's popular institution Gitano. Five years later, Gem & Bolt has found its home in Oaxaca where the founders throw their own parties, set up their own temporary "Altar Bar," and invite all their friends to join their "Union of the Spirits" Dia de Los Muertos celebration.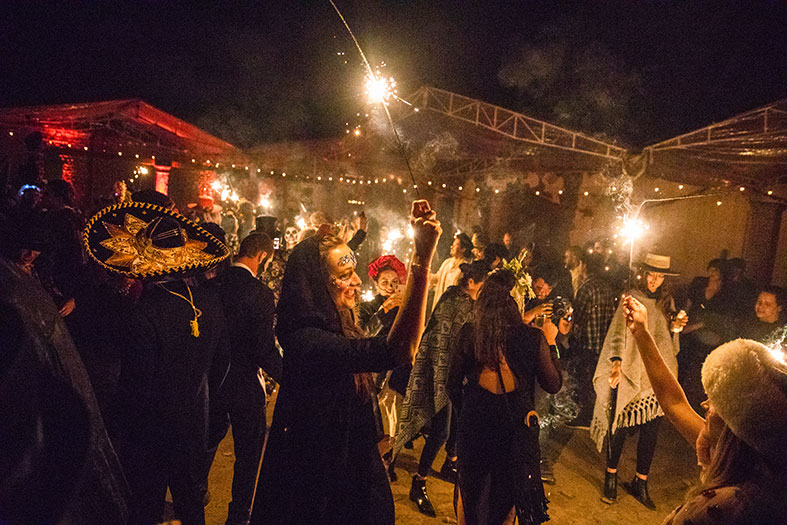 Gem & Bolt "Union of the Spirits" celebration
We joined in all the death-veneration festivities, downed plenty of mezcal, and dove into the magical spirit where it all started. "When you drink mezcal, you are basically drinking solar energy," says Head of Operations Vicente Reyes. "Solar energy, when well processed, gives you energy in turn." With a statement like that, who wouldn't want to become a mezcalero?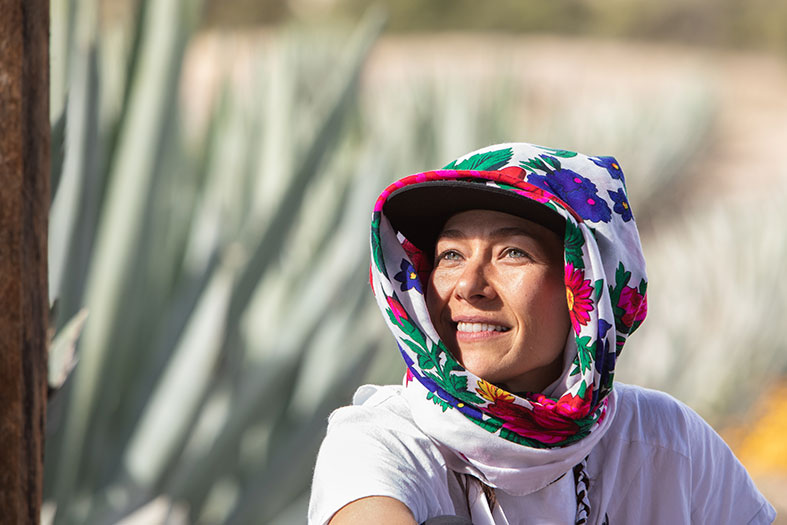 Co-founder Elliott Coon
But mezcal is much more complex. In fact, it's such a classified spirit that the locals each have their own secrets of production. In the case of GEM & BOLT, it's a traditional Oaxacan mezcal (the other two categories include ancestorial fully hand-made spirit and typical mezcal.) In preparation of the drink, the mezcalero (a mezcal master distiller) first takes care of the proper maturation of the maguey (local name for agave) for approximately seven years. The piña (the heart excluding the prickly cacti leaves) of the agave plant is then cooked underground above burning wood, covered by river stones layered below the soil and more stones, for 72-hours. The convection inside ensures a well-cooked product and provides its characteristic "smokiness."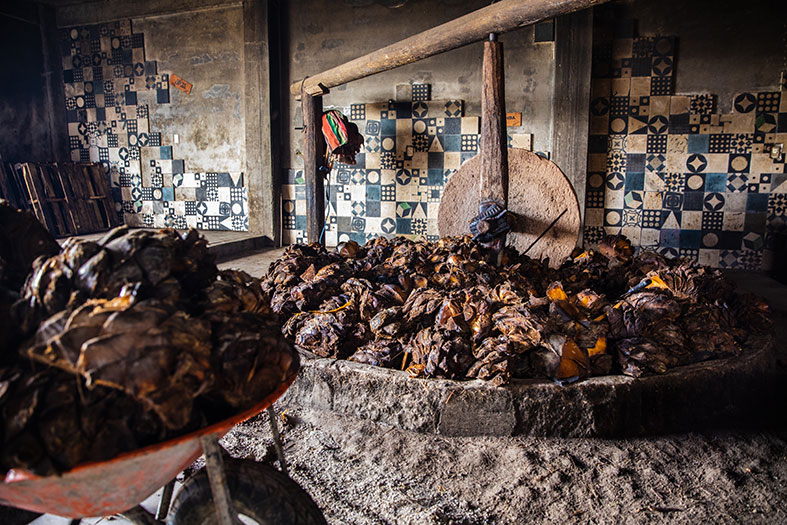 Tahona mill
Next, the cooked agave is broken down in a tahona mill  (volcanic stone) where the fibers are crushed to release their sugars. The fibers and liquid are transferred to wooden tanks for wild fermentation. "This means that the yeast that is present in the environment, especially in the specific facility that we produce in, starts eating the sugar and transforming it into alcohol," explains Reyes. This process continues over seven to ten days where the master mezcalero must use his senses of sight, sound, and smell to declare the maceration al punto.
At this point, the low alcohol product enters distillation in copper tanks. GEM & BOLT takes a detour after the first distillation, letting the product rest for a couple of months, a novelty for traditional mezcal production. This allows for the essential oils in the agave and the first distillation to settle before a second distillation where the liquid is infused with the damiana plant (a trick from cocktail-making days) — the brand proudly claims that damiana and mezcal are "a perfect marriage in plant alchemy."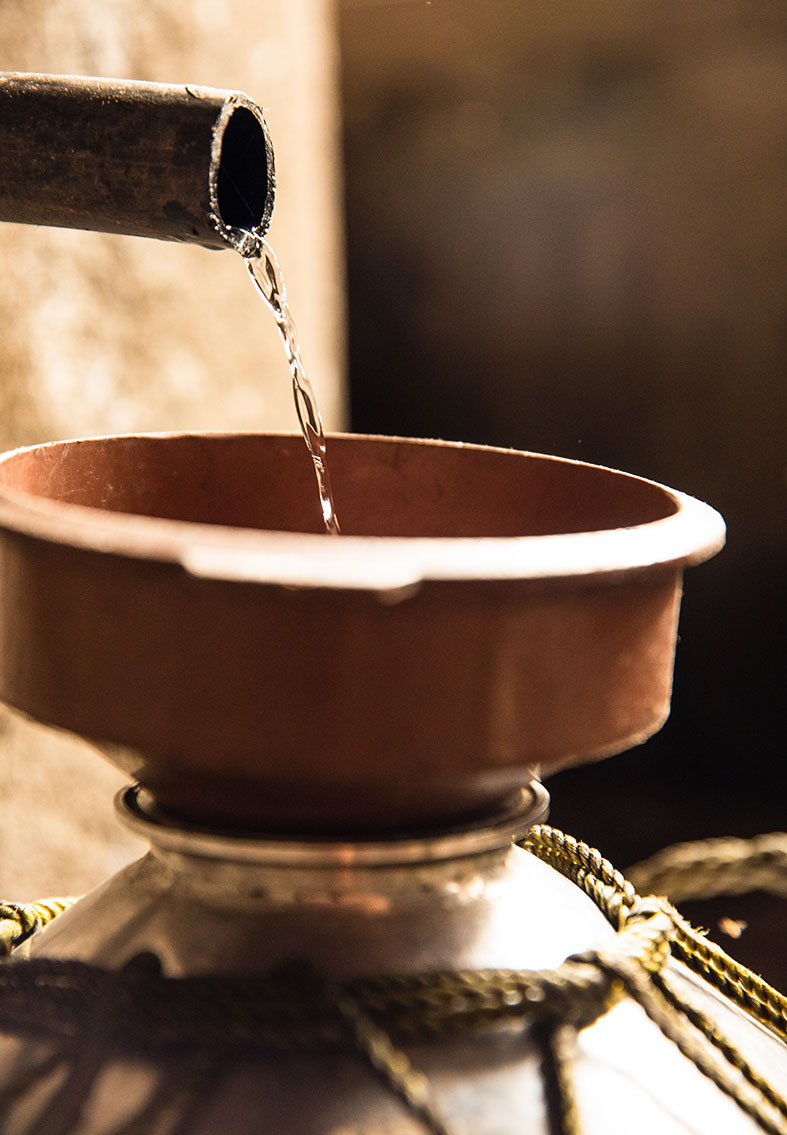 Mezcal after a second distillation
Having ancestral significance, both mezcal and damiana have long carried medicinal importance in Mexico. Damiana, an aphrodisiac, is known for its mood-elevating properties and mythic powers in the bedroom. Mezcal, on the other hand, has been used in medicine, religious ceremonies, births, deaths, and everything in-between. And so, the marriage of the two is an olfactory explosion. 
Like a lightning rod that hit maguey in ancient history to cook the plant and teach humans about the sacred spirit, GEM & BOLT represents a reincarnation of the story without particular intention. The duo had picked out their signature name while artists way before their mezcal venture. And the coincidences persist, women were actually the gate-keepers of the spirit. As mezcal was persecuted in Mexico for taxation reasons, women were able to bootleg it by pretending to be pregnant, among other tales. These tactics actually preserved mezcal's traditional preparation for future generations, which Drina and Coon continue to honor by ensuring a good time at their legendary parties. 
For the Day of the Dead, their signature festival is an all-white wedding-theme featuring a proper Oaxacan ceremony. Parading down the streets of downtown Oaxacan to Coon's personal home in a catrina attire (skeleton) and driving out to a village for the big ceremony is just the beginning. It's where Burning Man meets Coco (the Disney movie), where Mexican traditions blend with contemporary practices, and the people are kind. And maybe that's because "we are a more unique, genuine drink," says Reyes, compared to other spirits. The mystery behind mezcal is still a fairly new "discovery" in the world of alcohol, but as it invites more guests it seduces more aficionados.
Gem & Bolt's Vicente Reyes
"People are always looking for new things, but mezcal is not just a "new" thing," says Reyes. It is Mexico, after all, where the sun shines and the agave grows.