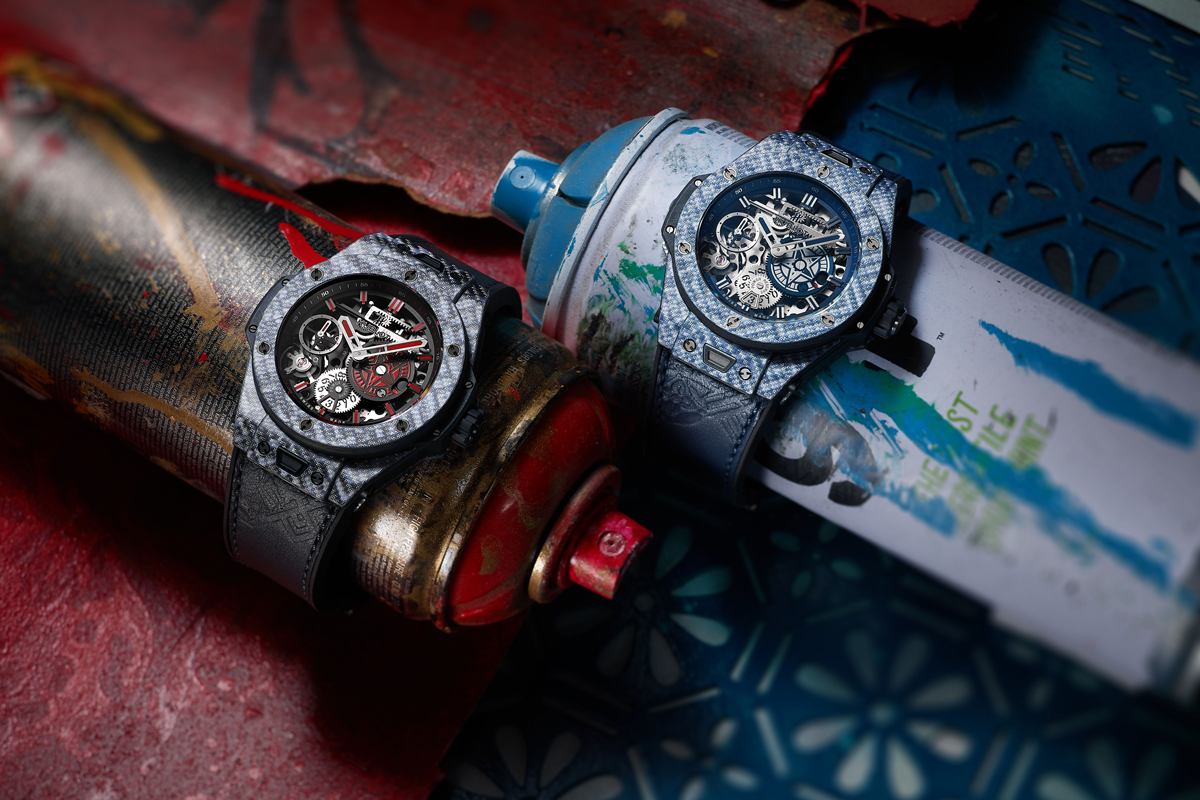 A Look at Hublot's Collaboration with Shepard Fairey
Last year, master watchmaker Hublot announced a partnership with renowned street art pioneer and founder of OBEY Clothing Shepard Fairey, before revealing a new watch designed in collaboration with the artist. The resulting watch — the Big Bang Meca-10 Shepard Fairey — is the result of a somewhat unexpected alliance: a luxury watchmaker partnering with a label known for its propaganda-inspired graphics. However, there are similarities in the work of Fairey and the Swiss watch brand that led to such a prestigious timepiece.
Launching in Switzerland in 1980, Hublot quickly gained recognition among the watch industry before being acquired by LVMH in 2007 — a true badge of honor for an entity so committed to the craft. Conversely, OBEY Clothing started as an underground project after Fairey started posting stickers featuring a distorted print of Andre the Giant's face. Word of mouth buzz helped turn the label into a modern skatewear staple. The pairing of the historic watchmaker and new art influencer is just the latest in the ongoing "Hublot Loves Art" initiative — which has previously featured French artist Richard Orlinski and  Chinese photographer Chen Man — but this is the first time the brand has partnered with a street artist.

This fusion of design approaches — mechanical precision with a street-savvy taste for disruption — is evident in the Big Bang Meca-10 Shepard Fairey. Designed over the course of two years, the new model is the latest part of Hublot's Big Bang Meca series, which incorporates state of the art technical design savvy with 10-day power reserve. Fairey's aesthetic is embedded into the design through the placement of a "Star Gear" logo. And for optimum convenience and efficiency, the model is equipped with Hublot's signature "one-click" mechanism, which enables the watch strap to be changed easily.



"Hublot and Fairey share a disruptive approach to their art, that is consistently first, unique, different," CEO of Hublot Ricardo Guadalupe said in a statement. "Once again, Hublot teams with the best of the best. For the first time, the street art star gives life to a miniature 'mural' on a time object. The ever-creative rebel has transformed our Big Bang Meca-10 into a canvas on which he distills his iconic aesthetic codes."
As the worlds of luxury and street fashion continue to intersect, Hublot has once again demonstrated its astute cognizance on bigger cultural trends and ability to adapt to the times accordingly. And with an innovative model as striking as the Big Bang Meca-10 Shepard Fairey, it's clear they're ahead of the pack.
Images and video courtesy of Hublot.