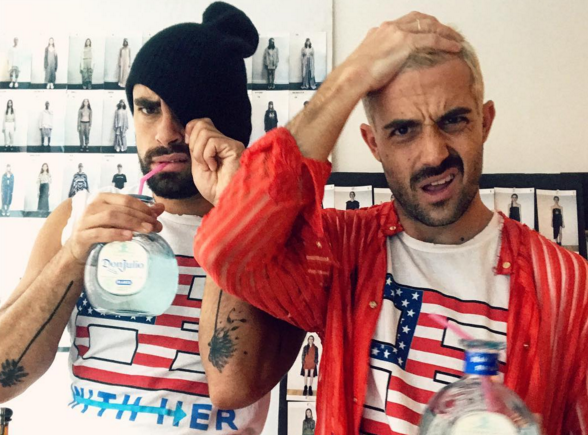 Weekly Instagram Roundup: DSQUARED2, Versace, and More
This week's complete social snapshot, distilled for your pleasure.
From the hottest celebrity parties to the regretful morning-after shots, ESSENTIAL HOMME's Weekly Instagram Roundup brings all of the hottest designer, model, and trendsetting pics from the week directly to you. After all, no one has time to scroll through anything but the best.
KENZO
Famous faces congregated for the wild dance party that was KENZO x H&M's collaborative runway, with everyone from Joe Jonas to Lupita Nyong'o getting down and dirty.
Gabriel Kane
While on a carefree Mediterranean jaunt, musician Gabriel Kane offered a behind-the-scenes peek at the upcoming Dolce&Gabbana campaign, titled #millenials, currently shooting in Capri, Italy.
DSQUARED2
ESSENTIAL HOMME December 2014/January 2015 cover stars Dan and Dean Caten threw it way back with this grayscale #TBT, just days after announcing DSQUARED2's new partnership with Manchester City Football Club.
Baja East
John Targon and Scott Studenberg of Baja East threw their support behind Presidential nominee Hillary Clinton with a cheeky nod to this week's political debate – of course wearing the New York brand's soon-to-be-iconic "Be With Her" tee and sipping on some Don Julio.
SIBLING
Envelope-pusher SIBLING honored the late Sonia Rykiel with monogramed versions of her famous poor boy sweater, spelling out "Sonia Forever" in bright pops of color.
Donatella Versace
The queen of Italian fashion announced her eponymous brand's off-shoot Versus Versace's upcoming partnership with megastar Zayn Malik for ZAYN x VERSUS, complete with tongue-wagging, emoji fun.
Follow ESSENTIAL HOMME on Instagram at @EssentialHomme.