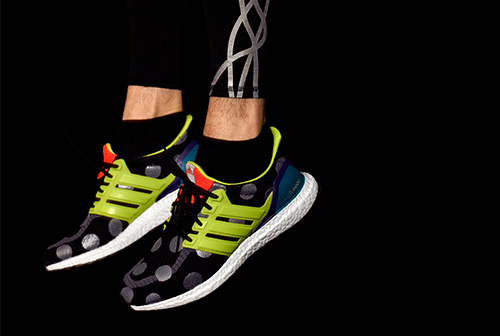 adidas by kolor Releases New Sports Collection
[slider_pro id="93″]
Images: adidas x kolor.
The allure of Japanese fashion label kolor, as the name suggests, is its wide color palette: "kolor is color," explains creative director Junichi Abe. Now, in partnership with adidas for a third collection, adidas by kolor debuts its most colorful, vibrant, and electric collection yet, merging fashion with performance-enhancing sportswear technology. The collection features a range of sports shirts, shorts, sweatpants, and trainers, all made with adidas innovations such as Climaheat, Climachill, and Boost technology. Each piece is accented with neon green, orange, or metallic silver, and the shirts feature adidas by kolor's iconic mirror silver foil across the clavicle. The trainers are the crowning jewel of the collection, boasting lime-green adidas stripes and a silver polka dot pattern across the fabric. The range arrives on the heels of the brand's autumn/winter 2016 collection and is yet another release from adidas that promises optimal sports performance and style for the fashion-conscious sportsman. The collection carries the tradition of the previous collaborations, which featured the legendary adidas sports technology coupled with kolor's futuristic style. Together, the brands vitalize and beautify the human body in motion.
The adidas by kolor collection is available in select stores and online now.