Watch Bohemian Rhapsody, Smell Like Queen
Cult British band Queen turned movie Bohemian Rhapsody also turns into Art Meets Art's newest exclusive scent: Bohemian Rhapsody.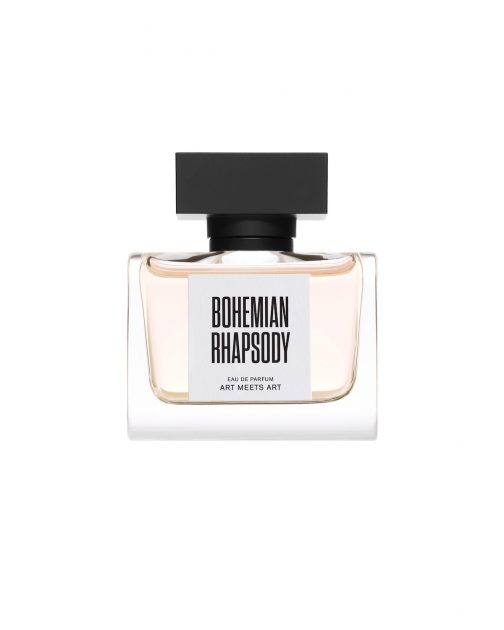 Photos: Courtesy of the brand
Created by one of the most influential perfumers of the millennium Frank Voelkl, Bohemian Rhapsody is a modern take on the classic hippy song familiar to everyone. Fragrance and music belong to the same category of sensual experiences, but the two have much more in common. Vocabulary in the perfume world has long been borrowed from other spheres– especially music. "We talk about fragrance notes and fragrance accords, you can talk about a theme or a melody within a fragrance," says Voelkl. "We use a lot of vocabulary from the world of music– base notes, top notes, etc."
Bohemian Rhapsody is a song that encompasses the best– both rock and opera, the challenge was to create a vintage scent that is loud, soft and light. "The notes you will see in there are a bit vintage — iconic flowers like jasmine sambac, ylang, tuberose and rose absolute. There's something a little bit dramatic about it with the patchouli," paints Voelkl. The scent, however, is not entirely overbearing at all and quite shy in a way. It's not the kind of scent that makes an entrance before you enter the room, but rather the kind of scent that charms. "There's also very vibrant energy with the zinc top note with some aldehydes, pink pepper and black currant. In the back there's also a bit of musks, vetiver and patchouli." The final product is exuberant and almost, like the song– familiar. With a flair of traditional Paris yet signature entrance, Bohemian Rhapsody is a worthy addition the the existing set of five fragrances at Art Meets Art.
Bohemian Rhapsody the scent is available at Saks 5th Ave and ArtMeetsArt.com.