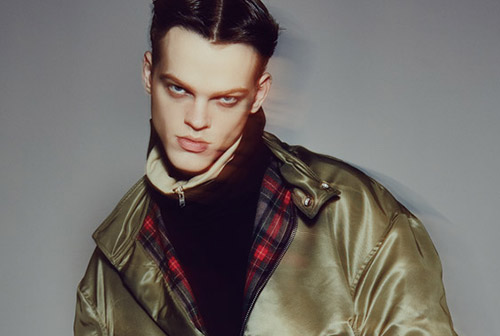 Blessed: The Unexpected Origins of Fear of God
Image: Vuat Mohindra.
The fashion designer Jerry Lorenzo does not know how to draw. He doesn't sketch at all actually, nor did he receive a formal education in garment construction. Instead of heeding the typical processes to source fabrics that frequent the trade, Lorenzo mines through racks of vintage tees and resale pieces with a blind faith, begging for that brush of flannel that feels just right or that one wash of jean that might once have eagered Kurt Cobain. If the market was imagined as an assembly line, with each successful fashion brand as the physical machines that it readily relies on, then Lorenzo is a wrench in the operation, reversibly building down to constitute the standard anew. So how did his clothing line, Fear of God, a brand without either a public relations team or group of salespeople, one that doesn't entertain runway—not only from a lack of interest but also, due to season- less releases, it's not even possible—secure shelf space next to the likes of Saint Laurent and Rick Owens, and street style sightings on everyone from Justin Bieber to David Beckham?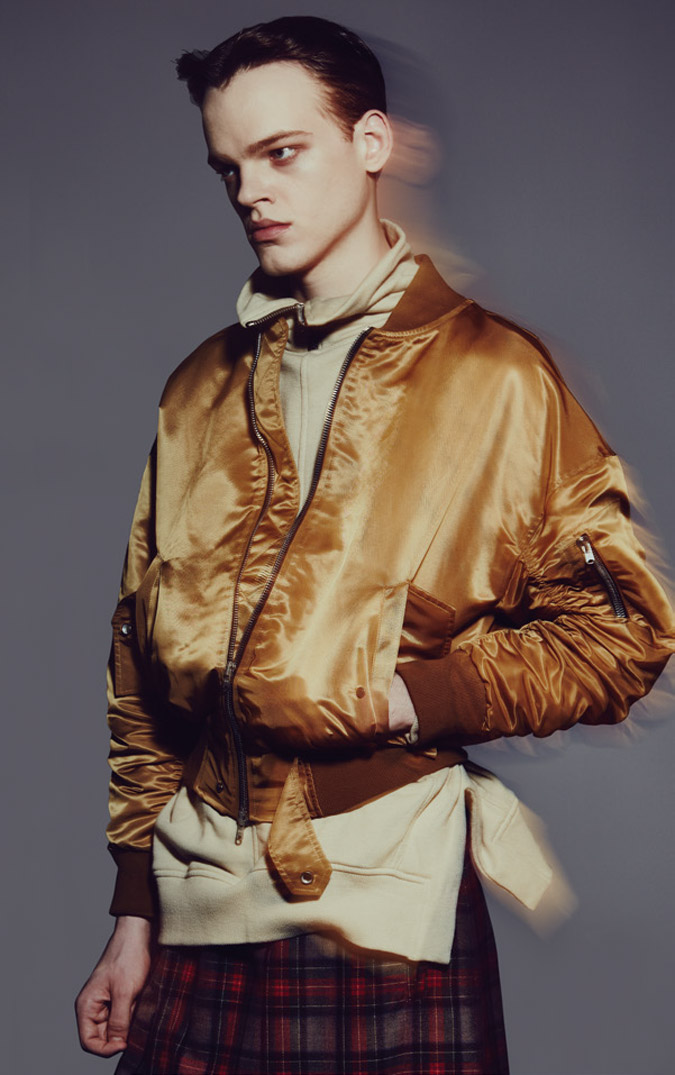 Image: A.P. Kim.
"Somewhat selfishly, I just want to be at a place where I make enough to wear what I want to wear every day," says Lorenzo. We are discussing purpose, and, as the designer admits, he began the label in 2013 to make clothes for himself, yes, but also to reckon with the stubborn fragments of sociopolitical and cultural tension from his youth. "I went to an all-white high school, but my mom took us to an all-black Southern church on the weekends," says Lorenzo. "So I've always had this juxtaposition of cultures that I've been trying to find my place in without leaning too strongly toward either." Add to that upbringing a steady diet of early '80s films—John Bender remains to this day a life-changing force for the designer—and the result is a putty-like fascination with youth that molds itself into recognizably cool collections of clothes that kids today want to wear.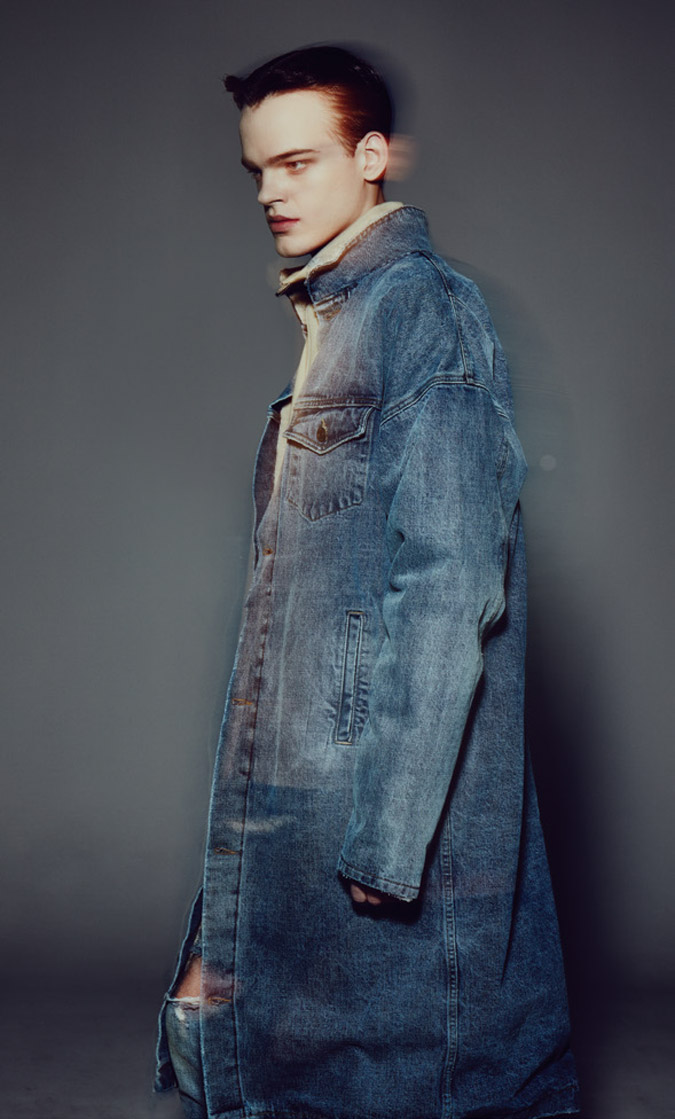 Image: A.P. Kim.
It's through this basic understanding of the culture of now that has granted Lorenzo—who, after working odd jobs in retail his entire life, established his network of future fans (perhaps most infamous, Kanye and Kim Kardashian West) as a club promoter in Los Angeles—a fast track of sorts into the hashtag-endorsed arena of high-end menswear. His newest issue, Fourth Collection, is the designer's most comprehensive assortment yet, continuing his signature grunge-style layering with expanded elements of DIY-shredded denim and utilitarian silhouettes crafted from age-affected textiles. "I am always trying to be appropriate … but never too appropriate," says Lorenzo. "The thing is, I'm not presenting totally really new ideas, just fresh takes on what's already out there. Imagine walking to the club, and the guys outside are like, 'Ah man we don't let people in here with shorts on, but damn those shorts are so dope that they just work, so come on in.' That's the type of clothes I am trying to make."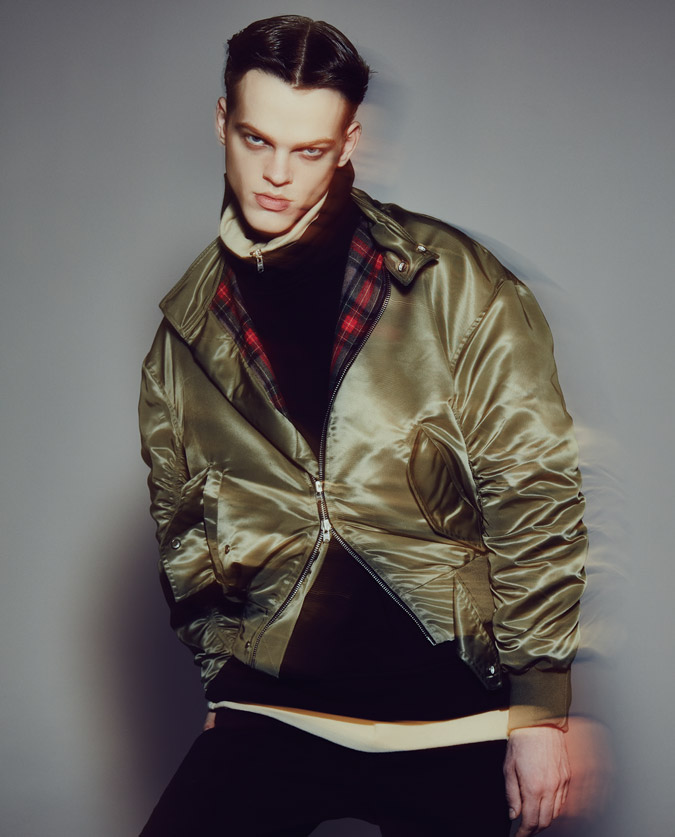 Image: A.P. Kim.
Another part of the release, super-sole military boots, a first for FOG, arrive as a second-wave drop this February in neutral-colored suedes and black and white. "They took a while to make," says the designer. "I had to raise the dollars and visit all the right factories, but I just felt that in order to tell the whole story of what I'm thinking, I needed to be able to control every detail perfectly." And in the world of FOG, Lorenzo does indeed control everything creative, from the brand's Instagram—an all-power digital fingerprint that forces fashion buyers, influencers, and even press like myself to come to him—to the sheen of the silk-lined collar on his flannel of choice, with each minute detail born from an astute awareness and a surprisingly direct sense of humanity. "I remember my first retail job at Diesel when I was 15-years-old. I wasn't cool enough to work the sales floor, so I was stuck in the stock room for two years," says Lorenzo. "I know how I'm viewed and I know how people perceive each other. All of this now, being seen as this really cool guy with a really cool brand … that's not just me. The name Fear of God was rooted in my spirituality and in being raised in a Christian home. I wanted something that had a meaning to it deeper than just cool clothes, and I want people to know that."