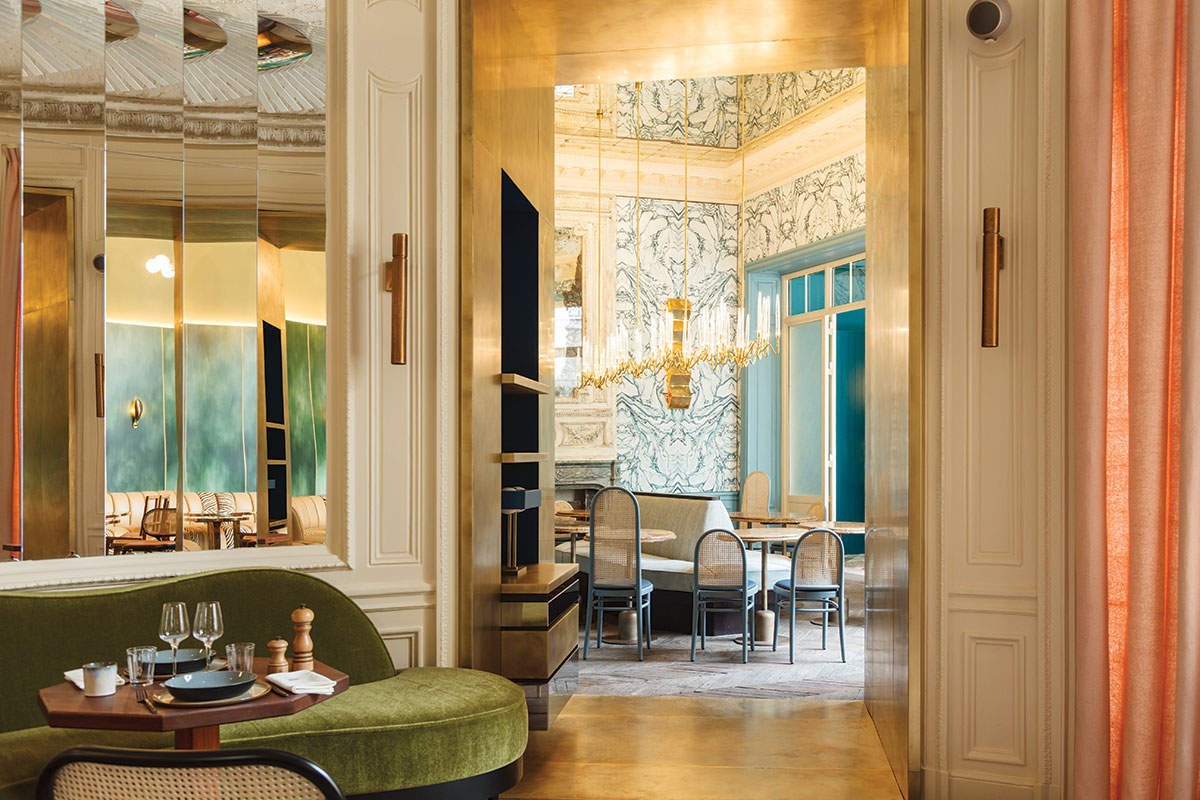 Toro & Liautard: A Touch of Grandeur
When it comes to Parisian design, we are used to a Haussmannian style of subdued pastel hues and tender lines that is synonymous with French cool. Who would have thought that a young duo at Toro & Liautard, a two and a half-year-old interior design agency, would start changing the landscape of centuries-old Parisian design? Their varietal contemporary style puzzles together the old, new, and everything in between.
Hugo Toro and Maxime Liautard, the minds behind the firm, have opened new staple locations like haute-cuisine BB Restaurant, trendy brunch bar Klay Saint Sauveur, specialty store Maison Père, and Turbigo Apartment, just to name a few.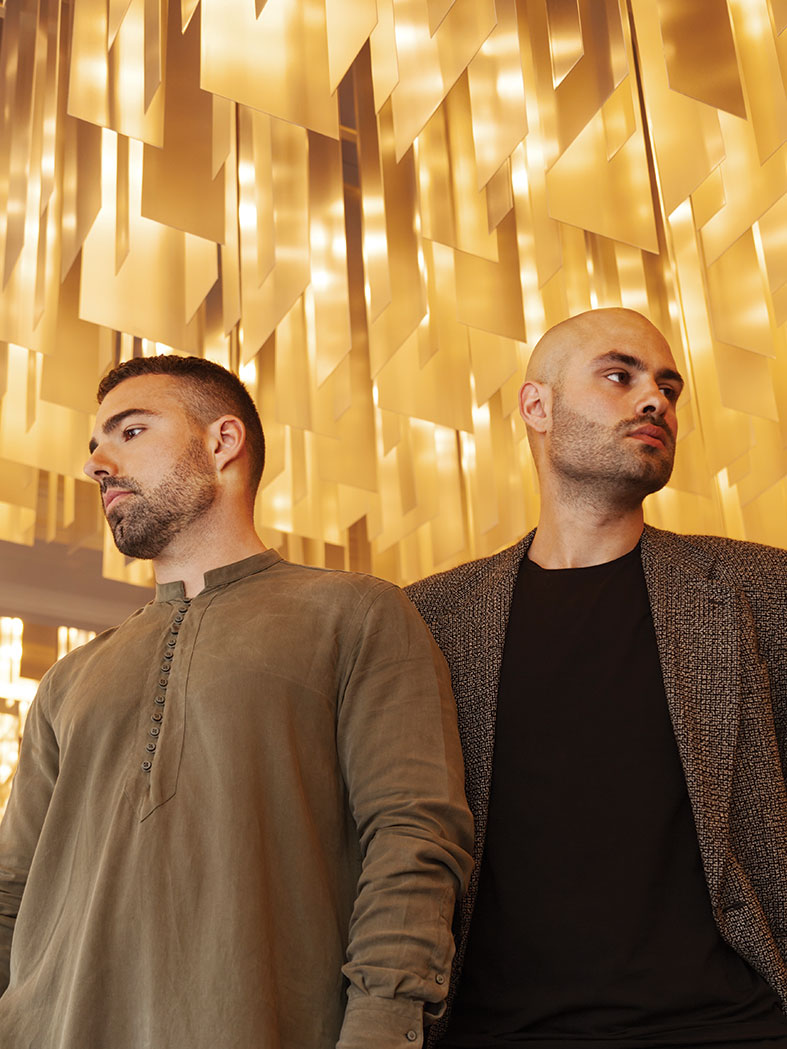 Maxime Liautard (left) and Hugo toro (right) at Le Grand Café Capucines | Image courtesy of Leny Guetta
"We believe that our work is more about how you make a transition between the different materials and create a warm atmosphere," says Toro. While each project differs from the other, there is a certain line of style to be drawn—it's "nomadic and eclectic—always working with textures," he explains.
On their own artistically vagabond journey, the pair really does draw inspiration internationally. After studying together in Paris, they traveled to study in Australia and stateside until Toro embarked on another architecture program in Austria. Once reunited in Paris, they launched their own agency. The duo rapidly expanded to a group of eight with an office at Carreau du Temple, in Paris' famed bobo (bourgeois-bohème) Haut-Marais neighborhood (third arrondissement). They are now working on several projects including the reopening of Jacques Garcia's Le Grand Café Capucines near the famed Palais Garnier (Opéra), as well as a house in Cap Ferret, several apartments, and an hôtel particulier.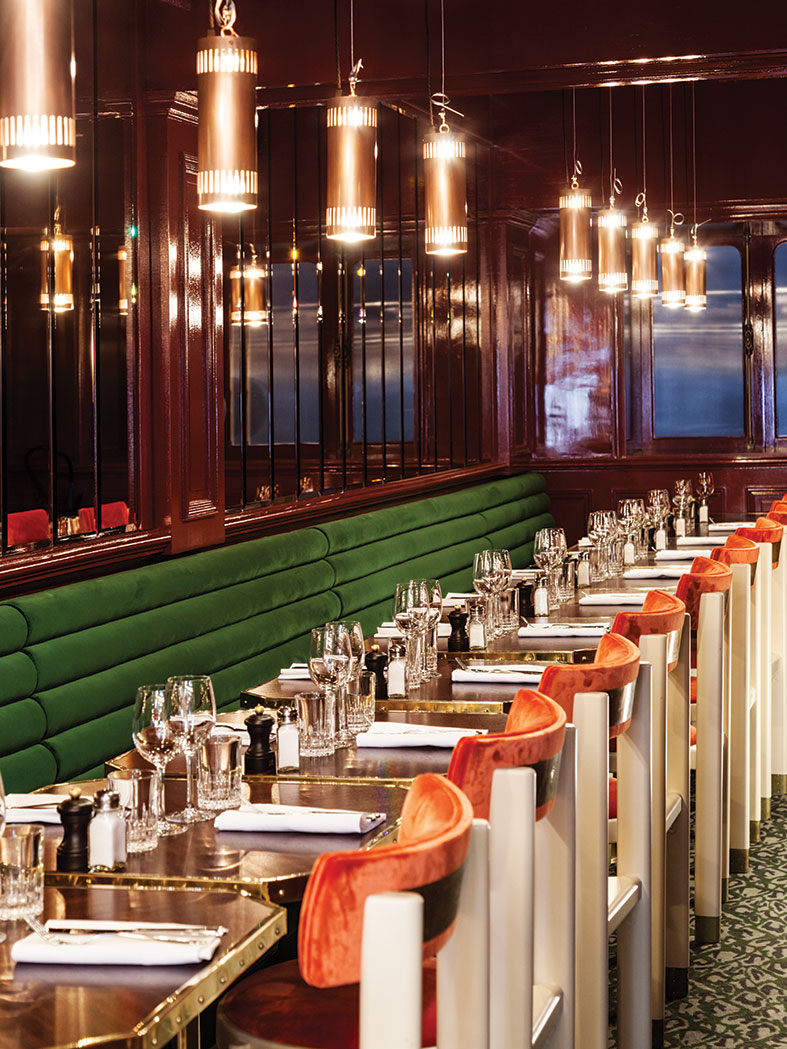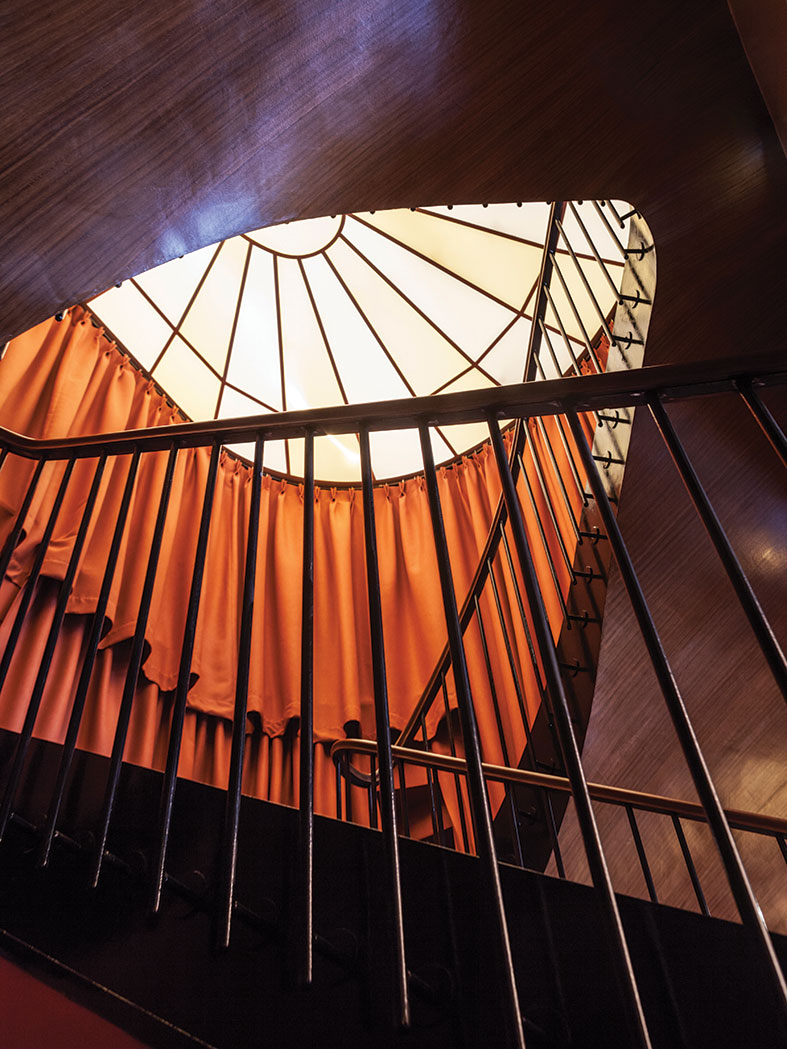 A look inside Le Grand Café Capucines | Images courtesy of Leny Guetta
The city was intrigued and confused all at the same time when Klay Saint Sauveur restaurant opened within a larger athletic club in 2016, like a piece of Mexico City transferred to Paris. The tropical greenery, healthy brunch options, and contemporary design all seemed perfectly out of place in the powdery chic city. Le Perruche rooftop, atop Printemps, followed suit offering a new style of design as an alternative to minimalism with a punch of color and attitude, while still maintaining elegance. Both projects were designed by the same agency, then still little known and inexperienced.
Toro explains that "[clients] didn't want us because we were too young for them, so we proposed something anyway and we actually got it." This was the progression for their first project at Klay Saint Sauveur. The most recent buzz, however, happened around BB Restaurant at Blanche athletic club, also owned by the Benzaquen brothers.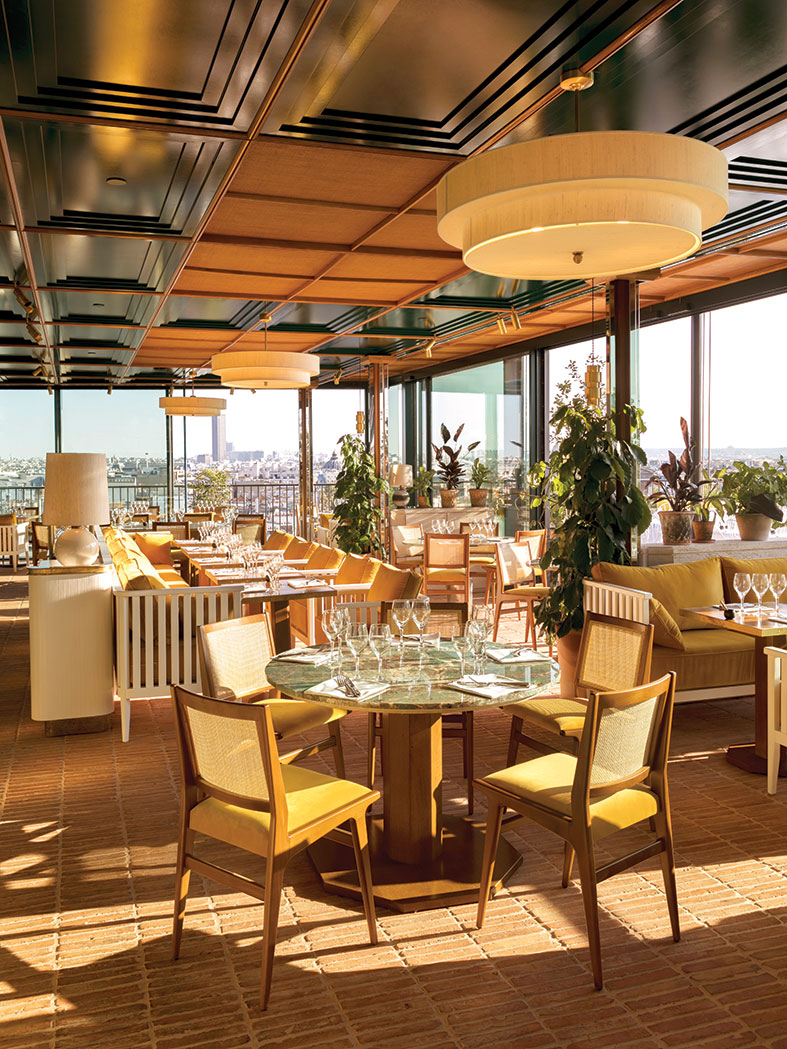 Le Perruche rooftop atop Printemps department store | Image courtesy of Jérôme Galland
Behind the Art Nouveau facade, the building has housed an array of practices including a theatre, which the crew took as a foundation for the restaurant. "We wanted to give [BB] this theatrical aspect," says Toro. "Each room is in kind of a setup design—and they are all connected visually and physically, but they all have their own intensity." Days after opening, BB became Paris' latest it-spot, especially with chef Jean Imbert at the helm of the kitchen. Images of the large palm tree lamps and concave mirrors transitioned by brass arches have been circling the Internet. "It had to be kitschy and at the same time sexy in relation with Pigalle," he explains. "We designed 95% of the elements ourselves. I even painted the room with marble fabric on the wall myself."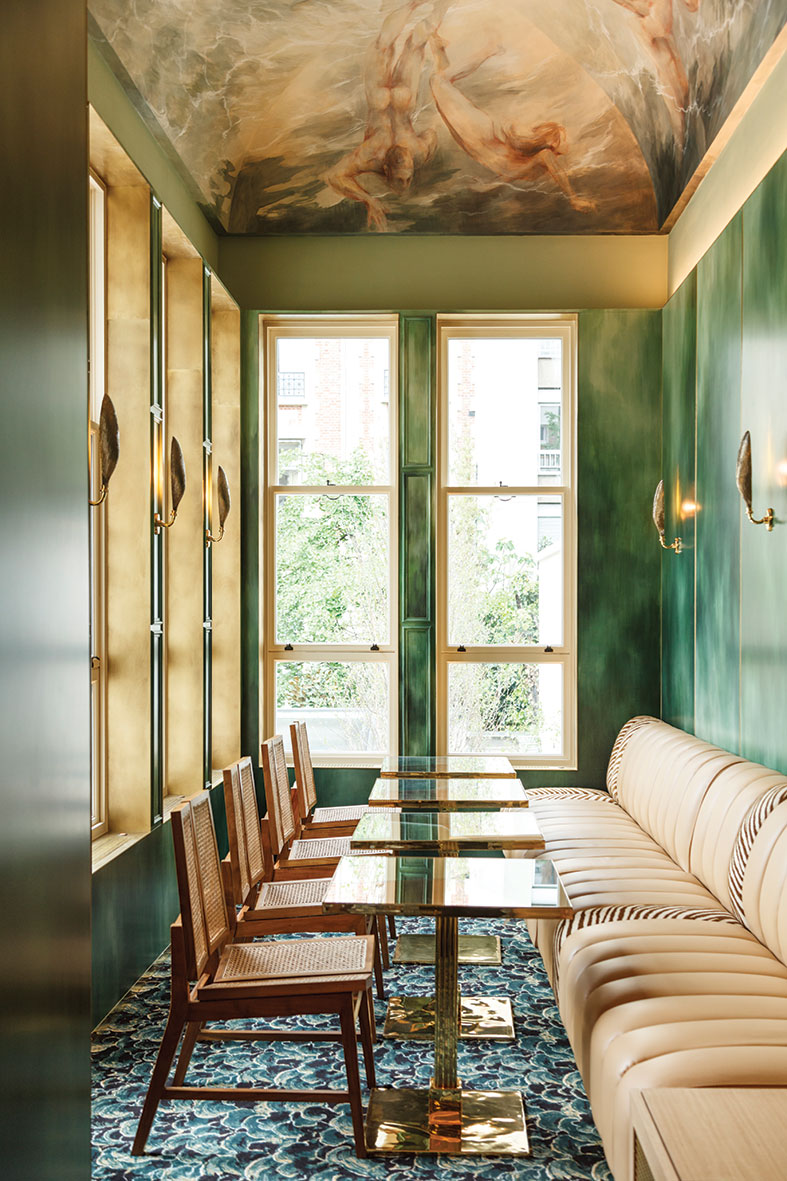 Marble walls at BB Restaurant | Image courtesy of Leny Guetta
Toro and Liautard tend to approach each project with this kind of precision—perfecting every element both architecturally and decoratively. They design elements and scout others also trying to defy trends. "We are going to the flea markets and buying vintage pieces because for us an apartment has to be a patchwork of the new and old," says Toro. Not only does the duo accent history and time in their work, but they do it internationally with elements reminiscent of Palm Springs, California (like the palm trees at BB) but also home elements from Paris. The final products are wrapped into a style new to France—the New Paris.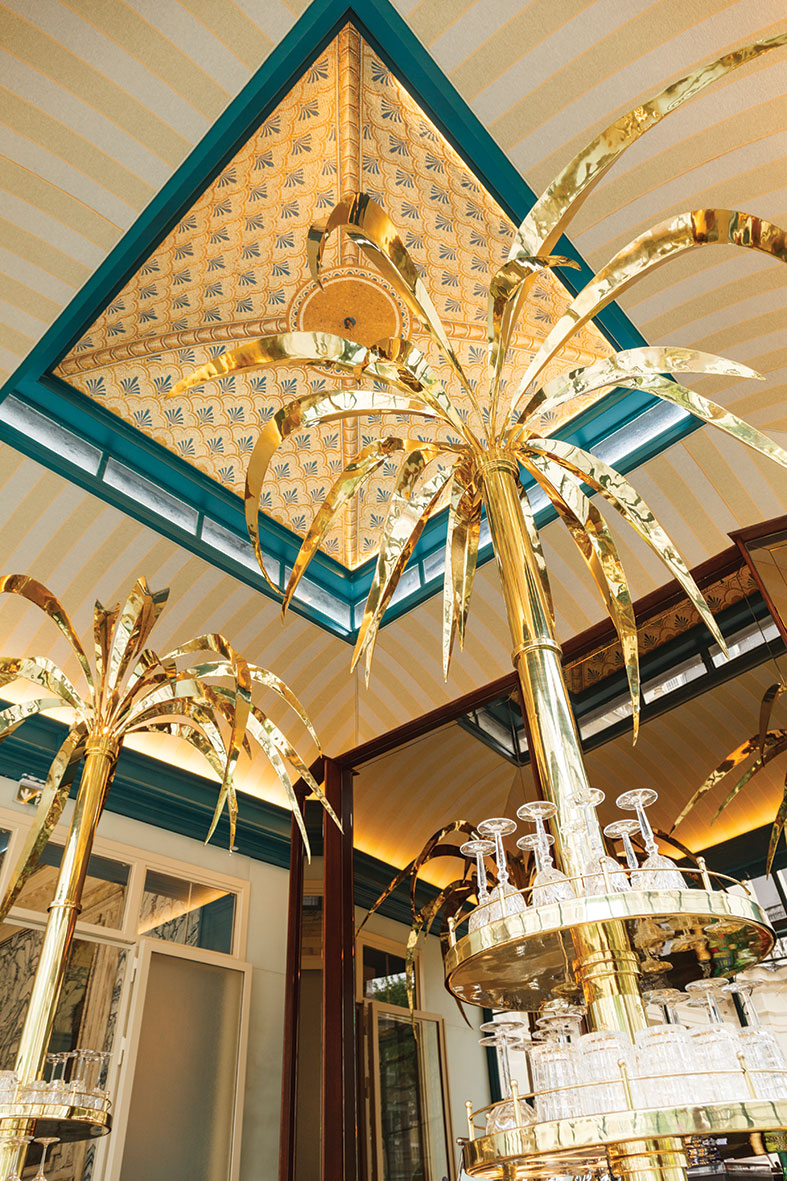 A look at the tropical interior inside BB Restaurant | Image courtesy of Leny Guetta
Furthering their influence, the team was also commissioned to work on the reopening of the Parisian institution-restaurant Le Grand Café Capucines, originally designed by renowned Jacques Garcia. The result further solidifies Toro & Liautard's mark on the contemporary design of their city.