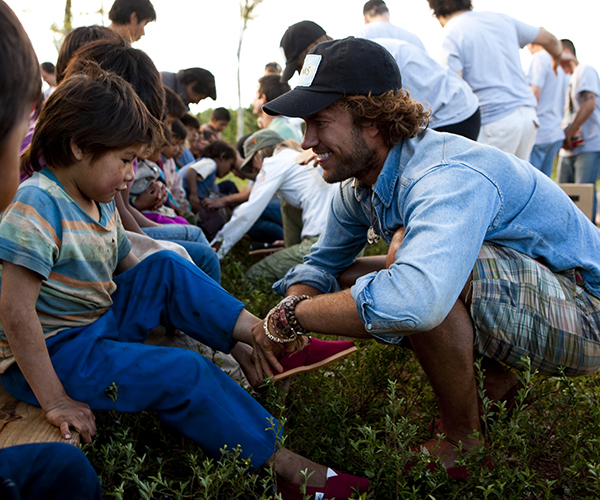 7 BRANDS THAT GIVE BACK IN STYLE
When you're feeling good in what you're wearing, the reflection you see in the mirror shows it. You're beaming with confidence! Ready to take the world! And good. You deserve it. But there's lot more to looks than what's in the mirror, and a lot more to your insides than what's in your closet. Style is also about how you hold yourself in the world. It's the whole package—and that means thinking about more than just how well that shirt fits. Good thing for all of us, plenty of  stylin' labels have made it very easy for you to do your part and still look good doing it. Our favorite 7 are below (and some extras), and we promise shopping with these charitable fashion brands will really have that reflection in the mirror making you feel good.
---
Toms
Toms founder Blake in Argentina
Cost: $54-$100
There is no person, Tom. Did you know that? Tom is actually short for "Shoes for a Better Tomorrow". The company is run by a dude named Blake who went to Argentina back in 2006 and discovered that footwear, or lack thereof, was actually a huge problem in developing nations and in poor urban areas. Kids there run around barefoot, which, it turns out, is the perfect way to get nasty diseases and parasites like ringworm. And in some places, schools won't let kids attend unless they're shoe'd up. Messed up, we know.  To help out, Blake started Tom and now for every pair of chill, comfy shoes you buy, tom donates a pair to children in need in places like the US, Guatemala, El Salvador, Nicaragua, Haiti and…well, the list goes on. They've got partners across the globe and have, to date, well passed 1,000,000 donated.
---
Krochet Kids international
One of the founders, Travis, in Peru
Cost: $22-$40
First things first—don't let the name fool you. Its not a kids company. These three 20 something year-old guys have been making rad (and really affordable) crochet hats and ties for men and women since 2008 (and have some pretty sweet looking bags and tech cases coming up for next spring). But actually, they're not really doing the making. Or handing out anything. Their whole mojo is about teaching people in developing nations (namely Ghana and Peru) the art of crochet so that they can, in turn, use the skill to sustainably lift themselves out of poverty. Each product is hand signed by the person who made it and you can hop onto their website to find out more about who that person really is.  They also are known to send some of their lucky customers to Ghana or Peru to experience the entire process themselves. For all their grandiose world-saving, Krochet is quite indie, as in small and self run, even if they do sell in places like Nordstrom and have collaborated with the likes of Vans. Expect to see a lot more of the love these guys are bringing to the world in the future.
---
Naked Underwear
Founder Joel Primus in Ghana
Cost: $36-$60
We're not saying your undies need need to do anything other than keep you cool and contoured down there but if they can make you feel good in the heart too, we'll take it. Naked, who just launched a fun looking color line, donates proceeds from every purchase to Project World Citizen, an NPO that helps the poverty stricken in Africa. Since we last covered Naked, they've reached their goal of building a computer lab for a school in Banko, Ghana. 'putters are on their way and it'll officially open sometime in December or January but the non-profit has already set their sights for a new computer lab in Bobikuma, Ghana. By the way, even if they're in remote villages in Africa, the tech is important because no post secondary school in Ghana accepts students who can't use a computer. And to think, just by wearing ultra soft, form fitting premium cotton, you're like, helping!
---
Warby Parker
Warby Parker co-founders Neil Blumenthal and Dave Gilboa in Guatemala working with entrepreneurs and people in the community
Warby Parker co-founders Neil Blumenthal and Dave Gilboa in Guatemala working with entrepreneurs and people in the community
$95-$150
Warby Parker can help fix two kinds of eye problems. First – they've got all manner of slick glasses and shades to gussy up your vision. Second – for each pair you buy, they donate a pair to someone in need. They partner with non-profits like VisionSpring who then train the recipients of the glasses to star their own businesses selling low cost glasses in their own neck of the woods meaning that, really, with each pair of Warby Parkers, you're making it easier for hordes of the less fortunate to see better. And in some cases see period. And ultimately, that means these people can now go to school and work to lift themselves up out of poverty. Also – you get to look cool. Win-win.
---
Stone + Cloth
left to right: Benson, Matt, Lucas
Benson, Matt
Cost: $74
The Benson rucksack on offer by Stone + Cloth is notable for its masculine and minimal look that manages two side exterior pockets, front zip pocket and a padded laptop sleeve and pocket for phone and cash within. Perfect for day trips or jaunts about the city. But also, The Benson is named after the porter who helped company founder Matthew Clough summit Mt. Kilimanjaro in Tanzania. Benson was his name and when Clough learned he didn't earn enough to send his kids to school, he came back and began this company with the mission of helping the crappy situation. Stone + Cloth partners with The Knock Foundation to donate scholarships, school supplies and lunches so as to strengthen the foundation of the Tanzanian education system. This'll make it easier for hard working people like  Mr. Benson to send their kids to school.
---
Kenneth Cole
Cost: $78
Kenneth Cole is awesome. That's the simplified statement really because the brand has helped pave the way as far as brand that give back, stylishly. They've done a spectacular job at having both feet planted in making fine men's clothing while always lending a hand to helping some big world problems. Their AWEARNESS campaigns have supported disaster relief, AIDS/HIV, civil rights and freedom of expression. But right now, they've got a manly looking tote bag they're selling and giving 100% of the proceeds to Help USA, a charity that works to assist the homeless. They're also selling a "Vote Equality" T-shirt and donate 100% of the money made from that to the nations largest LGBT advocacy group, The Human Rights Campaign.
---
Edun
Cost: $30-$1000
A LVMH company and the fashion baby of Bono and Ali Hewson, Edun's mission is to help improve the conditions for factories in Africa, increase production skills of the African people and also uses cotton farmed on sustainable farms. They currently have 40% of the entire brand produced in Africa in places that have passed strict working standards (read: no sweatshops here). For Fall 2012, they got Ryan McGinley to shoot their campaign with various owls (based on his The Animal series) to embody Africa as well as the duality of beautiful clothing and the desire to create change. Within, find Zen, Grace and Miles. (The Spring/Summer is currently 50% off)
Grooming:
Anthony—Here's a reason to get Anthony other than for its excellent product. Every year, the Anthony brand donates portions of each sale to different non-profits that fight prostate cancer.
Kiehl's—Along with improving your skin, Kiehl's is dead set on making the world a better place. There's too many causes to name—HIV/AIDS awareness, children's health, the environment—they've almost always got something philanthropic going on. To keep on your radar—they've got a hot collaboration with famed artist Kenny Scharff slated to hit shelves for holiday time (Check out September issue for more deets)
Recipe for Men—A Swedish men's grooming fave that's a new player on the American scene (you can find them at American Rag) donates portions of their proceeds to Charity Water, an NPO that helps provide clean water to underprivileged communities.
Coming Soon:
2XIST—Will launch the TOUCH collection in October  and donate 15% of the proceeds to the Dr. Susan Love Research Foundation for Breast Cancer.