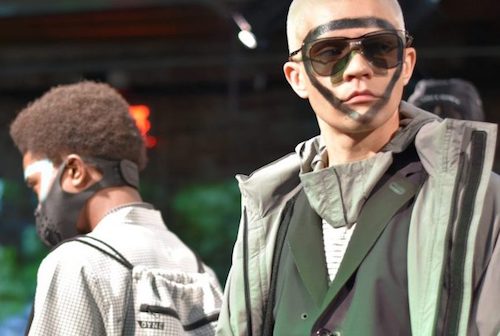 A Recap of Men's Face Paint for SS19
Among the most fascinating aspects of the Spring/Summer '19 menswear shows was the use of face paint to imbue the looks with artistic symbolism. Reiterating the accomplishments of the masters of abstract expressionism as well as the rich history of tribal iconography, these designers delivered amplified their vision beyond the clothes.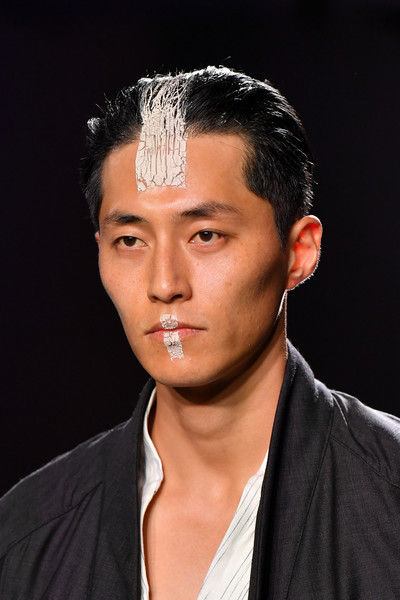 Image: Mike Coppola.
Taking different tribal cues from across cultures, Abdul Abasi and Greg Rosborough of Abasi Rosborough applied face paint to the models in the same geometric pattern implying that all of the models regardless of race, color, or creed are of the same global tribe: the human tribe.  This simple application in the shape of two longitudinal rectangles, one on the forehead and the other covering the mouth, hint an overarching tribalism associated with the collection, which also featured elements of traditional Berber garb and Japanese costume.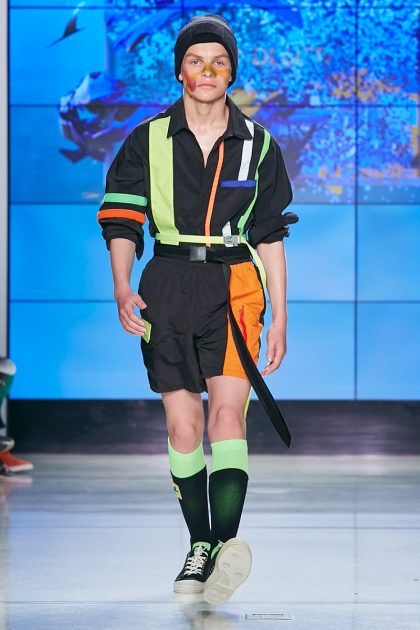 Image: Adriano B.
Landlord's show was influenced by a combo of current themes and subcultures including 90's nostalgia and Cartoon Network's Adventure Time.  That being said, it is impossible not to be reminded of the history of modernism while watching Kawanishi's presentation. Many of the models had gel face paint applied their faces.  On some, the gel paint looked like dripping blood, but on others it evoked a Jackson Pollock painting. A few of the outfits appeared to simultaneously celebrate both the RBG lights of the old 90's cathode ray tube television sets and the works of Piet Mondrian.  

Image: Barnette Holston.
Dyne also referenced tribalism, but with an apocalyptic bent.  Every model was either wearing a protective face mask or a painted on triangle that was symbolic of a face mask and tribal face paint, all a replication of a theme of the possible necessity of masks in a dystopian future. Even with the mismatched socks and varying facial guards, every look had an organized symmetry to it alluding to the implied order of technology in a time of uncertainty.