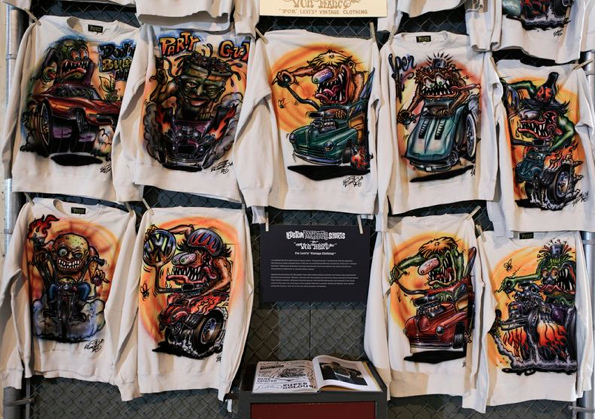 Levi's Vintage Clothing Spring 2013 "Hot Rod" Exhibition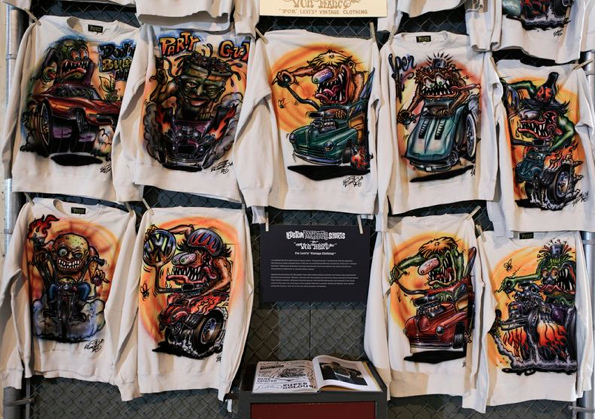 Levi's Vintage Clothing are putting some pedal to the metal this week on their Spring 2013 Hot Rod themed collection with the launch of a traveling "Hot Rod" exhibition. The show features 35 one-of-a-kind hand-painted "Kustom Monster" Levi's Vintage Clothing 1950's sweatshirts, individually airbrushed by living legend & one of the originators of iconic Hot Rod style, Von Franco, (basically, he's the still-underground version of Von Dutch). There's also a special project with Fender Custom Shop, featuring a hot-rodded hand-built guitar and one of a kind Levi's Vintage Clothing jean jacket.  For this, the two brands took inspiration from GIs returning from World War Two with an invigorated DIY spirit and a penchant for fast cars and fast music. The guitar is a replica of a 1957 Stratacaster® that has been painstakingly built and relic­ed by Fender Custom Shop's Master Builder, John Cruz, to portray many years of hard wear and play—in and out of the garage. Levi's® Vintage Clothing similarly designed its contribution a full look (custom jacket and jeans) that the Hot Rodder would have worn while working on engines or jamming with friends. Hang a louie and check more images and tour details by clicking here.
The exhibition arrives in New York, at Brooklyn Denim, on February 23rd, and will be on display until March 2nd. The exhibition will then travel to Ace Cafe in London, 14oz in Berlin and Tokyo.
[nggallery id=241]
[nggallery id=242]