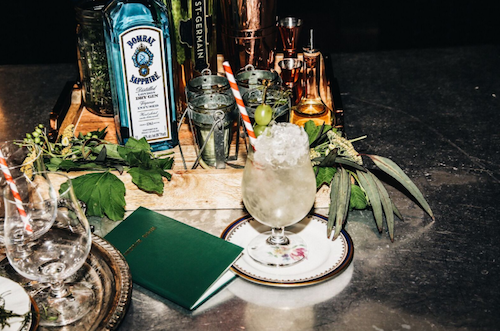 It's Been A Long Week: Neobiota

As true believers of the work hard, play hard mantra, we present you with It's Been a Long Week, a weekly column aimed at awarding some liquid appreciation to you for just being yourself, dammit. Make yourself a glass or two, on us—  you deserve it.
You deserve the absolute best and here's a cocktail favorite from this year's annual Most Imaginative Bartender Competition created by Samantha Casuga from the winner's roster. The cocktail was judged based on flavor, appearance, presentation and imagination. Stop by The Dead Rabbit Grocery & Grog to try some of Casuga's other cocktails. But when you're feeling extra confident, impress your date with a recreation of the winner: Neobiota. Here's a simple recipe to get you started–
Ingredients:
3 muddled green grapes
1 dash Absinthe 
0.75oz lemon
0.25oz maple syrup
0.5oz rhubarb syrup 
0.25oz St. Germain
2oz Bombay Sapphire infused with Angelica
Method: Short shake and strain in a Belgian tulip beer glass. Serve on pebble ice. Garnish with green grape and fennel.
Cheers!