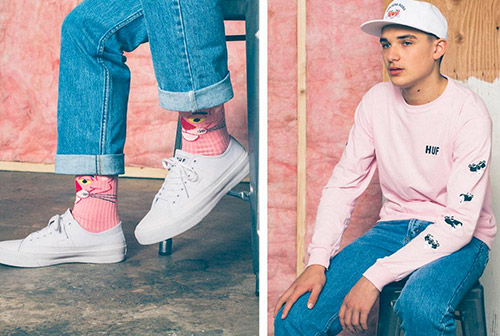 Instagram Weekly Roundup: Stampd, Huf, and More
This week's complete social snapshot, distilled for your pleasure.
From the hottest celebrity parties to the regretful morning-after shots, ESSENTIAL HOMME's Weekly Instagram Roundup brings all of the hottest designer, model, and trendsetting pics from the week directly to you. After all, no one has time to scroll through anything but the best.
Stampd
STAMPD announces its ongoing collaboration with PUMA, teasing a grayscale sneaker characteristic of STAMPD's minimalistic aesthetic. The brand has been busy with collaborations this year, such as its recent IKEA partnership designed to exhibit clothing when it isn't being worn.
Huf
Skate-wear brand Huf invites us to paint the town pink with the Huf x Pink Panther collection, featuring the feline icon across a series of tees, jackets, and accessories. Combining vintage-inspired bowling shirts, chainstitched embroidery, and fleece, the brand always remains one step ahead—just like the Pink Panther.
Gucci
Performing his debut single "A Sign of the Times" on Saturday Night Live, Harry Styles wore a checked wool suit and silk shirt from Gucci's Autumn/Winter 2017 collection. The collection offshoots the brand's Pre-Fall 2017 collection, featuring similarly-tailored suits with rich chintzes and warm tweeds.
Mr. Porter
Online retailer Mr. Porter teases a new shot from its Made in California collection, inspired by the U.S.' Golden State. Featured here is the AMIRI Vitellino leather biker jacket, embellished with jewel-encrusted palm trees—emblems of the sun-drenched state.
Follow ESSENTIAL HOMME on Instagram at @EssentialHomme.