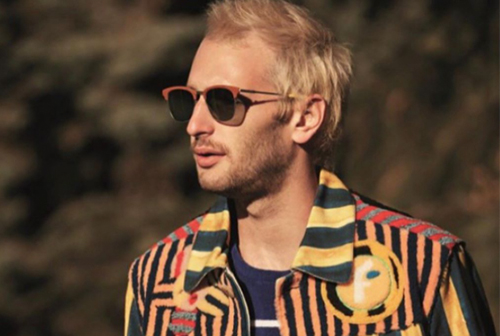 Instagram Weekly Roundup: Louis Vuitton, Tribeca Film Festival, and More
This week's complete social snapshot, distilled for your pleasure.
From the hottest celebrity parties to the regretful morning-after shots, ESSENTIAL HOMME's Weekly Instagram Roundup brings all of the hottest designer, model, and trendsetting pics from the week directly to you. After all, no one has time to scroll through anything but the best.
 Louis Vuitton
Louis Vuitton delves deeper into its collaboration with seminal artist Jeff Koons, who discusses the anticipated Masters Series in a short video. The collection features paintings by five of the most famous artists in history—including Da Vinci, Van Gogh, and Rubens—reproduced on iconic Louis Vuitton bags. Neither Koons nor Louis Vuitton will let you forget the original painters, either; the artists' names are splashed across the bag in gold, resembling brand logos—a statement straight out of Koons' gallery.
Tribeca Film Festival
The Tribeca Film Festival announces its jury of filmic and cultural groundbreakers for this year's festival, including such names as Brendan Fraser and Zachary Quinto. This year, New York designer Rag & Bone will premiere its film "Hair," a reflection on hairstyling's effects on personality.
Wilhelmina Models
ESSENTIAL HOMME August/September 2016 cover star Hopper Penn breaks free of his actor moniker with a first look at his Fendi Eyewear campaign from Wilhelmina Models. Featuring the same loud and proud prints of the brand's Autumn/Winter 2017 runway at Milan Fashion Week, the images cement the young star as a fashion mainstay, his long-running Fendi partnership only just beginning to heat up.
Alessandro Sartori
After releasing a Defining Moments campaign of heavy Hollywood clout, Ermenegildo Zegna's Artistic Director Alessandro Sartori unveils the brand's latest—Zegna's Toyz. A complete collection of games, accessories, and home products, the fun-filled pieces—headphones, tic-tac-toe, checkers, and dominoes already revealed— will be available starting October 2017, bringing a touch of class to the world's most classic entertainment staples.
Follow ESSENTIAL HOMME on Instagram at @EssentialHomme.