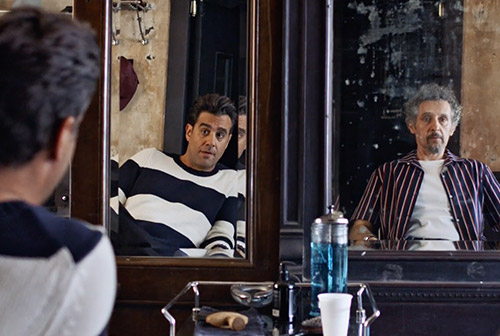 Rag & Bone Films to Premiere Latest Short at Tribeca Film Festival
Video: Rag & Bone.
Rag & Bone's cinematic off-shoot, Rag & Bone Films, sees its star rise with the inclusion of its latest short, "HAIR," in the upcoming Tribeca Film Festival. Starring Bobby Cannavale and John Turturro, who also assumes the director's chair, the 5-minute film is a real-world first for the studio, its cinéma vérité quality allowing viewers to assume an observational position as the two actors contemplate the finer points of personality through hair. A true passion project for Turturro, the film, located in his hometown of Brooklyn and shot by his "The Night Of" collaborator Fred Elmes, is an industry shakeup, a pivoted perspective of fashion's place in today's cinematic landscape. Though "HAIR" presents Rag & Bone's very first documentary-style piece, the film follows the high-reaching 2015 release of "The Driver," the short-form, Michael Pitt starrer that released in unison with his monochromatic Spring/Summer 2015 campaign.
Tickets to see "HAIR" at the Tribeca Film Festival are available online now.