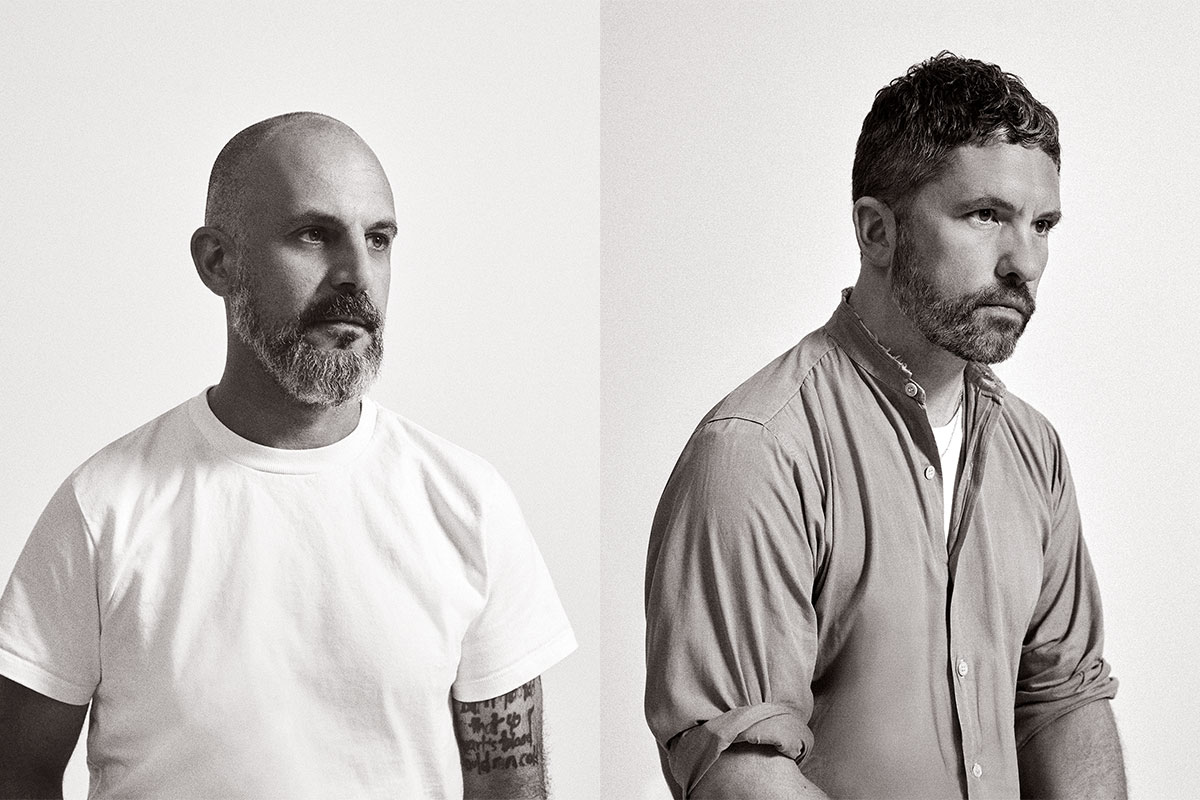 Helmut Lang Returns to the City
Following a quiet hiatus, Helmut Lang is back in the spotlight. Since the eponymous founder of the minimal label stepped down in 2005, a roster of talented designers—including Hood By Air's own Shayne Oliver for one brash presentation—have taken over the role to continue what he started. Industry veterans Mark Thomas and Thomas Cawson are only the latest to inherit the empire.
The duo remains committed to honoring and preserving the legacy the epochal designer has built. "I think change can be a trap and a distraction, so I think it is very important for us to keep a steady course," Thomas, creative director of men's and womenswear, tells me in the label's studio in the Meatpacking District in downtown New York City. "A uniform for today is really what we're working towards," Cawson, creative director of Helmut Lang Jeans, affirms.
When the pair debuted their first collection in New York this past February, it was a reminder of what made the label great in the first place. Classic men's pieces—the perfect building blocks for any uniform—were updated in new and, at times, contrasting fabrics. There was not a print in sight, with material and texture drawing emphasis on the immaculate structure and form of each piece.

"Design is function," Cawson says. "There is a purpose, and there are parameters that you have to keep yourself within, but it's also finding yourself joy and fun within those parameters."
Thomas and Cawson got the sartorial experience that Lang never sought. (Lang always considered himself an artist first, designer second. The first Helmut Lang collection was even shown in an art museum as part of an exhibition on modernism.) Both attended the prestigious Central Saint Martins. Thomas worked in production at various factories and eventually landed at Paul Smith. Cawson made the rounds in Paris and Milan before working at Calvin Klein under the direction of Raf Simons. This combination of experiences seems perfectly tailored to carry on such a heterogeneous label.
In the time since Helmut Lang last showed, the industry has undergone serious change, a lot of which the label predicted back in its heyday. We're still technically following the same fashion schedule that was established when Lang decided to move his show six weeks earlier in 1998. Later that year, the designer was the first to release a collection on the Internet—today, most major designers livestream their presentations to get a bigger audience. This globalization has an effect on how people consume and discuss fashion, which quickly trickles back to the designers as feedback and potentially influences their next move. The industry has become democratized.

"Now everything is so accessible and I think that's the challenge for designers now—the people are speaking," Thomas says. Once a trailblazer in disruption, the label is readjusting to the mercurial industry it helped create.
Helmut Lang was also among the first to introduce the idea of artist collaborations when it partnered with Jenny Holzer on a series of installations. In just the past year, the designer has released collections incorporating the work of queer photographer Peter Hujar, a Pride capsule collection with Artforum, and most recently a three-piece denim line with visual artist Josephine Meckseper. But while Lang sought to blur the worlds of art and fashion, Thomas and Cawson see things differently.
"I still don't think of making clothes being a form of art," Thomas says. It's apparent that delivering a brilliantly designed product, rather than something that's just nice to look at, is paramount to the designer. Cawson is quick to agree. "It's an applied art and there's commerciality to it. There is definitely a strategic position the company is taking for it to be successful, for sure," he says.
"We need people to trust us and see us as a resource, for we really are kind of the best offer for a modern wardrobe," Thomas says, ahead of the label's forthcoming September show. This mentality is one of the many ways the pair reinforces their mission to honor and expand the legacy without feeling restricted to the rules of those before them. Historically speaking, Helmut Lang was always interested in coloring outside the lines anyway.