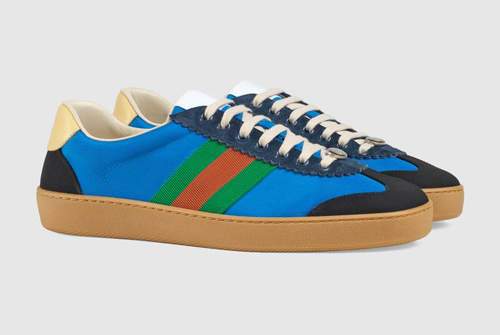 Gucci Launches New "Web" Sneaker
Just in time for the season, Gucci launches a new array of "Web" sneakers. The modified line of classic sneakers includes a variety of bright colors and eclectic styles that are synonymous with the brand. Riffing off the company's signature side-stripe model, the summer line incorporates season appropriate light-weighted materials like suede and nylon.
As opposed to the brand's traditional beige, green and red color scheme, the new Web sneaker can be found in five different color-ways, including bright pink and blue. The new line is not limited to bright color blocking, as the sneaker can also be found in traditional Gucci logo print and flashier snakeskin material.
The traditional logo printed and color blocked models can be bought for $650 while the snakeskin version sits alone at a heftier $1,650.
Gucci's summer season Web sneakers are available for pre-order at Bloomingdale's and online now.
Images: Gucci.
[slider_pro id="227″]