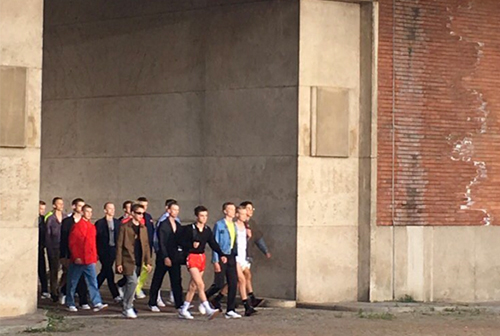 From Our View – Pitti Uomo 90
The front row in the fast lane.
You've gone backstage, and followed all our favorite looks on Instagram. Show tunes? Oh right, check, you did that. But just in case anything might have slipped through the cracks, here we recap our favorite snaps from Pitti Uomo 90.
Raf Simons
Oversized graphic button-downs anchored Raf Simon's Spring/Summer 17 collection, which featuring the work of the late iconic photographer Robert Mapplethorpe.
Gosha Rubchinsky
Cool kid favorite Gosha Rubchinsky offers a new installment in his ever-developing image of the post-Soviet youth, with retro-tinged sportswear topped off by collaborative Fila socks and sneakers, gold chains, and statement shades.
Lucio Vanotti
Lucio Vanotti brings understated chicness in his SS17 collection, with oversized silhouettes, minimal pinstripes, and gingham in muted colors.
Visvim
Giving the sailor and the cowboy modern updates, Visvim combines nautical uniforms and wide-brimmed hats with Japanese flair and a ready-to-wear ease.
Fausto Puglisi
In his first ever menswear collection, Fausto Puglisi presents a rugged interpretation of a Greek myth, covering his men in studs, striking iconography, and bold prints.
Follow ESSENTIAL HOMME on Instagram at @EssentialHomme.