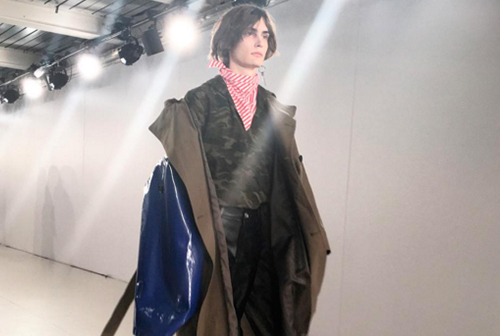 From Our View – London Collections: Mens Spring/Summer 2017
The front row in the fast lane.
You've gone backstage, and followed all our favorite looks on Instagram. Show tunes? Oh right, check, you did that. But just in case anything might have slipped through the cracks, here we recap our favorite snaps from London Collections: Mens Spring/Summer 2017.
Phoebe English
In her first menswear presentation, luxury designer Phoebe English translates her attention to construction and textile choice for a capsule collection that offers a fresh take on minimalism.
Xander Zhou
Xander Zhou presents a recklessly diverse collection that includes witty plays on the baggy-pant-exposed-boxer combo and the destroyed sneaker, echoing a design sentiment that is ever-tip-toeing the line between street and high-fashion.
YMC
YMC's latest effort exudes easy cool, with matching sets in breezy fabrics and contrasting patterns that make for purposeful but uncomplicated outfits.
Edward Crutchley
Edward Crutchley updates summer patterns with unexpected latex fabrications, seen as high-necked shirts and knee-high socks, eliminating the need for shoes.
Lou Dalton
Making functional look fashionable, Lou Dalton's re-imagines staples like the rain coat and bomber jacket fitting for summer.
Belstaff
Belstaff's Spring/Summer 2017 collection embodies the style of the American road movie, conjuring up images of Marlon Brando and Steve McQueen as clear inspirations with leather motorcycle jackets and tunics.
Katie Eary
Katie Eary brings stars and stripes (and barracudas) to the mix, just in time for the Fourth, with a focused color-palette and debatably summer-appropriate textiles.
Hardy Aimes
Continuing its tradition of stream-lined, timeless shapes, this time Hardy Amies presents fresh linens and bright checks perfect for the season.
Follow ESSENTIAL HOMME on Instagram at @EssentialHomme.