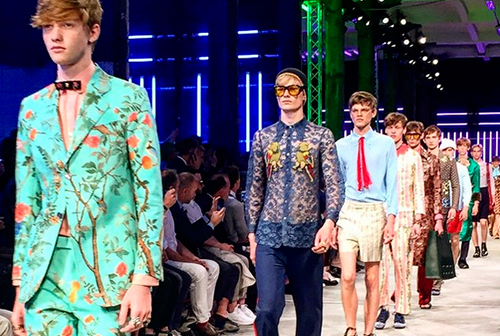 From Our View: MFW SS16 Part I
Can't take off 30 days for fashion? No prob, that's our job!
Each day during Fashion Month, we're bringing you exclusive images on our Instagram of your favorite brands (and soon-to-be obsessions), straight from the front of the runway. Can't keep up? That's cool too, because we're also re-capping our favorite shows here online. Ready, set, follow us at @essentialhomme, and lez go! Here is the best of the start of Milan Fashion Week.
No.21
No. 21 plays with men's proportions in its torso-lengthening oversized sweaters and leg-stretching high-belted bottoms.
Bottega Veneta
Bucking the skin-revealing trend, Bottega Veneta conceals the runway with long-sleeved jackets and heel-covering pants to offer up a reserved yet dynamic look.
Versace
Shorts live up to their name at Versace with new, shorter cuts and overlong outerwear to balance out the silhouette.
Neil Barrett
Neil Barrett showcases a classic black and white color scheme with leather jackets and dark cuffed jeans for an updated greaser aesthetic.
Marni
Marni brings the best of the '70s to Milan with a neo-retro collection that includes shoulder-defining sleeveless tops, loose fitting pants belted beneath billowing shirts, and boxy jackets.
Dolce&Gabbana
Dolce&Gabbana provides perfect vacation loungewear through bird-patterned polos and nature-inspired separates.
Gucci
Color is far from absent on the Gucci runway with bright suit separates and eye-catching flared pants rounding out its collection.
Follow Essential Homme on Instagram at @EssentialHomme.