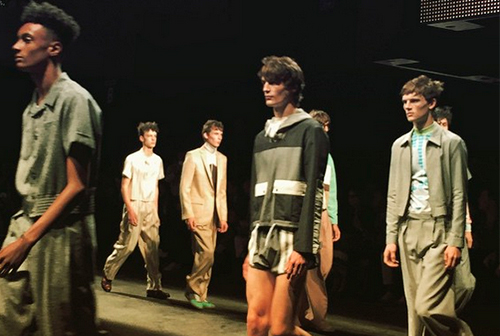 From Our View: LCM SS16 Part I
Can't take off 30 days for fashion? No prob, that's our job!
Each day during Fashion Month, we're bringing you exclusive images on our Instagram of your favorite brands (and soon-to-be obsessions), straight from the front of the runway. Can't keep up? That's cool too, because we're also re-capping our favorite shows here online. Ready, set, follow us at @essentialhomme, and lez go! Here is the best of today's London Collections Men.
TOPMAN Design
TOPMAN DESIGN stays true to its youthful spirit by experimenting with fearless prints of punk and laid-back vibes of surfer style.
Christopher Shannon
Christopher Shannon breaks down the boundary between punk and tailorship by adapting clean cut designs to literally deconstructing details.
Nasir Mazhar
There is nothing subtle about Nasir Mazhar's collection, which features futuristic grunge designs that look more 2060 than 2016.
Kit Neale
Bold, daring, and fun are key terms to describe what had just occurred on Kit Neale's runway.
Craig Green
Craig Green's SS16 collection is nothing short of adventurous and electrifying, as he showcases his otherworldly designs.
Follow Essential Homme on Instagram at @EssentialHomme.