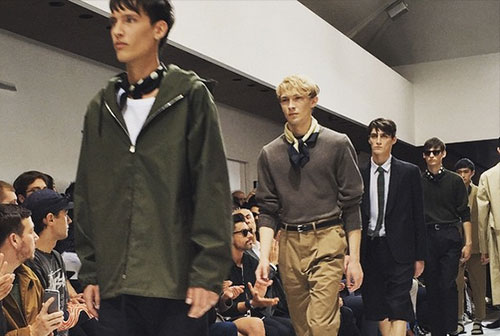 From Our View: LCM SS16 Part II
Can't take off 30 days for fashion? No prob, that's our job!
Each day during Fashion Month, we're bringing you exclusive images on our Instagram of your favorite brands (and soon-to-be obsessions), straight from the front of the runway. Can't keep up? That's cool too, because we're also re-capping our favorite shows here online. Ready, set, follow us at @essentialhomme, and lez go! Here is the best of this past weekend's London Collections: Men.
Burberry Prorsum
Burberry uses raised ruffles and see-through lace tops to create a clean and crisp summer aesthetic.
Baartmans and Siegel
Frays and cutouts fill Baartmans and Siegel's new collection, along with a range of jackets for perfect layering.
Richard James
Richard James utilizes bright pops of colors and intricate patterns to portray that coveted wild look.
SIBLING
Things get cheeky in SIBLING's collection, with bright colors inspired by the classic American jock archetype.
Coach
Coach brings the jungle to London with its leopard print detailing and vibrantly eye-popping patterns.
Margret Howell
Marget Howell compliments high-cropped pants and billowy tops with a darker earth-tone color scheme.
Follow Essential Homme on Instagram at @EssentialHomme.