Favorite Five: Salvatore Ferragamo Fall 2013 Menswear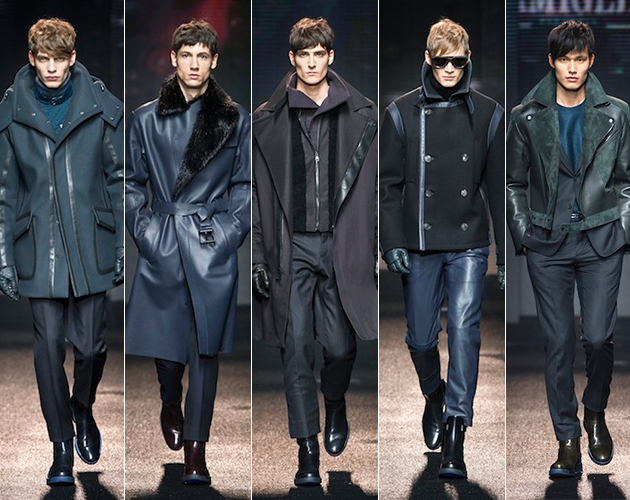 "Night-time in a buzzing metropolis: a frenzy of pulsating lights and their reflections in the mobile obscurity of wet asphalt. The accelerated rhythm of his nervous steps crossing the city. He's a dynamic man, his silhouette the product of overlaying fabrics. Nothing is as it appears: his style is that of a chameleon, displaying innate sense of style and independence of thought. The urban face of modernity: reversible garments, modular and multi-purposed. Leather is rendered "technical" by rubberization. A new hybrid, redefining the aesthetics of modern luxury by associating the idea of functionality with the value of exclusivity. Tailoring becomes absolutely technical. The reversible pea-coat is made of leather backed by felt, the blouson is double-sided nappa with a removable shearling lining, while the rain cape has been enriched by a sumptuous lining of cashmere cloth with leather trimming. His eyewear is a mixture of different materials: rubberized plastic, metal and tortoise shell, perfectly matching his 'rubberized' metal watch, high chronographic performance yet with a sporty attitude. The knitwear is a triumph of 3D texturing, very high collars and striking patterns. Tactile sensations are created by high-tech neoprene, together with wool and silk yarn, by layering knitwear and with the reassuring touch of baize. The colours of the collection converge with the intensity of sheer black, saturating a range of greys such as Gun Metal and Storm, blue hues such as Blue Graphite and Midnight Blue, green tones like Night Green and Hurry Green, and ultimately Black Bean. Isolated flashes of colour maximize effect: azure, ice and Ferragamo red. A detailed process of creative experimentation: the new derby, the ankle boot and the mid-boot, accented with two-tone multi-layer rubber soles, their "tank tread" designed for perfect stability. Exceptional elegance on the urban asphalt. This pure experimentation is applied to bags, crossing the border that divides craftsmanship and technology. This transformational vortex applies sophisticated new textures to leather, as shown with the soft bi-material (rubberized and natural) duffle bag, the multi-purpose tote with contrasting piping, and the backpack, a masculine key piece with generous volume. Complete innovation shapes modern luxury with design that weaves together culture and modernity at infinite levels to create the Salvatore Ferragamo Autumn-Winter 2013-2014 Collection by creative director Massimiliano Giornetti."
What's on the inside is also on the outside. We are fans.

The reverse peacoat with graphite blue leather pants, one of the key looks of the collection.

Cashmere lined, leather trimmed rain cape. How can we resist?

Gotham effusing asymmetry and rubberized leather...a most modern version of a classic.

Oversized, but appears tailored.