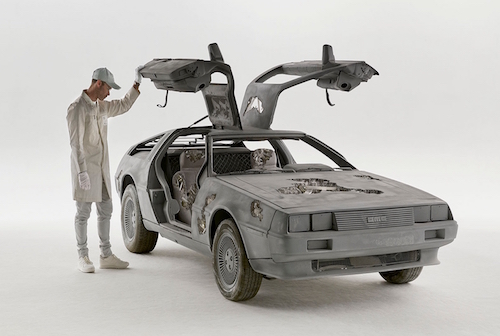 Daniel Arsham Opens New Exhibit in NYC
Daniel Arsham, a veteran resident at the Perrotin Gallery with his fifteenth exhibit, is showing his second solo exhibit in the city, 3018. The exhibition features new pieces devoid of color and instead focusing on elements, architecture, and material, in a resulting collection which took Arsham over two years to make.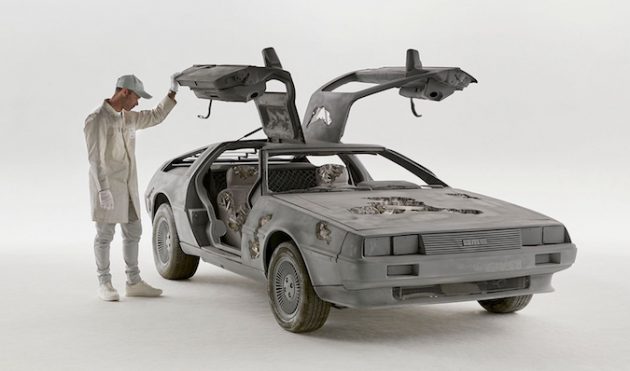 Photo by Guillaume Ziccarelli. Courtesy of Perrotin.
"A lot of the work is a continuation of the objects and work I've been making for the last 10 years or so that imagine objects from our everyday experience with the perspective of time," says Arsham. "There is a sense that they are either moving forward or that these objects have been brought back." The humble man, in a white A.P.C. coat smudged with green paint, researched extensively, focusing on particular objects which he calls 'icons.' The telephone, for example, had to be a specific Westinghouse phone.
Arsham really explores the essential composition of these objects. "I try to pretend as if I don't know what the objects are and what they are for," says Arsham. On the first floor of the gallery, the so-called garage space, two cars occupy the same– a 1981 DeLorean and a 1961 Ferrari 250GT California. Both cars were produced in limited quantity (only 50 of the Ferrari), so Arsham followed through to understand the charm behind them. The actual DeLorean is encased within the piece of art. There are also seeming ruins of the original cars stuffed with quartz crystals.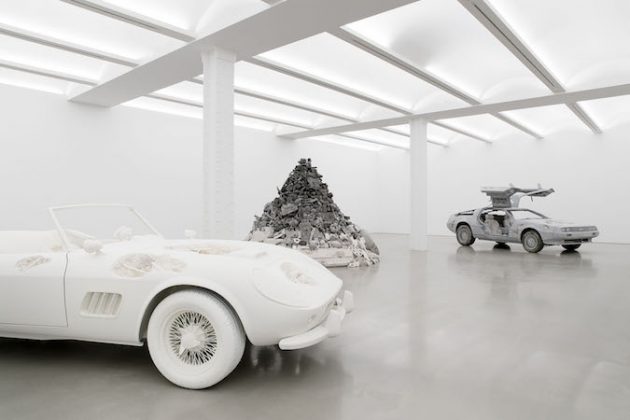 Photo by Guillaume Ziccarelli. Courtesy of Perrotin.
"We look at the works as if they are in a state of decay — degrading or falling apart. But we also associate crystal with a process of growth. So there's an ambiguity as to whether the objects are disintegrating or whether they are growing to some kind of completion, and that sort of in-between state," says the artist. Another installation on the same floor follows the same theme, and includes mythical cast book covers that Arsham made up entirely for himself.
On the third floor, Arsham explores the same theme even further, with a draped wall tag at the entrance reading "FUTURE". The back-wall is focused on erosion as an idea. The patches from his old backpack take on the theme of materialism and the tie up creatures a theme of something subtly recognizable, yet dark at the same time.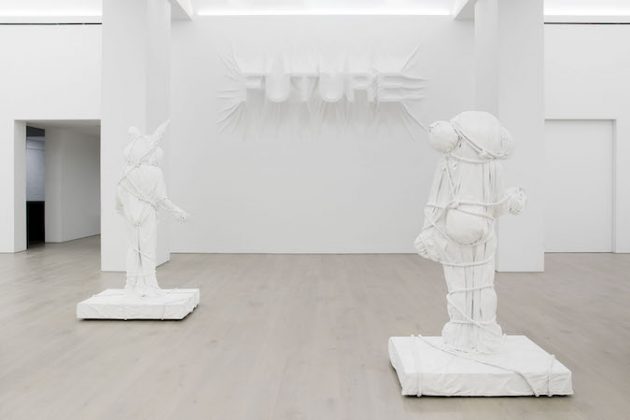 Photo by Guillaume Ziccarelli. Courtesy of Perrotin.
As a manipulator of architectural structures, Arsham reworks them in a way that is not entirely destructive or building, but rather intentional physical movement. "Somewhat recognizable. They're subtle but kind of dark at the same time."