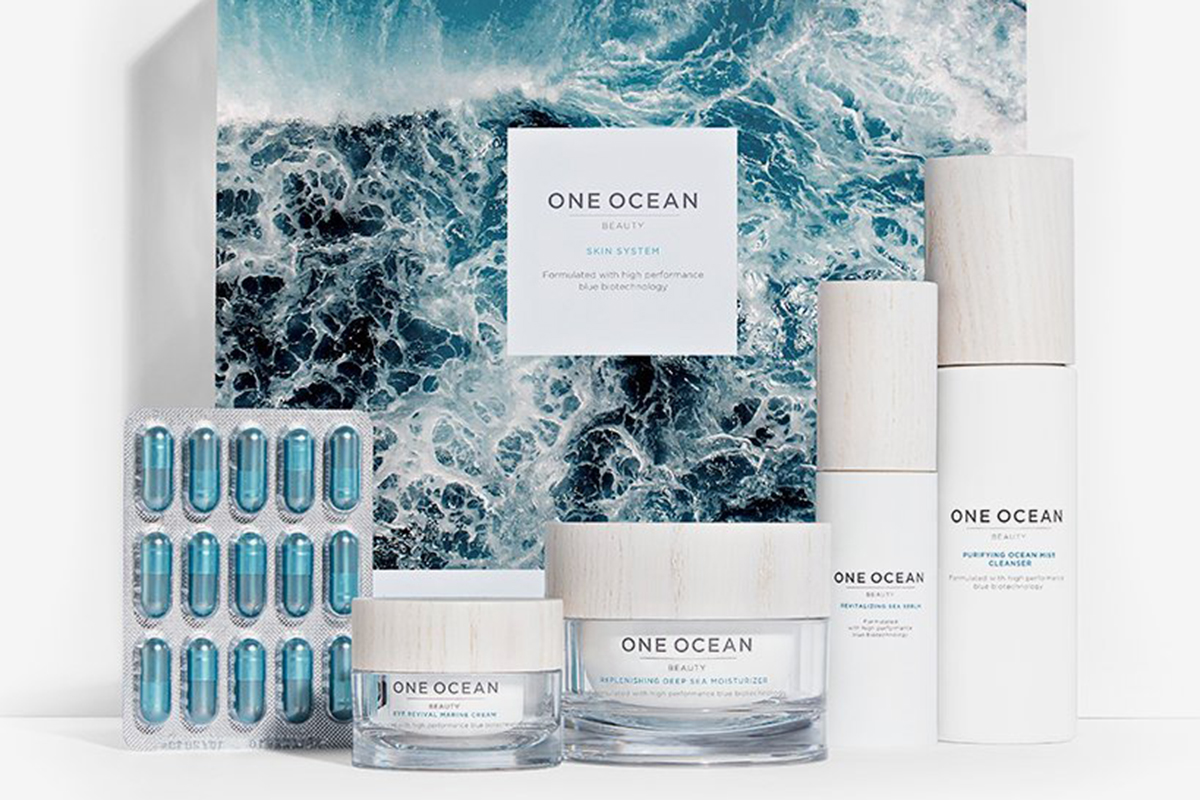 Clean Grooming That Works: One Ocean Beauty
Finally, a clean and clinical grooming line that condenses your daily routine into five simple steps, infused with marine products without hurting the environment: One Ocean Beauty. Founded by Burberry veteran and oceanside aficionado Marcella Cacci, the Blue Line skincare ritual is the first of its kind as beyond its health benefits, it is entirely sustainable and wants to help us save the oceans (the largest producers of oxygen).
"Sometimes when we're in our fashion bubble in Manhattan we forget what is out there," says Cacci, "The ocean is giving us products that can make us look better and feel better. We wanted the products to be clean — really clean." Indeed, One Ocean Beauty products are entirely recyclable (even the cap!), but most importantly despite feeding our skin with the ocean's most precious ingredients, the brand does not harvest from the sea. Instead, One Ocean Beauty works to study marine ingredients and people using them to create other products. The structure is a community journey that the brand publishes on its Blue Life blog.
Inspired by Wallace Nichols' book Blue Mind, Cacci was tempted to study the oceans where she always felt her best. Essentially, not only do bodies of water change us psychologically but also physically — body, structure, and chemistry. And while there are plenty of brands using marine actives, none of these are entirely clean and often have harmful actives tending to a commercial appeal of color, fragrance, texture, etc. Cacci decided to take a different approach.
"We decided to put multiple actives in each product. The whole idea from the very beginning was for it to be simple," she recalls. The result is a super-cocktail of some of the best marine actives in one product. But the brand went further also infusing each product with so many actives that another one would never be necessary to produce, thus simplifying skincare. For example, their products already reduce wrinkles by 29% (clinically proven). Future attention is focused on creating a clean sunscreen, male-oriented products like beard-care, and new supplements. 
Before the brand even launched however, Cacci knew that she wanted to model her business in a different startup model. Originally focused on helping the skin as well as the oceans, the second step felt natural in being charitable. The model was flipped and instead of donating a percentage from sales, One Ocean Beauty "build it into the operating structure of the company. We built is as a fixed cause and not a variable, regardless of what we sell," says Cacci. "We donated $250,000 to Oceana this year before we sold even one product."
The five-piece kit ($298) includes the following singular products: 
Purifying Ocean Mist Cleanser ($38) – multi-tasking fluid that draws out the impurities, reduces shiny offering a matte finish, minimizes the appearance of pores, and improves firmness
Replenishing Deep Sea Moisturizer ($79) – helps retain moisture without a thick greasy coat, instead super light and easily absorbed by skin
Eye Revival Marine Cream ($72) – the lightweight eye cream is clinically proven to reduce the appearance of puffy eyebags and dark circles including fine lines and wrinkles
Revitalizing Sea Serum ($98) – crème de la crème of the line, this serum is infused with three marine actives and a peptide with effects similar to those of botox
Marine Collagen ($48) – while our skin does not actually ingest collagen, deep-sea collagen is most easily ingested and also protect the collagen existing in your skin
One Ocean Beauty products are available online and at the One Ocean Beauty first Pop-Up store in NOLITA at 251 Elizabeth Street full with an immersive oceanic experience and Insta-worthy photo opps.