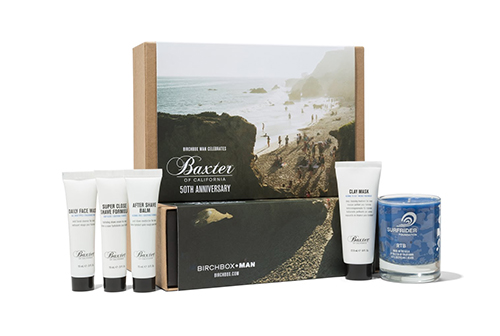 Birchbox Man's Special Edition Box for May
Image: Birchbox Man.
For the month of May, Birchbox Man pays tribute to premier grooming brand Baxter of California's 50th anniversary with a special edition box filled with sample-size versions of fan-favorite products from the brand including its Daily Face Wash, Super Close Shave Formula, After Shave Balm, Clay Mask and a Surfrider Candle. Proceeds from the candle specifically will benefit the Surfrider Foundation, a non-profit organization dedicated to protecting the world's oceans, waves, and beaches.
Baxter of California came to fruition in 1965 when Baxter Finley launched a cutting edge moisturizer that was formulated to fight sun damage; a product considered groundbreaking at a time when men's skincare wasn't a priority. By the '70s, his full line of grooming products had gained a loyal customer base in Hollywood. Today, Finley's legacy continues through his brand's innovative products made from advanced scientific research and natural ingredients. This special edition Birchbox sums up this storied American history and is a perfect all-in-one go-to for all your summer essentials.
Baxter of California' special edition box is available online now.