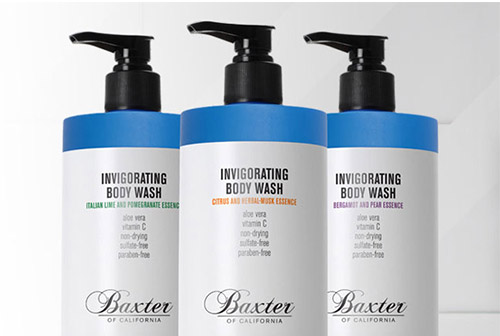 Baxter of California Updates Body Wash Line
Image: Baxter of California.
As the men's grooming industry continues to rocket toward sonic boom proportions—the sector grew over 300% in 2016 with $21 billion in overall sales—the heavy market saturation of creams, gels, and pastes makes competition fierce. Aiming to stay at the forefront, Baxter of California, a catalyst for the industry's current swollen state with its Super Shape skin conditioner in 1965, gives its Invigorating Body Wash line a well-deserved facelift. Beyond the obvious visual updates—the bottle ditches pastel turquoise in favor of the brand's high-voltage blue—the formula within has been reworked to provide an easier lather with a quicker rinse time. Those with picky pores will be happy to know the scrub is both sulfate and paraben free, leaving skin smooth and hydrated as the sweltering months begin to roll out. The scent, a tingling mixture that lasts, fuses bergamot with pear to take a summer Italian-orange sweetness and serrate its edge with a cutting bite of cedar wood. Through a subtle touch of aloe vera, a champion of the burn-prone season, the total effect is one of cooling calm, a relaxing update that hits all the right olfactive notes.
Baxter of California's Reinvigorating Body Wash is available online now.