Best Rooftop Bars: TOPS, Banyan Tree Shanghai on the Bund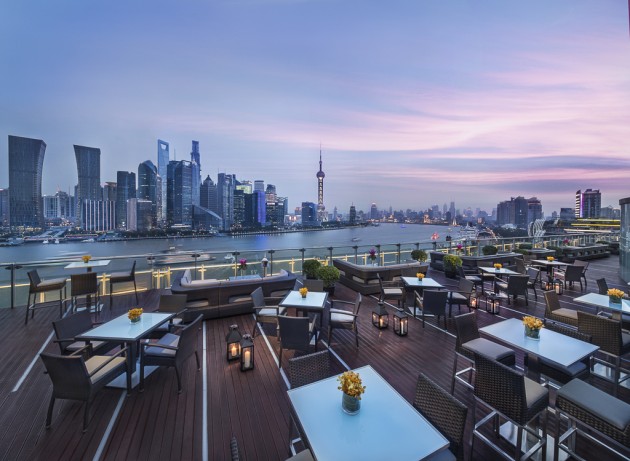 Shanghai can put a spell on you. It's so big, cinematic and confusing that said spell could, really, be a curse to the traveler not privy to a comfortable and accommodating place to say. On the other hand, the spell could also be enchanting if you do find the kind of hotel you could live at. One that places the crazy at a distance. We suggest the Banyan Tree Shanghai on the Bund, which is a full service urban resort that has offered luxurious views of Shanghai's sweeping financial district from it's perch across the river since it opened, but starting this month, they've taken things to the next level.
To the roof top to be exact with the opening of TOPS, the first and only bar in Shanghai to offer a full, 180 degree, unobstructed view of the bustling city across the river. Already they've got a line up of internationally renown DJs spinning for nightly parties to match the exquisite modern cocktails shaken and stirred by professional bartenders, and a selection of avant-garde tapas specially-crafted by the urban resort's chefs.
Once you've taken care of business in Shanghai, you can while the rest of day away downstairs in the confines of their renown Spa, featuring a fully stocked gym (with Yoga center) and a relaxing or swimming pool and then turn it up a notch by night at TOPS.