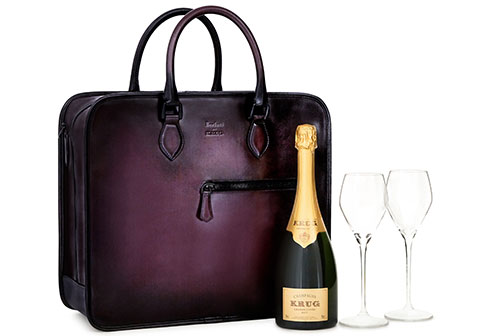 Berluti and Krug Collaborate on New Bag Collection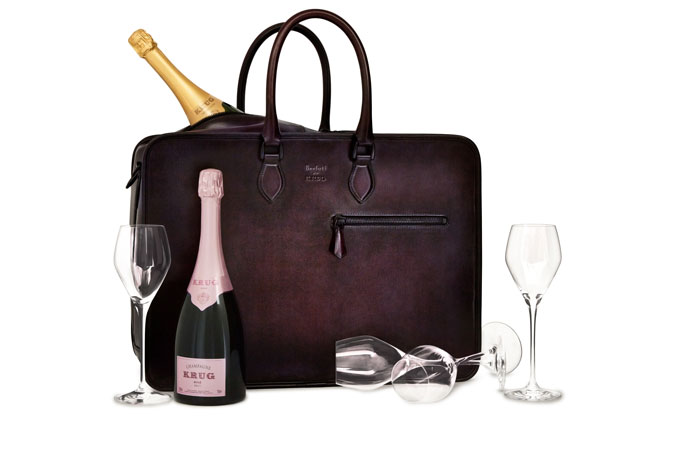 Image: Berluti x Krug.
When Joseph Krug, the winemaker behind the elite champagne-house Krug, took to creating the perfect blend, he wrote down his notes and thoughts in a journal of a distinct, dark cherry color. Over a century later, when Krug and Berluti, two properties of LVMH, collaborated on a new collection of dress shoes, they were inspired by Joseph's notebook and recreated the dark cherry patina on the shoe's leather. Now, for autumn 2016, Berluti and Krug expand their partnership and honor Joseph Krug with a new collection of bags in the same dark cherry gloss. The new style draws from Berluti's emblematic Un Jour briefcase and comes in two sizes, both of which are designed to hold the respective brands' iconic champagne and shoes. Both bags feature an outer zip pocket with a Venezia leather zip-pull, and the Berluti pour Krug signature features inside and out. Each bag comes with removable compartments, a bottle of Krug Grande Cuvée, and Joseph champagne glasses. The bags, limited edition with only 100 available, pay tribute to the longstanding excellence of both French luxury brands, known for their elegance and refinement. The collection is one of the earliest releases from Berluti under its new creative director, Haider Ackermann.
The Berluti pour Krug bag will be available mid-October at Berluti boutiques.