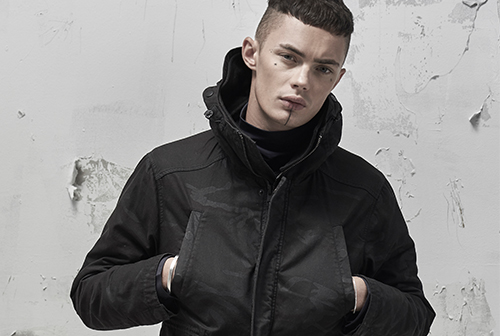 Barneys New York x STAMPD Release Joint Collection
[slider_pro id="98″]
Images: Barneys New York x STAMPD.
As both STAMPD, with its war-torn Purple Heart collection, and Barneys New York, with its city inspired kicks, aim for an edgier, hardened aesthetic, it was only a matter of time before a collaboration between the powerhouse retailer and street style savant would peek out over the horizon. The latest collection, a partnered celebration aptly titled the 130 Collection—named for STAMPD's flagship street address—instills this serrated new attitude into a line of somber, bold sensibility. Pairing oversized pieces with an over-dyed vintage, the resulting release is a reworking of past lines into a cold new concept. Bombers, cargos, and parkas all make a flashy appearance, the draped silhouettes a spin on current market trends that elevate and subvert, bringing elegance to a practiced disregard. The added color fade, which grows stronger with each wash, promises a brutalized personality that echoes streetwear's haunted new direction, adding a personal touch that reflects the wearer's individualized lifestyle. A youthful collection pumped full of adolescent angst, the 130 Collection is a symbol of both brands' commitment to their own storied heritage, as well as a beacon that lights the way down a darker, brooding path.
The Barneys New York x STAMPD 130 Collection is available in Barneys New York stores and STAMPD's Los Angeles flagship now.