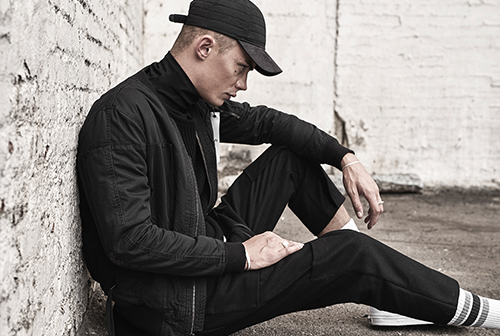 United Arrows & Sons x STAMPD Team for Purple Heart Collection
[slider_pro id="95″]
Images: United Arrows & Sons x STAMPD.
Japanese specialty store United Arrows & Sons and west coast lifestyle brand STAMPD join forces for a war torn collection of textile distress. The Purple Heart collection, inspired by the hardened uniforms of World War II, is as much an homage to the conflict's turbulence as it is a rallying cry within the current political climate. The line's lookbook reads similar to a triumphant Spielberg epic or tumultuous Hemingway novel; pieces that have been left out in the sun or worn in create a distressing juxtaposition to the clean silhouettes, embodying a firm masculinity yet notable dissonance. With seven total pieces – a stone washed bomber, short sleeve tee, wool trousers, among others – that have been brutalized through over-dying processes and intense washes, each tell a story of sharp disenchantment. The three piece denim suit, drawn from the rural Okayama Prefecture region of southern Japan, provides a sturdy strength that reminisces a pre-twill era when denim was the militaristic garb of choice. Faded greens, complex blacks, and optimistic whites provide a lighter outlook, drumming up visuals of a hopeful aftermath. Both a fashion statement and a storytelling experiment, United Arrows & Sons and STAMPD unleash their update of a monumental historical period in this interpretive reflection on where society has been and where it is going. Don an olive bomber or a wide-legged pant and become a part of the ever-evolving international story.
The United Arrows & Sons x STAMPD Purple Heart collection will be available online starting October 28, 2016.