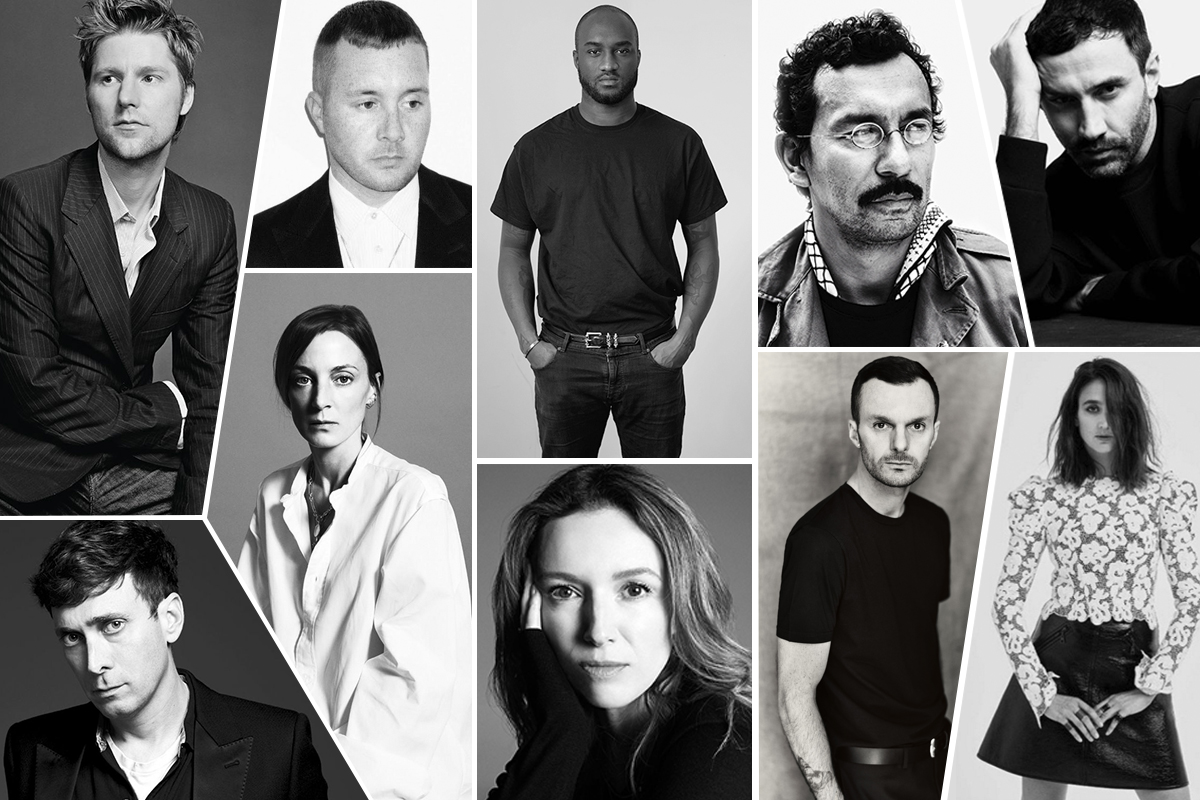 A Year of Designer Musical Chairs
As the fashion industry continues to evolve from antiquated models, this year saw a significant number of high profile designer switch-ups. Several influential veterans of the industry stepped down from their positions in order to clear the path for the next generation of talent and to help propel these legacy labels into the future. Here are a few of some of the biggest changes we observed.
Virgil Abloh joined Louis Vuitton as Kim Jones moved to Dior

In June, designer Virgil Abloh debuted his vision as the artistic director of Louis Vuitton Men's Fashion Week in Paris. Originally from Rockford, Illinois, Abloh is a renowned multidisciplinary expert across mediums, who introduced the world to a Wizard-of-Oz-themed LV collection that featured the yellow brick road, huge prints of Judy Garland, and many, many poppies. His personal brand, Off-White c/o Virgil Abloh™ was started in 2012 and still operates from Milan.
Kim Jones joins Dior as Kris Van Ashe departs to Berluti

Only three days after Kim Jones' friend and mentor Abloh took the runway by storm with his Louis Vuitton men's collection, Jones presented his first capsule collection after having taken over as artistic director of Dior. He official replaced Kris Van Assche in March, who held the role for eleven years. Led stoically by the KAWS plush teddy bear that took over Instagram just a few months prior, the English designer's Dior SS19 collection introduced a new take on the mascot with pastel colors, whilst also featuring Prince Nikolai of Denmark as one of the models.
Kris Van Assche joins Berluti to replace Haider Ackermann
In April of this year, Kris Van Assche took over Haider Ackermann's role as the artistic director of Berluti, after Ackermann announced the end of his three-season reign just a week prior. Van Assche has yet to present his first collection for Berluti, which will take place in January 2019, when he will present his new take on the French fashion house as head of shoes, leather goods, ready-to-wear and accessories collections.
Clare Waight Keller joins Givenchy as Riccardo Tisci departs to Burberry
As the rotation of the luxury artistic directors continued, Riccardo Tisci vacating the Givenchy throne meant that it was time for British stylist and fashion designer Clare Waight Keller to take the reigns. After working at Chloé for seven years as artistic director, Keller was appointed the artistic director of Givenchy. In May 2018, Keller revealed one of her first designs for the label, a wedding gown and veil for the Duchess of Sussex, Meghan Markle for her wedding to Prince Harry.
Riccardo Tisci replaces Christopher Bailey at Burberry
Since Riccardo Tisci was appointed to replace Christopher Bailey as the chief creative officer at the English fashion house, Burberry is now officially run by two Italians (Marco Gobbetti took over as chief executive in October 2017). After having stepped down as creative director of Givenchy in 2017, Tisci debuted his new post with the Spring 2019 Burberry collection, which contained several classic Tisci-isms, including sleek tailored outerwear and peppered with Gothic imagery.
Natacha Ramsay-Levi joins Chloé as Clare Waight Keller joins Givenchy
And since Clare Waight Keller's position was vacated at Chloé, French fashion designer Natacha Ramsay-Levi took the baton in 2017 and made her solo debut with the Spring 2018 collection during Paris Fashion Week. Her debut Chloé line featured the pairing of pastel colors with hearty leather, floral dresses with combat boots, and other juxtapositions of femininity and the reification of fusion.
Hedi Slimane replaces Phoebe Philo at Celine
Though Phoebe Philo designed for Céline (now Celine) for ten years, she graciously stepped down from her tenure as creative director, and Hedi Slimane was announced as her successor. After controversially changing the logo, Slimane introduced the world to his new take on the brand at Paris Fashion Week collection in September, which featured a very 80s-oriented take on new wave and rocker chic. Since Slimane is perhaps most renowned for his work at Yves Saint Laurent, many were disappointed to observe the precipice of Slimane's government be headed by an all-too-familiar YSL-Slimane style. But there is still time for a turnaround.