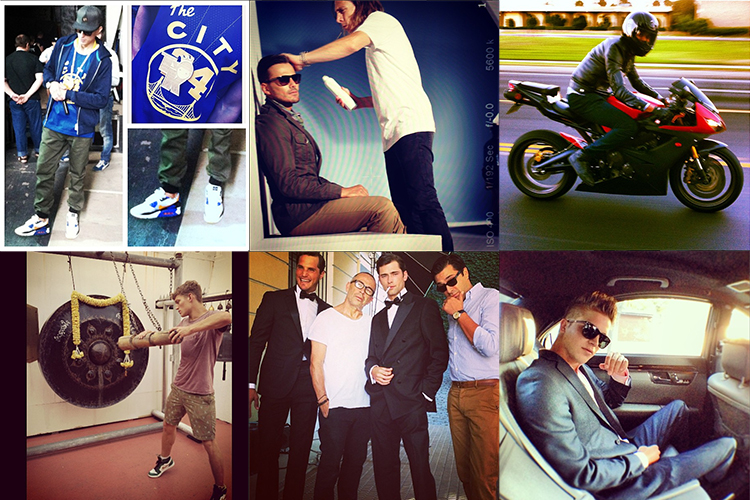 What The Men Of Fashion Are Up To This Summer On Instagram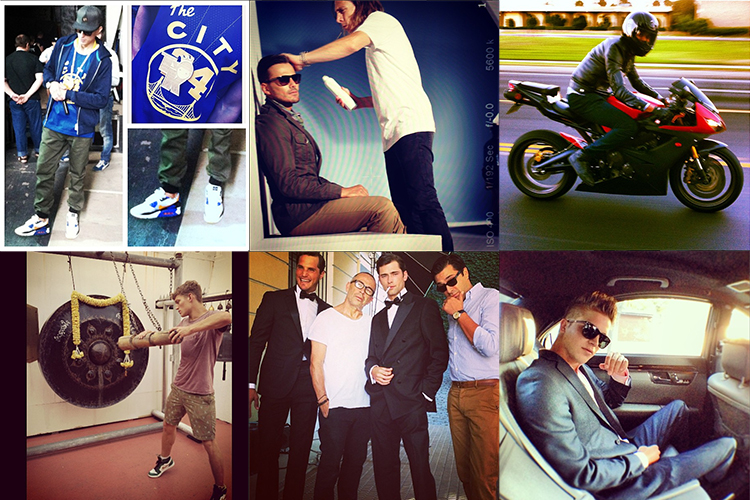 The first men of fashion are a little goofier than the ladies. They drink a heck of a lot more beer, take a heck of a lot more selfies (interestingly), and they're super into their dogs (and in some cases, children). We take a look at seven six of our favorite male models on Instagram to find out where they're travelling, what they're eating drinking, and most of all find out how we can be 'about' that male model life.
Sebastian
Nicknamed "Big Head Seb" growing up, Sebastian Sauve's sizeable head and proportionate body (as far as we know) crave non-stop thrills. Whether he's practicing his bitch slap, chowing down on mangrove tamilok worms, swimming with calamansi in his mouth in Palawan, or tearing up the streets of Singapore on an itty bitty bike (training wheel intact), Sauve is never without his signature devilish grin. Highlight: Sauve 'recruits' a child in Bangkok to join the prestigious Sebastian Sauve School of Teaching Kids How to Ride Good Sauve.
River
Looking to perfect the art of the selfie? If River Viiperi can lead by example, allow his Instagram to be your guide. Paris Hilton's main catch seldom puts his camera down, snapping pictures of "healthy snack time": Eggs, toast, lettuce, mayo, I Can't Believe It's Not Butter, tuna, and a Pabst Blue Ribbon, embracing t-shirtless Tuesday (is that a thing?), taking road trips with @DollarThePup (whom one would be led to believe he shares with Hilton…), jet-skiing with "his love" in Waikiki, or insisting his haters be patient ("I have so much more for you to be mad at"), Viiperi exemplifies the live hard, play hard lifestyle. Highlight: Any time there's more than one puppy in a shot is a win/win.
Felix
Whether he's playing Uncle Felix the Tour Guide or exploring WWII US army aircrafts inside of abandoned airports at Rockaway beach, Felix Bujo is making the most of his Summer by keeping himself out in the sun at every possible moment: Beaching, skydiving, jet-skiing, motorcycling, and a perfunctory Bon Jovi Concert (of course). He understands the importance of the bear necessities (Corona) and spending time with family (taking his momsie to Rockefeller Rose Garden), and provides tons of behind-the-scenes snaps from his many shoots. Highlight: Felix goes "crazy" with his nephew at ToysRUs.
Alex
Model slash professional paintball player Alex Lundqvist will next Summer celebrate his twenty-year anniversary since meeting Bruce Weber, the man who launched his career; A career that shows no signs of slowing down judging by the many shots his Instagram captures of him on set. Whether he's recommending hotspots like Hotel De Nell in Paris, shooting with Annie Leibovitz at Grand Central, hanging with Anderson Cooper + Andy Cohen at their joint birthday party, or playing with monkey's in Shanghai, Alex Lundqvist is proof you can be a family man and a career man. Highlight: Any time he captures his adorable son with a big smile on his face (which is every time).
Sean
Congratulations to Sean O'Pry for a solid effort in conveying an "I'm just like everybody else" Instagram persona, chronicling two-and-a-half-hour waits at the DMV and pictures of his puppy, Murphy, just missing his pee pad. A somewhat limited fixture on Instagram (we dig the less is more approach, though), O'Pry's Summer has been spent, well duh, travelling: Montreal, England, NYC, and of course home to Georgia. Beyond that, the former GQ Man of the Season enjoys snapping shots of architecture, from the Freedom Tower to Basilique Notre-Dame to Wildmans Civil War Surplus Shop. Highlight: O'Pry's first foray in Instagram video: Riding on a kiddie roller coaster.
Arthur
If there's one thing Arthur Kulkov has made abundantly clear this Summer: He's wearing shoes and lots of them. From the time he entered the Insta-foray on May 28th, he's snapped over sixteen pics of his vast collection. Beyond that, he's kept busy with basketball and beach fitness in Coney Island, soccer soccer everywhere, and an undeniable penchant for hashtaggery. Sitting still is not a hobby he regulars. Highlight: The time he caught two flies in the act, poetically describing it as: Freaky mothafuckas #sexytime #flydoggystyle #fly#sex #freaks
Tyson?
According to Tyson Beckford's Instagram: "No F**CKIN men allowed! And your comments will be deleted along with you! Try me!!!!"
We're gonna pass.