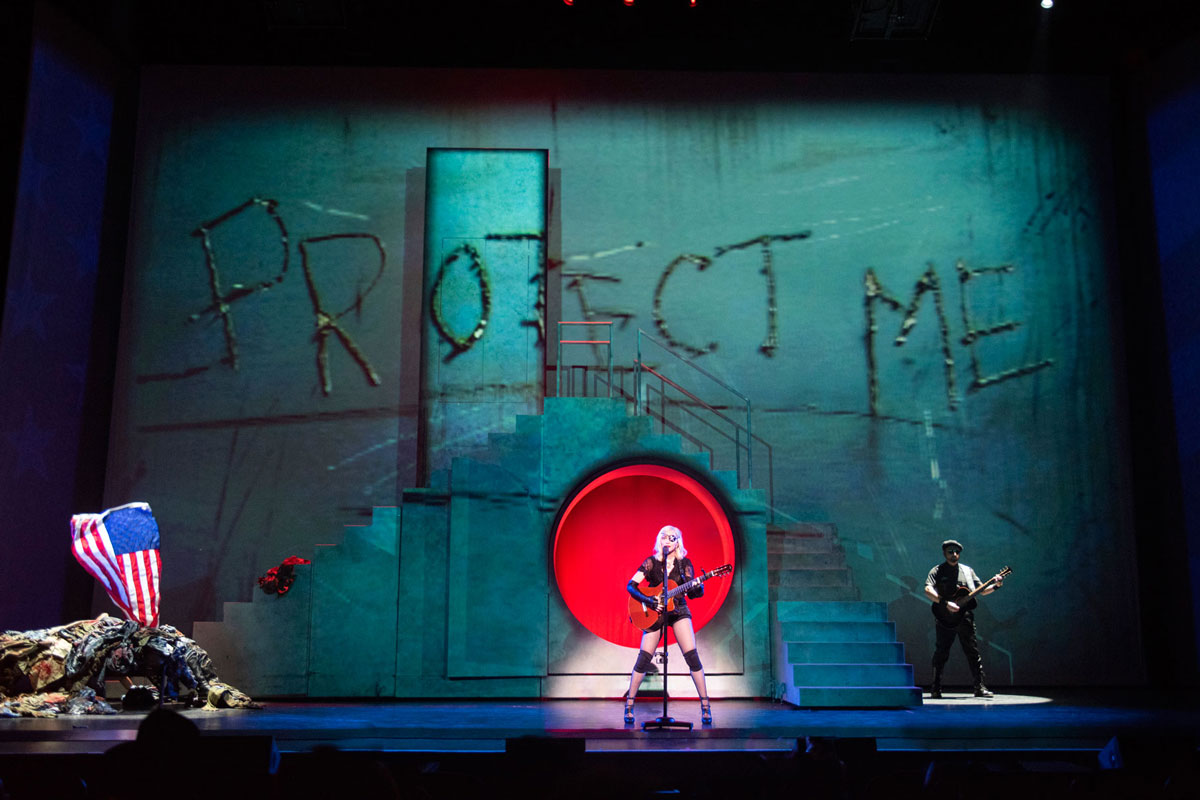 What Went Down at the Madame X Tour in Brooklyn
Fact: Madonna is one of the best entertainers of all time. This is fairly undisputed — throughout her many reinventions spanning a 35-year career, she has consistently challenged industry standards while establishing the archetypal template for the modern pop superstar. With the Blond Ambition Tour, the groundbreaking 1990 tour for her then career-defining record Like a Prayer, she defined the standard for the pop concert. So 29 years later, when Madonna opted for a smaller residency-style tour to support her 14th album Madame X, her most conceptual and ambitious in years, I knew it would be worth a ticket.
The Madame X Tour kicked off a week later than planned, and over two hours later than planned the night I finally saw it. Guests were required to seal their phones in pouches to prohibit photos/video/recording of any kind. I respect this idea in theory, but when you're sitting in an old concert hall for over two hours without access to the internet (and a clock for that matter) or any source of natural light, you get a little restless. It was a relief to hear the gunshots that started the show.
In case you don't know, Madame X is much more than just an album. It's Madonna's latest hyper-political character reinvention. She is an eyepatch-wearing spy, a dancer, a saint, a teacher, a whore, etc. Yet while her message is pure and good — Pro-Choice! Gun Control! — some of it got muddled in the delivery.
After a gunshot-heavy prelude featuring an interpretive dance soundtracked to Madame X's typewriter, the show opened with an album standout "God Control." A throwback to her trademark disco-sound, the performance was overshadowed by its aggressively triggering visuals (see above) that recalled the 2016 Pulse shootings. (In 2012, some fans walked out during her similarly firearms-filled MDNA Tour because of the then-recent Aurora and Sandy Hook shootings. Her team reportedly said that she "would rather cancel her show than censor her art." I'm all for artistic liberty but honey, read the room.) This distraction aside, the rest of the performance was delightful! A Cher-meets-Hamilton campy display that set the tone for the rest of the night: Madame X is nothing if not a strong cocktail of cringe and glory. (At one point she proclaimed she "had too much drip, y'all" and I aged approximately 10 years.)
She then presented "Dark Ballet," which was more of a Joan-of-Arc-meets-Midsommar performance art piece than anything, before segueing into"Human Nature," one of the night's highlights, not only because it was simple and innovative — she writhed around while being framed by various hand puppet shadow formations before breaking into a drum solo — but because it was one of the few non-album tracks from her extensive catalog that made the setlist.
The '90s throwback continued with "Vogue," which featured an army of Madge clones in blonde wigs and leather trenches and was one of the few numbers that inspired people in the seated venue to stand up and dance and be fabulous. We then took another political turn as she performed "Papa Don't Preach" while explaining how several states had planned to overturn Roe v. Wade, changing the lyrics to "I'm NOT keeping my baby!" Next came "American Life," which featured a troop of robotic dancers in army uniforms while she rapped about how she was unsatisfied with her hired assistance.
But the show went on. She took us to Portugal (where's she been living these days), allowing her to flex her seasoned vocals with a traditional Fado ballad before transitioning into "Crazy," a straightforward upbeat love song that set the scene for a stripped-down guitar-accompanied version of "La Isla Bonita." Maluma joined her onstage via video for a rowdy rendition of "Medellin," which was quickly contrasted with a hauntingly beautiful take on the Ray of Light hit "Frozen." The performance was unexpectedly tender, featuring a large projection of her daughter Lourdes doing an interpretive dance. It was brilliant and moving — exactly what you expect from an evening with Madonna.
A bouncy performance of "Come Alive" got the blood flowing again and kept the energy going through a brilliant full disco-club remix of "Crave." The choir returned for the closing ceremony, "Like a Prayer," which was spectacular and simple and once again got the crowd on its feet for a dancefloor sermon. It was during this performance that I was reminded why we continue to follow the Church of Madonna because all things considered, she'll never cease to entertain. At the end of the night, Madame X remains the queen.