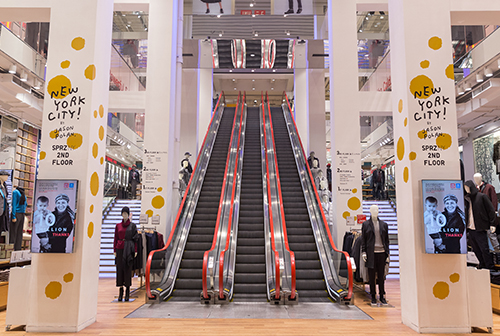 Uniqlo Commemorates Artist Jason Polan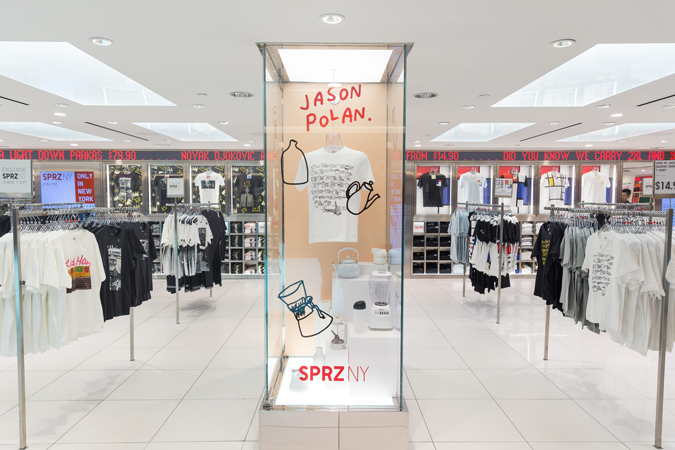 Image: Ilitch Peters.
One can usually find New York-based artist Jason Polan tucked away in a coffee shop or on the subway, a flip-up notepad in hand and moving a black ink pen feverishly about the page before his inspiration walks away. A true artist of his element, Polan is inspired by all that he sees around him – from the man playing keyboard on the street to the woman eating at Five Guys to a rusted pipe in Gramercy, no person or item is too obscure or goes unappreciated, Polan placing significance on the seemingly insignificant.
Uniqlo, proving to be an artist's best friend through multiple collaborations with a pantheon of history's greats, aims to bring this same spirited and off-the-cuff energy to its brand through a new partnership with Polan. "It's going to open up my artwork to a lot of people who maybe haven't seen it before," says Polan. And, ever the humble artist, he quickly adds "and hopefully they enjoy it," with a smile.
The Man Behind the Branding
The collection itself extends a concept of an every-man's attainability through the range of tee's bearing fun and instantly recognizable imagery. On one, a curious orange perks up above the lining of the breast pocket, on another – a proud giraffe, one of Polan's staples, stretches itself across the back of the tee, a creature whose half-formed features only lends itself to the endearing qualities of the artist's eye. Including a wistful outlined man holding an umbrella and the alphabet written in scrawled letters, the pieces are fun and never lofty, always grounded in a sense of quiet depth and interpretable meaning.
With published works such as his coveted art book, "Every Person in New York," in which Polan draws anyone and everyone he sees (see if you can spot yourself), or his New York Times project, "Things I Saw," where he drew anything with beauty or deemed worthy to be captured, it is clear that Polan swims upstream against the select elitist and overtly shut off art world, where closed doors seemingly means better art. "Part of what I like to do is try to make it a little more welcoming," says Polan. "Making things accessible to people is important to me – it's pretty intimate. I like that." The accessibility of art, and the hope that it can be enjoyed by everyone, is a clear concept when looking at the man behind the scrawled images. "I try to work hard and think carefully about certain things so that people experiencing it don't have to," Polan says of his approach to art. "I want it to be a good experience."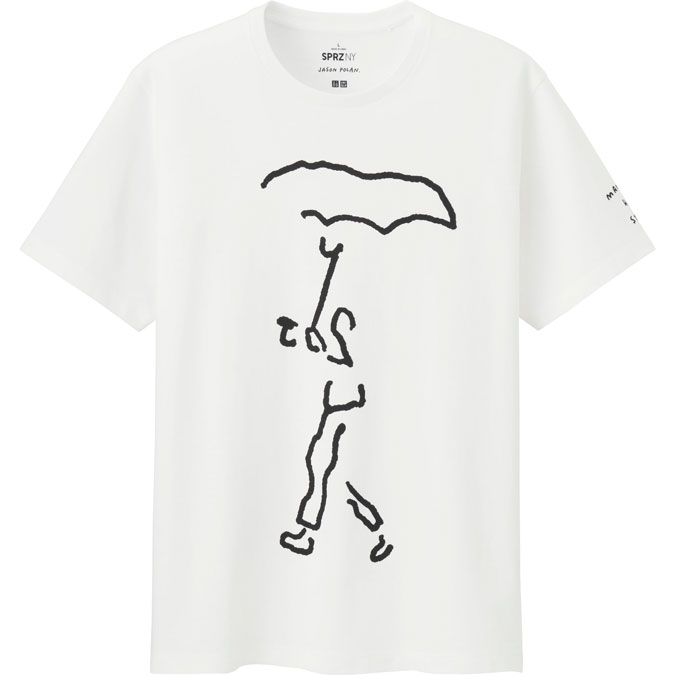 Image: Uniqlo.
Mid-West Transplant
A Michigan native, and proud to admit it, Polan assures that this upbringing molds his artwork into the form it has inhabited throughout his life. "It's just about finding that balance," he says, his hometown of Franklin an idyllic mid-west dream compared to the grit of New York. "[Drawing] has been a way for me to slow things down a little bit, so that they're more accessible to me. I guess I bring a bit of my Midwest to New York."
Though just because he simplifies the noise, that doesn't mean he would shy too far away from that Warhol-ian concept of mass production. "Sometimes if I do a drawing…the idea that a million people could see that is really exciting to me," Polan admits. "I like having conversations with people but I also like making things that a lot of people can interact with." And with his Uniqlo shirts hanging side-by-side on the same racks as those by Andy Warhol and Polan's self-professed icon Keith Haring, the reality sets in. "I'm totally psyched," he gushes. "My artwork near [their] artwork is a total thrill."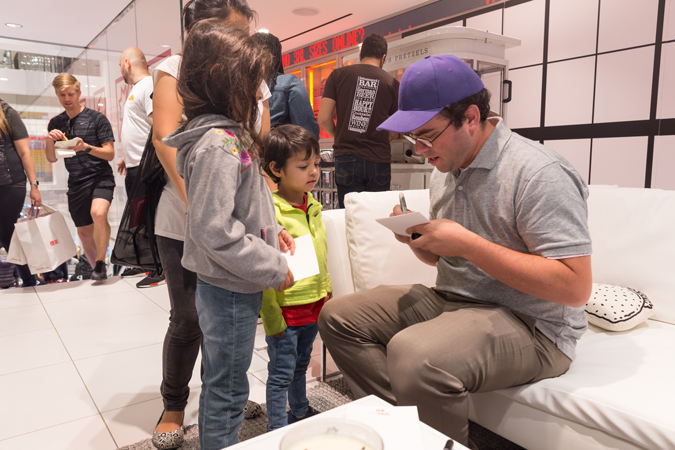 Image: Ilitch Peters.
The excitement, Polan assures, is never lost on him. Despite the lines that turned up at the clothier flagship's Meet the Artist event to get a personal drawing or, in some cases, a Sharpie-d neck tattoo, he still finds joy in the gradual increase of his artistic popularity. "A friend had texted a picture of the window at Uniqlo, I hadn't seen it yet, but they had these LED lights in the elevators with my giraffe drawings," says Polan. "It was really exciting; I'm really excited."
So should you find yourself at a Taco Bell – where Polan hosts the Taco Bell Drawing Club in hopes to get others interested in art – and see Polan sketching away in the back corner, pen moving furiously, don't be alarmed. You just might end up on a t-shirt.
The Uniqlo x Jason Polan Artist Collection is available in Uniqlo stores and online now.