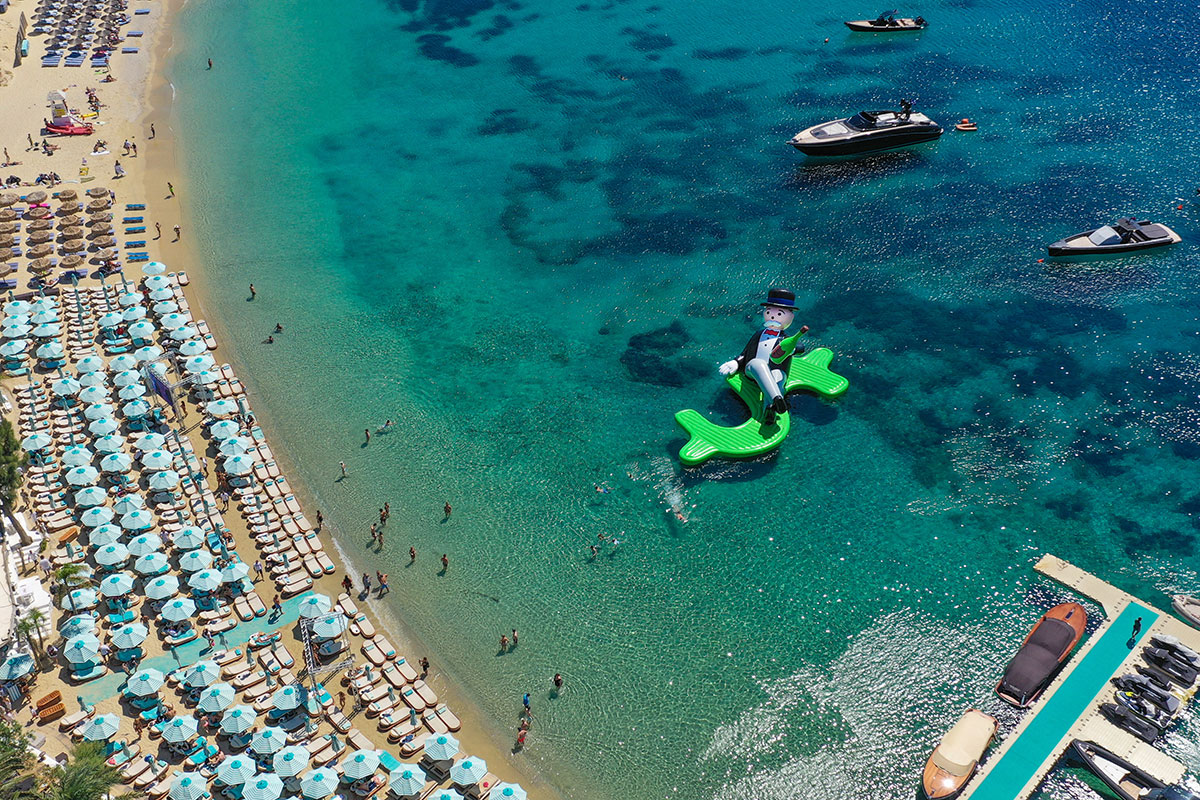 Traveling Artist Alec Monopoly Talks About His Artistic Path
This summer, visitors in Mykonos may have noticed a giant Mr.Monopoly balloon floating across the Mediterranean. The gliding display was just the latest effort by Alec Monopoly. The character piece has become an immediate representation of the nomad himself, who painted additional pieces while onboard the blow-up — some of those pieces were exhibited at Eden Fine Art, a New York-based gallery owned and curated by Cathia Klimovsky. We caught up with the traveling artist, who's amassed over one million followers on Instagram, to learn more about his inspirations.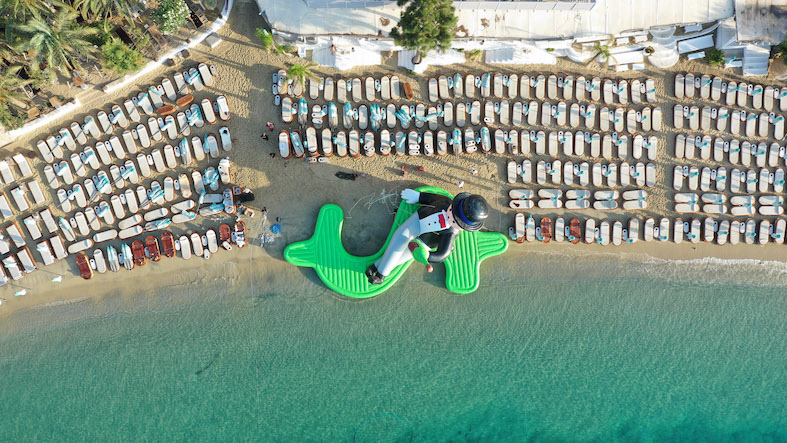 Could you tell me a bit about your beginning as an artist? What initially attracted you to graffiti?
Originally from New York City, graffiti and street art always had a strong influence on my personal aesthetic. My mother was classically trained as a painter, so fine art was always a part of my early life. Our home was filled with beautiful paintings, and I was always encouraged to express myself via art.
Where does your pseudonym come from?
I treat my true identity as a game. I want the audience to be able to decipher what I stand for. Between my artworks and my public persona, I want to create a complete image that comments on societal matters such as capitalism, consumerism, and success.
Your work has traveled internationally — is there any reason why you choose Greece this summer?
I am grateful that I have gotten the opportunity to exhibit my work internationally. I choose Mykonos, Greece in particular for this last exhibition due to its prominence in popular culture. Mykonos is at its height in popularity attracting so many people from everywhere. Despite its rapid development, it has still maintained its unique Cyclades Island character.
Could you talk a bit about the inspiration behind this collection?
Eden Fine Art owned by Cathia Klimovsky curated this exhibition. I wanted this to be a party fitting for the island that is renowned for its level of luxury and excess. I wanted to go over the top and create an exhibition unlike anything seen before. We created a massive floating sculpture for me to live paint on. There was no lack of abundance or extravagance as the island is.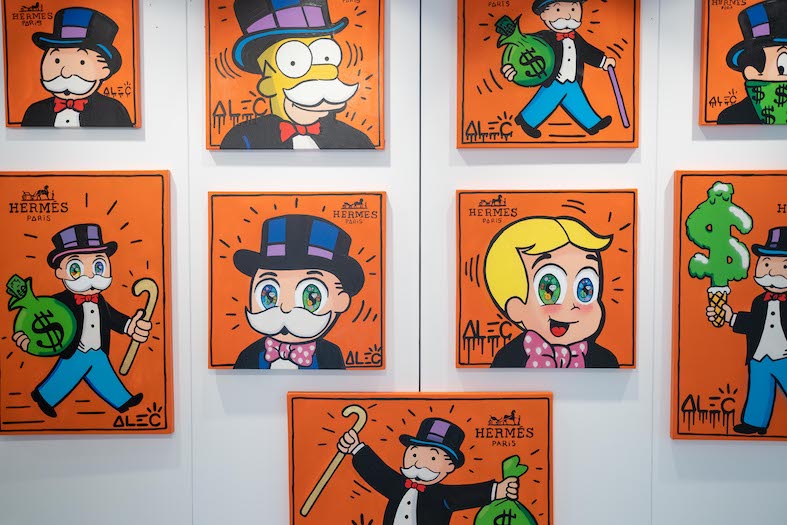 Why did you decide to exhibition giant a version of Monopoly's signature character, Rich Uncle Pennybags, on the coastline? Is this a case for participatory art?
Rich Uncle Pennybags, also known as Mr. Monopoly, is one of my favorite characters to paint. He started as the face of capitalism and corporate approach, but as I grew as an artist, so has the character. Today Mr. Monopoly is synonymous with me; we both have a strong drive to achieve success in whatever we put our minds to.
I wanted all of the party-goers and travelers, even the ones who could not attend my exhibition $PF MONOPOLY to get a taste of the fun. A taste of the magic. Even days after I left the island, people were Instagramming themselves swimming out to the giant floating sculpture. I feel so proud every time I see myself tagged in one of these videos. I am grateful that my art gets to be seen and experienced and interacted with by so many people.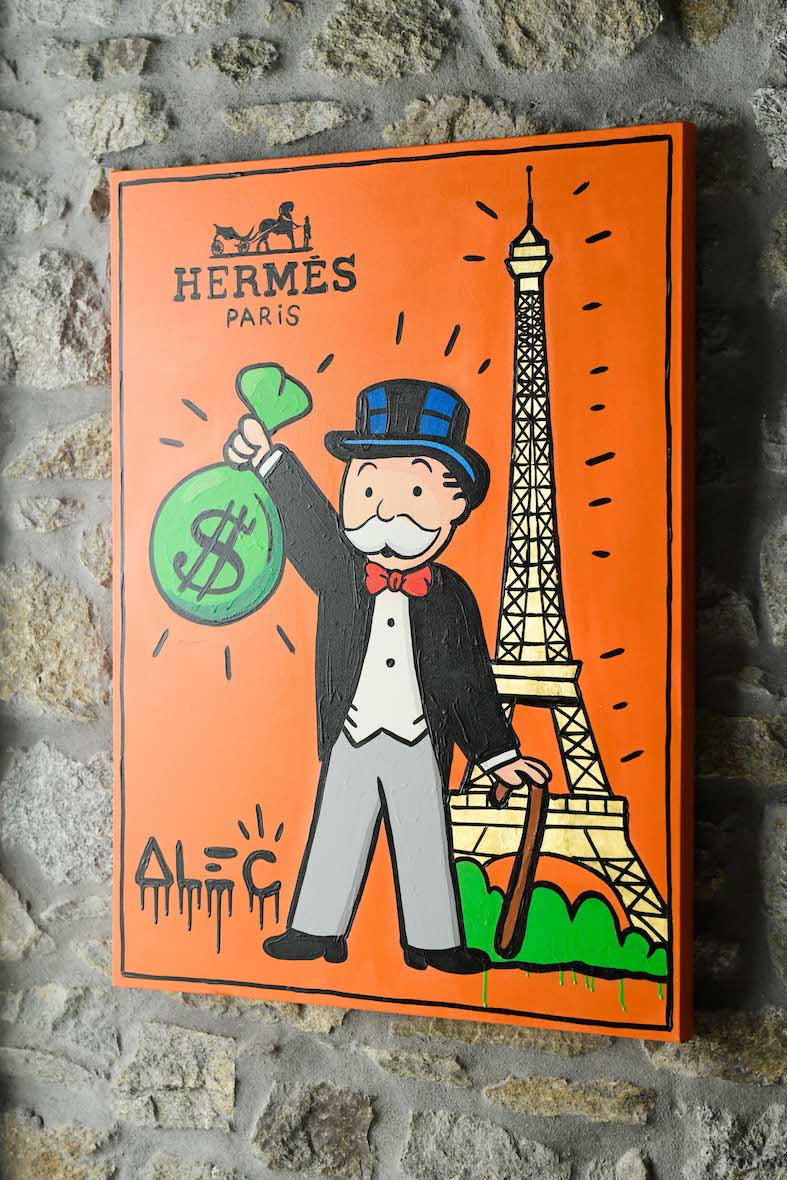 Can you talk about any other projects you're working on this year?
I like to talk about my future projects! But I also don't want to ruin any surprises. Let's just say large events during Art Basel Miami, followed by New York and Far East events.