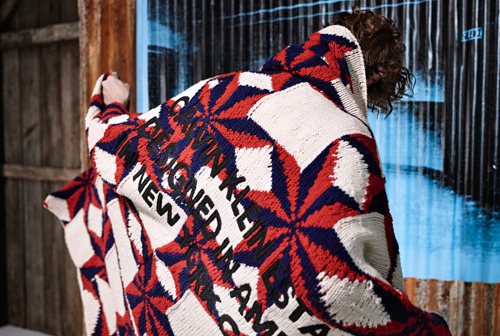 CALVIN KLEIN 205W39NYC Releases New Americana Pre-Fall '18 Collection
For Calvin Klein 205W39NYC Pre-Fall '18, Raf Simons manipulated the utilitarian standards of traditional American attire to create a fresh collection injected with pop fervor, courtesy of Andy Warhol. The line features a trophy of cultural references, each distorted and altered to provide a new context — denim and sherpas are a more obvious nod to Western influence, while fitted and dramatic silhouettes demonstrate the brand's signature urban design sensibility while challenging convention. Accessories are adorned with altered Andy Warhol prints, as part of an ongoing partnership with The Andy Warhol Foundation for the Visual Arts, which gives the designer access and rights to a number of exclusive prints from the Pop Artist himself.
The Calvin Klein 205W39NYC Pre-Fall '18 collection is available at Calvin Klein stores and online on May 21.
Images: Willy Vanderperre.
Styling: Olivier Rizzo.
[slider_pro id="223″]