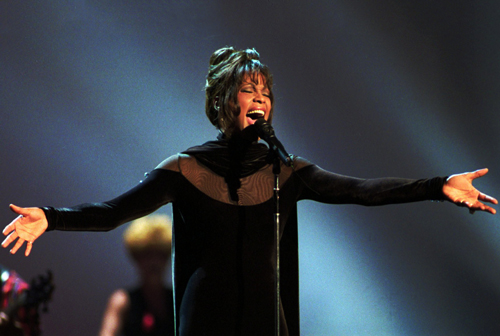 The Top 5 Best Whitney Houston Performances
In honor of what would have been Whitney Houston's 55th birthday, we take a look at some of her greatest performances.
5. I Will Always Love You at the AMAs (1994)
The biggest single of her career and one of the best-selling singles of all time, it remains her signature song. The best part is that she sings most of it with her eyes closed like she's not even trying. An effortless talent.
4. I Didn't Know My Own Strength on Oprah (2009)
This performance marked a comeback moment for Whitney, who would release her seventh and  ultimately final album, I Look to You. The grit in her voice shows experience, but the added "I didn't know!" exclamations peppered in add spice to the uplifting ballad. Even Oprah is shook.
3. I Have Nothing at the Billboard Music Awards (1993)
This is a perfect performance. And the way she teases the audience before the final chorus and one of the most iconic key changes in the history of recorded music? A class act.
2. All the Man That I Need at Welcome Home Heroes (1991)
Give me PASSION! Give me VOCALS! Give me DRAMA! This is one of the many instances where the live version is infinitely better than the recorded one. And it also proves that red really was her color.
1. Star Spangled Banner at the Super Bowl (1991)
After 9/11, Whitney re-released this recording to benefit firefighters and victims of the terrorist attack, and it peaked at #6 on the Billboard Hot 100, making her the only artist to ever make the National Anthem crack the top 10. The effortless of her range remains unmatched, and that smile reminds us that we were truly blessed to bear witness to The Voice.