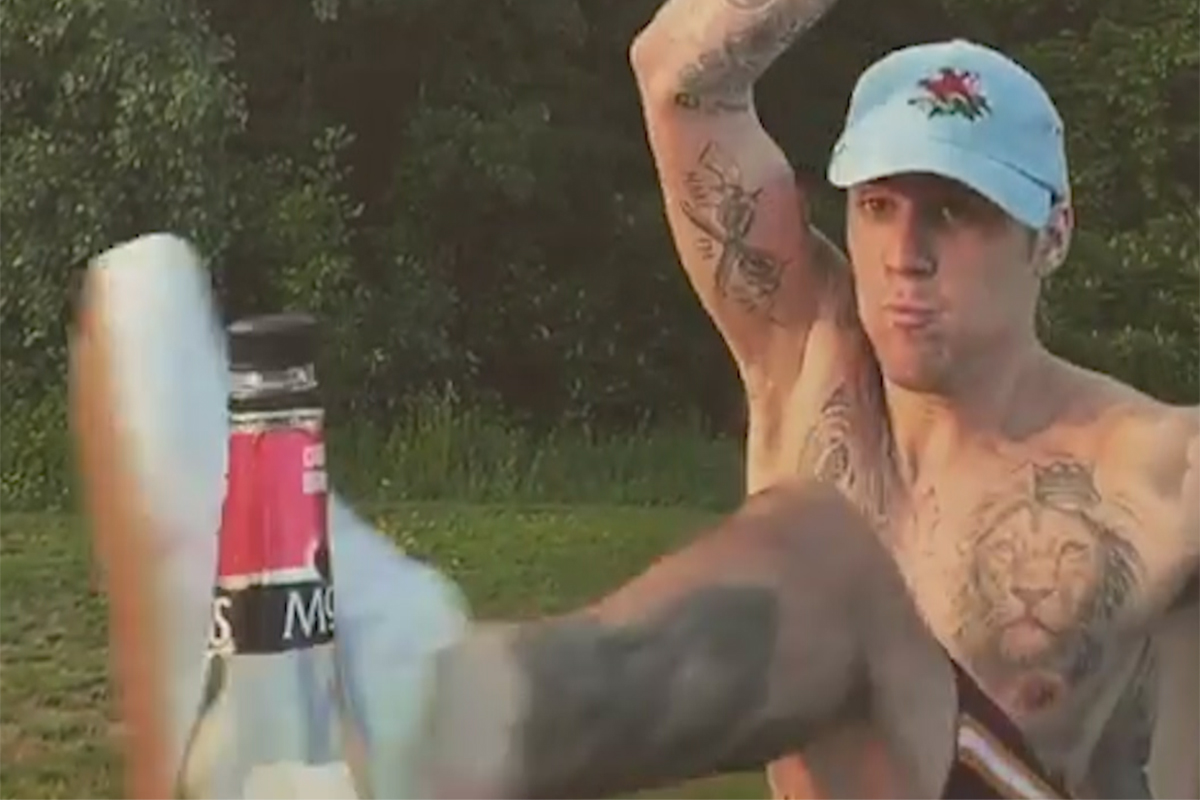 The 7 Best Celebrity Bottle Cap Challenges
We have all seen or at least heard of the latest social media trend, the bottle cap challenge. With celebrities around the world participating, it's hard to ignore the countless feet flying against bottle caps. Thankfully, this challenge is generally harmless which is a nice break from past trends (yes, I'm talking about that dark time with the tide pod challenge).
The New York Times reported that it's not quite clear where the challenge originated but suspects that it began with the martial arts champion, Farabi Davletchi. He posted a video of him kicking off a bottle cap using the hashtag #farakickschallenge and tagged celebrities to join in, including Jason Statham, Jean-Claude Van Damme, Connor McGregor, and Jackie Chan. The rest is history. Regardless of how the challenge started, celebrities are loving it. Here are some of the best ones so far.
Jason Statham was nominated by the suspected originator, therefore his action-packed tribute has to be included as it really kick-started (pun fully intended) the craze.

Before kicking the cap off, Justin Bieber declares "This is going to be Tom Cruise's head!" The artist then nominated Cruise and his wife Hailey Bieber in the caption. Cruise has yet to respond to the battle cry.

Next up, Hailey. She approached the challenge with not just a kick but by entering the frame on an ATV before nominating Kendall Jenner.

Kendall might just have one-upped Mrs. Bieber with her spin on the challenge. Continuing the theme of doing the challenge on some type of vehicle, Jenner rode a jet-ski while graciously pointing her toes to kick off her bottle cap. Good form.

Even though this next one was technically a fail at the challenge, it still had to be mentioned since it took the idea of the challenge and made a cinematic story. Ryan Reynolds used the challenge to promote his gin company and had many shots of the bottle in different areas searching for him, finally being united. Reynolds does completely fail to get the cap off, it still made it on the list based on the creative liberties he took.


Diplo joined in on the fun posting his bottle cap challenge video from Ibiza. Even across the world, he had to be a part of the trend. His clean kick and pure joy after he completes the kick earned his spot for one of the best.

Instead of the classic kick off, Mariah Carey executed a flawless whistle note to get the cap off the bottle. However unconventional or potentially fake, the cap flies off the bottle with only her voice, so I guess mission accomplished.