Sazerac: The Cocktail Of New Orleans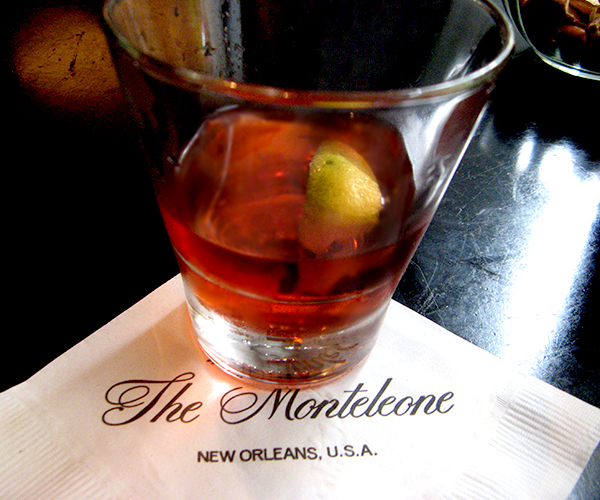 New Orleans natives say that hurricanes are for tourists and sazeracs are for the locals. Considering that the Big Easy is the birthplace of what most consider America's first cocktail, locals take their love of the Sazerac to heart. This cocktail is so beloved that in 2008 the Louisiana legislature proclaimed Sazerac the "Official cocktail of New Orleans. Now, that's some major loyalty
So just how did this quintessential cocktail come about? Well according to legend, in 1838 Antoine Amadie Peychaud, a Creole apothecary, began mixing an old family recipe of aromatic bitters to relieve his client's aliments. He then began mixing the bitters with French brandy, a splash of water and a bit of sugar and served this toddy to his friends. And this tasty new concoction was a hit, and soon Peychaud's "remedy" was being served all around town in bars or "coffee houses, as they were called back in the day.
By the 1850's, the drink was being made with Sazerac de Forge et Fils, a type of French brandy, one of the oldest cognacs available anywhere, and celebrated as the signature drink of the Sazerac Coffee House. Over the course of the late 19th century, this classic cocktail fully began to evolve. Rye whiskey replaced brandy due to a shortage of the spirit caused by the phylloxera epidemic. Then bartender Leon Lamothe added absinthe into the mix and Viola!, the Sazerac as we know it today, was born. And because the patrons were referring to it as the Sazerac, the name just stuck.
However today, most Sazerac are usually made with rye whiskey, sugar, absinthe (or a substitute, like Herbsaint), Peychaud's Bitters and a strip of lemon peel, but there are many variations of this lively libation. One might use Angostura instead of Peychaud or try a combination both bitters. Someone might favor Rittenhouse Bonded Straight Rye while another might prefer Old Overholt. There are even some bartenders using Cognac just the way Peychaud did. No matter what recipe your bartender chooses to follow, it will no doubt be crafted with perfection and the end result will be a flavorful well-balanced drink that will dance in your mouth. And you can't go wrong with that.
---
– 1 tablespoon Herbsaint
– 1 1/2 ounces rye whiskey, preferably Old Overholt or Sazerac rye
– 1/2 teaspoon simple syrup
– 4 to 5 dashes Peychaud's bitters
– 2 dashes Angostura bitters
– 1 lemon twist with the white pith removed, for garnish
---
– Pour the Herbsaint into a rocks glass and swirl to coat the inside. Discard any excess Herbsaint. Fill the glass with ice to chill.
– Combine the rye, simple syrup and Peychaud's and Angostura bitters in a cocktail shaker with ice. Cover and shake vigorously.
– Discard the ice from the glass and strain the shaker mixture into the glass. Rub the rim of the glass with the lemon twist, add to the drink and serve immediately.
---