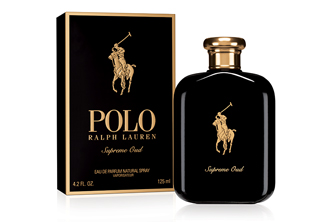 Ralph Lauren's New, Exotic Polo Supreme Oud
Image: Ralph Lauren.
This March, Ralph Lauren Fragrances introduces its most luxurious perfume yet with Polo Supreme Oud: a hypnotic blend of precious spices, smoky oud, and rich woods. The brand's most masculine eau de parfum yet, it has a higher concentration of refined ingredients to ensure quality, strength, and longevity for the refined gentleman.
This oriental woody fragrance features Oud, a unique ingredient found only in a rare species of Agarwood trees. The aromatic resin is extracted and burned to create an intensely mesmerizing scent. Inspired by Ralph Lauren's infinite taste for exceptional objects,  Master Perfumer Carlos Benaim wanted to create a more modern oud fragrance and added fresh spices like cinnamon for a distinctive scent. The result, according to Benaim, has a "hypnotic effect."
Polo Supreme Oud comes in a sleek black bottle with gold accents, inspired by Old Hollywood glamour and art deco. "From the juice and packaging to the print advertising, this fragrance is all about supreme luxury and supreme quality," said Guillaume de Lesquen, president of Ralph Lauren Fragrances, in a statement.
For the man with effortless style and sophistication, Polo Supreme Oud will be available in March 2015.