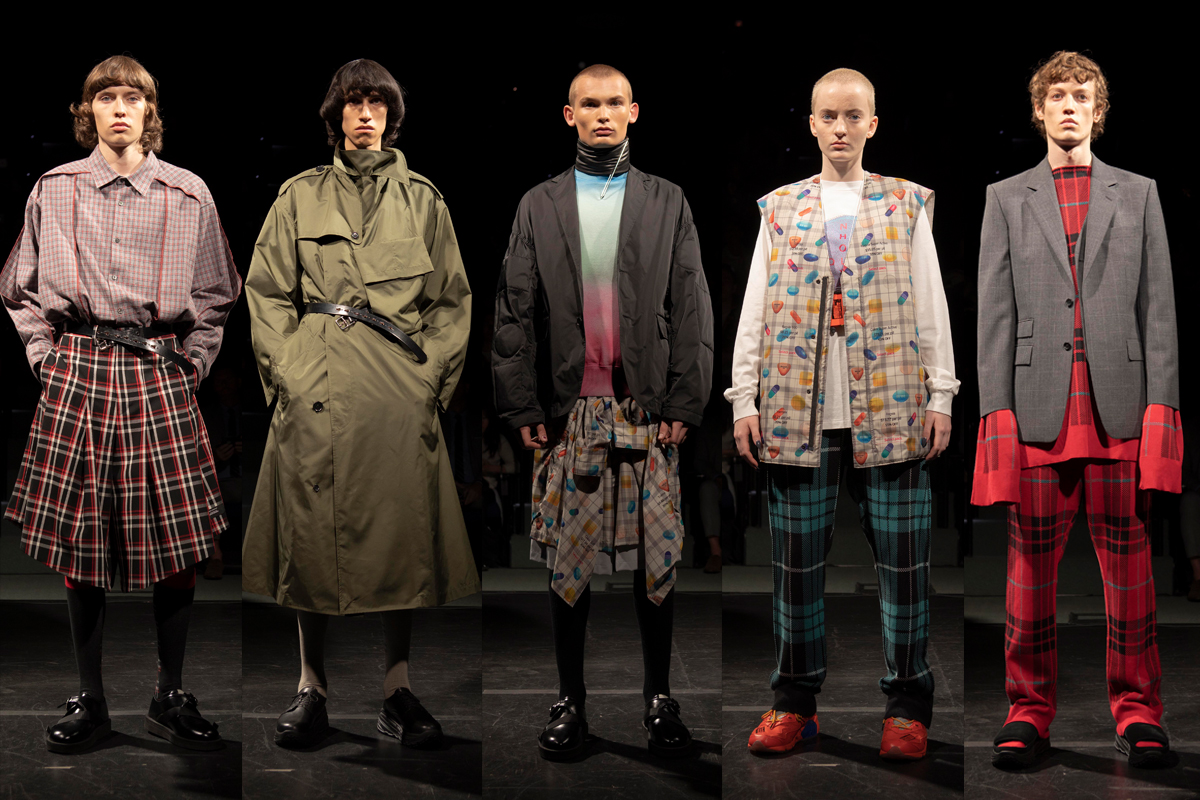 N. Hoolywood Spring '20 is Not Punk
At a theatre in the Borough of Manhattan Community College — where I later learned Cardi B attended — models marched to the center of a dark stage in a military-like fashion to showcase the latest output from Japanese/American designer N. Hoolywood. The collection was a hybrid of deconstructed tailoring, tartan prints, colorful pill graphics, and a general anti-establishment aloofness — that is to say, punk as hell. But that's not what designer Daisuke Obana had in mind.
"He didn't really focus on punk this time," Obana says backstage, through his unofficial translator and New York correspondent for the label Yasyuo Hibino. "So this is the expression from English culture — he thinks the suiting is very classic and traditional, but other things aren't as well made. It's just a summary of what England is to him — it's not political.
Obana was inspired by a recent trip to London — his first in 18 years — when he rediscovered the city "like a tourist." He went to World's End, which was originally the SEX boutique founded by Vivienne Westwood and Malcolm McLaren that was the premier hotbed for punk fashion in the '70s. He went down Savile Row, the tailoring epicenter of maybe the world. All these British influences were clearly incorporated into the collection, but the designer's own street-savvy edge kept it from ever appearing gimmicky.
There's also a sustainable aspect embedded in the collection. And since fashion is among the most polluting industries, more designers are announcing sustainable initiatives as the threats of climate change increase and accelerate at an alarming rate. "Large corporations have so much leftover, they have to sometimes burn [excess] because people have to buy new collections," he says, before explaining that the size of his label prevents this from ever being an issue. "Each season, [our team] really estimates how much they need to produce and there is not really any leftovers. To make samples, they used archive [material], or leftover fabric from previous seasons — they reuse everything to make new collections. So sustainability is quite normal in that sense. It's not a large [statement], but practical."
There's an obvious parallel between designing new pieces using discarded pieces or archived materials and punk DIY culture. The whole thing is very 'Rip it up and start again.' But there was a demeanor in the presentation and the collection that transcended it beyond any one particular influence, once again demonstrating the label's strength in combining the classic with the cutting-edge.
Images: Courtesy of N. Hoolywood/Satoshi Motoda.