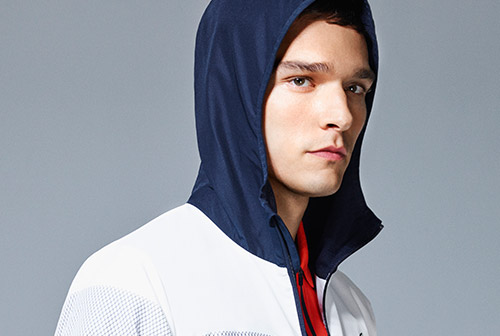 Lacoste Releases Spring/Summer 2017 Tennis Sports Collection
[slider_pro id="115″]
Images: Lacoste.
Drawing inspiration from '90s streetwear, modern architecture, and the latest sports technology that doesn't sacrifice style, Lacoste releases its Spring/Summer 2017 Tennis Sports Collection. Fresh off its latest Yazbukey collaboration that invigorated classic apparel, the latest line features traditional piqué polo shirts with dramatic color accents—bright coral, turquoise, purple, and orange—splashed across the chest and jacquard collar. The geometric print alludes to the layout of tennis courts, though it doesn't forget Lacoste's heritage clean-lined, slim-fit aesthetic, honoring its history with the iconic crocodile on the breast pocket and shorts cuff. For the rainier games, the water-resistant taffeta jacket features in fluorescent yellow and white and navy, and a gray sweatshirt boasts a chic tennis player print, a vision of the Lacoste man. Finishing the collection are the LT Spirit and LT Spirit Elite footwear styles, available in versatile black, gray, or navy. With a heel comfort clip and dual-density outsole, the shoes combine on-court precision with off-court style. Executed with variety and functionality in mind, Lacoste continues to push sports innovation.
The Lacoste Spring/Summer 2017 Sports Collection is available online now.